Good Evening, Market players decided they weren't going to worry about the corona virus today after a statement by China's minister of health that the virus would be significantly better by April. I expect there will be another bout of selling or two on this subject, but today's news was positive and left us to focus on earnings and economics. We talked about this in a recent blog. The economy and corporate earnings are what determine where the market is ultimately going. If they are good the general direction of the market will be higher. The only way the corona virus can move the market consistently lower is for if to effect these things in a negative way. There were in fact a few companies who gave poor guidance based on work stoppages in their operations due to the corona virus. Under Armor (UA) and Nike (NKE) come to mind. However, to this point those companies are the exception rather than the rule. Here's the bottom line, when you see the corona virus affecting the economy and/or corporate earnings then you need to get concerned, but for now, the beat goes on……..
The days trading left us with the following results: Our TSP allotment posted a gain of +0.17%. For comparison, the Dow was flat at -0.00%, the Nasdaq was up +0.11%, and the S&P 500 added +0.17%. All the major indices trimmed their gains shortly before the bell. We'll have to keep a close eye on tomorrows action after the weak close.
The days action left us with the following signals: C-Buy, S-Buy, I-Buy, F-Neutral. We are currently invested at 100/C. Our allocation is now +3.93% on the year not including the days results. Here are the latest posted results:
02/10/20
Prior Prices
Fund
G Fund
F Fund
C Fund
S Fund
I Fund
Price

16.3853

20.111

49.1197

57.7707

32.4874

$ Change

0.0022

0.0265

0.3648

0.4230

-0.1383

% Change day

+0.01%

+0.13%

+0.75%

+0.74%

-0.42%

% Change week

+0.01%

+0.13%

+0.75%

+0.74%

-0.42%

% Change month

+0.05%

+0.08%

+3.98%

+3.29%

+2.08%

% Change year

+0.21%

+2.00%

+3.93%

+2.66%

-0.70%

 

L INC
L 2020
L 2030
L 2040
L 2050
Price

21.3421

29.5432

35.3727

39.0891

22.9096

$ Change

0.0191

0.0292

0.0759

0.0988

0.0654

% Change day

+0.09%

+0.10%

+0.22%

+0.25%

+0.29%

% Change week

+0.09%

+0.10%

+0.22%

+0.25%

+0.29%

% Change month

+0.73%

+0.82%

+1.95%

+2.32%

+2.63%

% Change year

+0.74%

+0.80%

+1.49%

+1.72%

+1.90%
 Now lets take a look at the charts. All signals are annotated with 

green circles

. If you click on the charts they will become larger.
C Fund: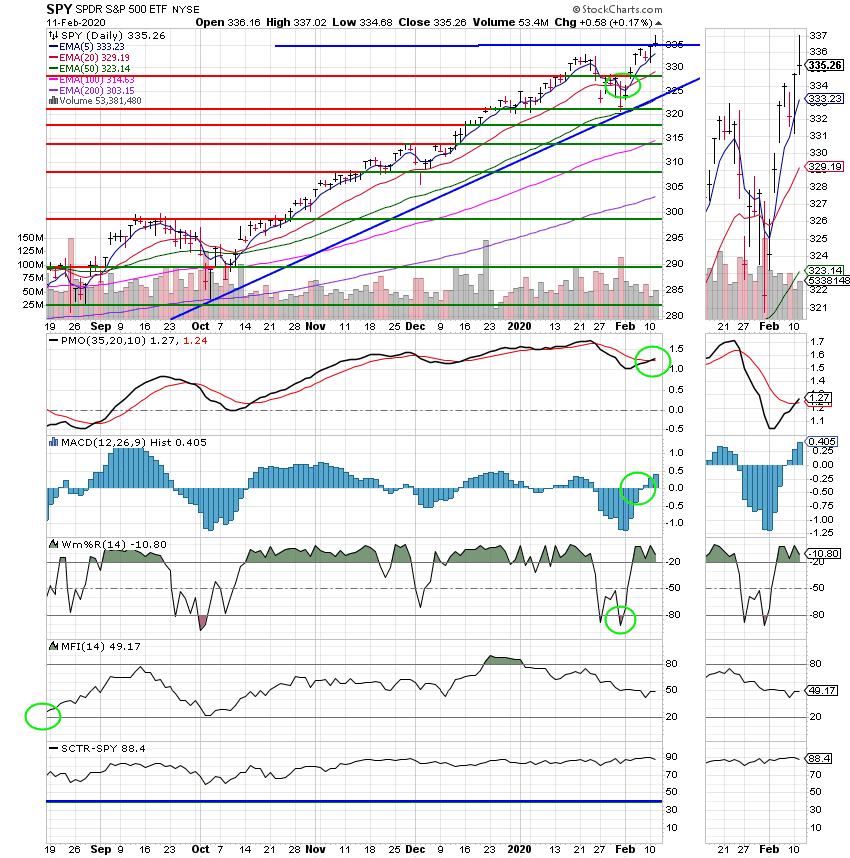 S Fund: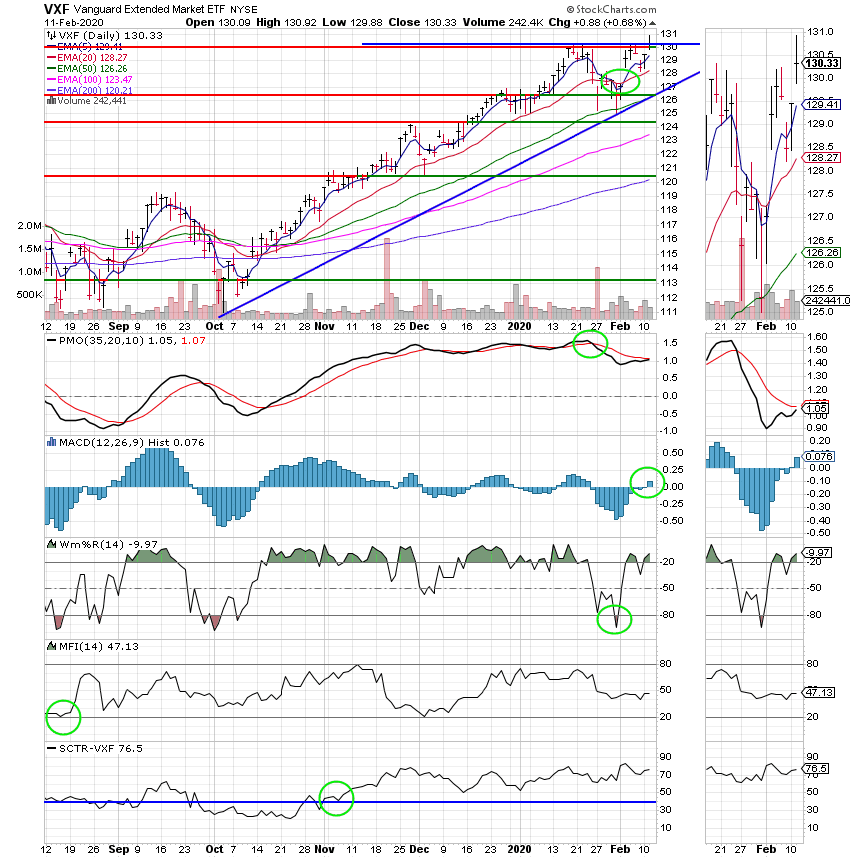 I Fund: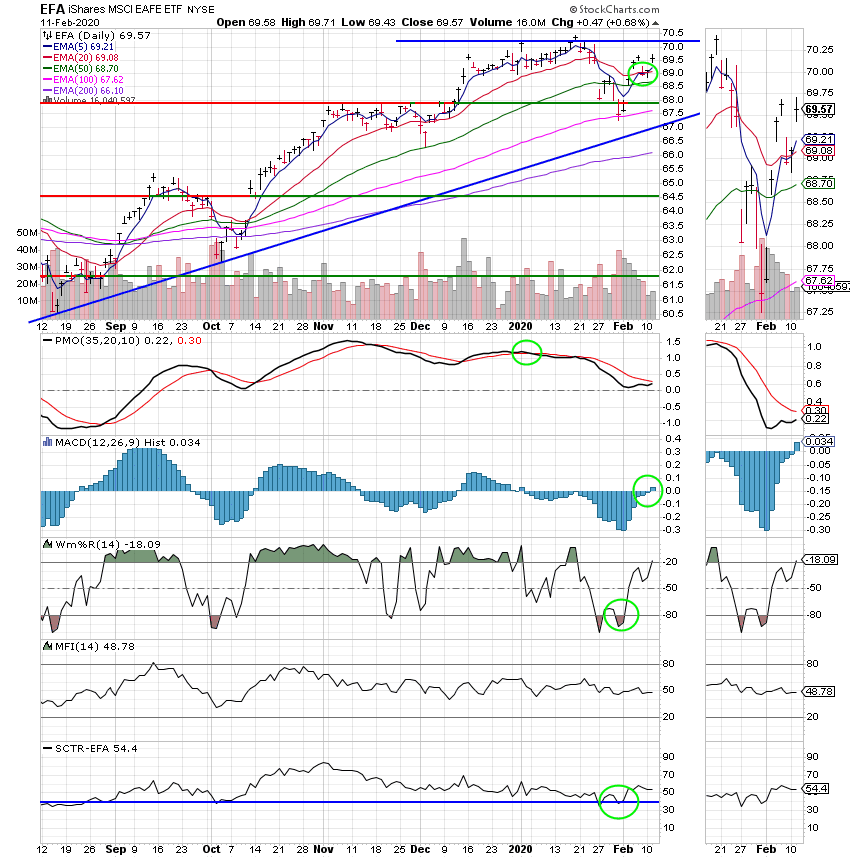 F Fund: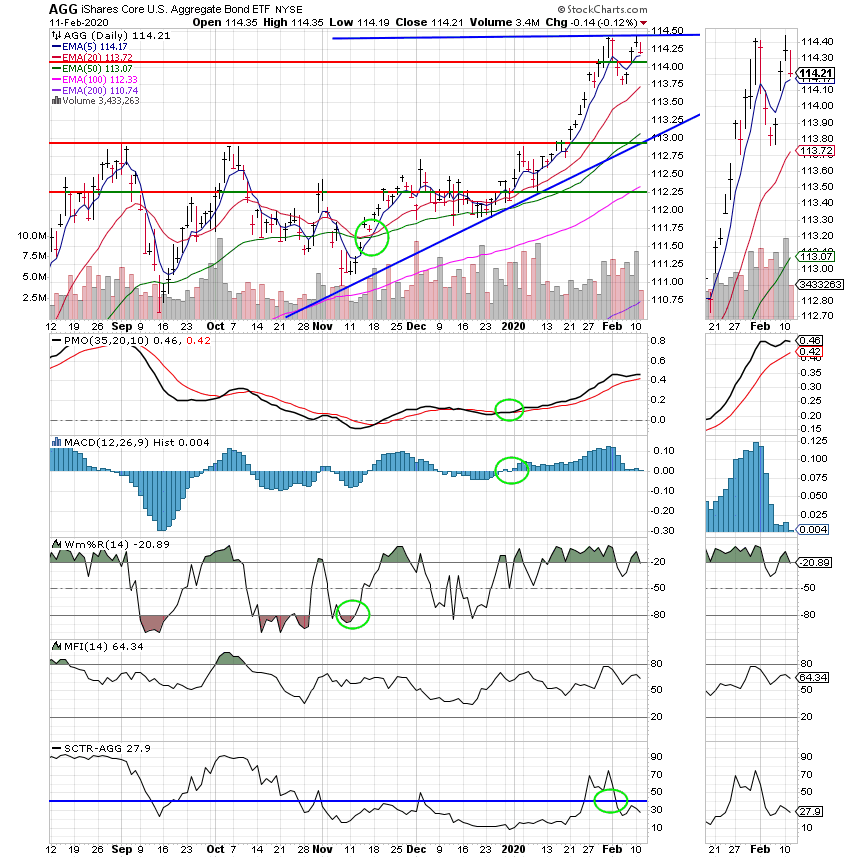 Our charts are good and we're hanging in there. So far so good for he new decade. That's all for tonight. Have a nice evening and may continue to bless your trades!
God bless, Scott 
***Just a reminder that you can review the perform

ance of our allocation at the Web Site TSPTALK.com in the autotracker section under the screen name KyFan1.
I produce and publish this blog as both a ministry and for the benefit of any Federal Government Employee. This is done to offer you some guidance as to how to approach your retirement more financially successful. When it is time for you to retire, I recommend you utilize the services of a Professional Money Manager, who works with a reputable investment firm. He understands the guidance you have already received and he can manage your savings assets utilizing a more advanced investment program into the future. 
If you would like to receive more information about this introduction, please feel free to contact me at  KyFan1@aol.com. 
Share