Good Evening, In recent blogs we discussed how the Corona Virus might truly effect the market. We talked about the fact that it would have to directly affect economic indicators and/or corporate reports. We also mentioned a few isolated incidents such as Under Armor (UA) and Nike (NKE) and how they up to now have had no real effect on the market. Well today mighty Apple (AAPL) lowered their quarterly guidance based on the fact that their supply line had been disrupted due to factory closures in China and that their sales would miss the mark as a result of decreased demand for I phones in China. After all, folks there can't buy cell phones when their quarantined. Apple is a little different deal than Under Armor. No offense intended to Under Armor but Apple is the worlds largest corporation. So when they talk the market listens. The Apple  report definitely raises the caution level. So where does that leave us now? The next caution flag will be raised when a corporation that does not have a factory or suppliers in China issues a bad report due to the virus. Perhaps UPS (UPS) or FedEx (FDX)  or Cummings (CMI). Another bell weather stock Walmart (WMT) that does have suppliers in China also issued a bad report today adding additional downward pressure on the market, but as far as I know they didn't mention the corona virus. Nevertheless, you have to wonder if the virus or possibly even the trade war might have had a China related effect on that report….. The bottom line is that the supply trains are starting to be effected. So we need to pay careful attention to our charts and any news concerning this subject. Apple has an awful lot of suppliers……..
The days action let us with the following signals: C-Buy, S-Buy, I-Buy, F-Neutral. We are currently invested at 100/C. Our allocation is now +4.86% on the year not including the days results. Here are the latest posted results:
02/17/20
Prior Prices
Fund
G Fund
F Fund
C Fund
S Fund
I Fund
Price

16.3881

20.0889

49.5578

58.761

32.6163

$ Change

0.0000

0.0000

0.0000

0.0000

0.0000

% Change day

+0.00%

+0.00%

+0.00%

+0.00%

+0.00%

% Change week

+0.00%

+0.00%

+0.00%

+0.00%

+0.00%

% Change month

+0.06%

-0.03%

+4.91%

+5.06%

+2.49%

% Change year

+0.23%

+1.88%

+4.86%

+4.42%

-0.31%

 

L INC
L 2020
L 2030
L 2040
L 2050
Price

21.3812

29.6045

35.5497

39.3233

23.0671

$ Change

0.0000

0.0000

0.0000

0.0000

0.0000

% Change day

+0.00%

+0.00%

+0.00%

+0.00%

+0.00%

% Change week

+0.00%

+0.00%

+0.00%

+0.00%

+0.00%

% Change month

+0.91%

+1.03%

+2.46%

+2.93%

+3.34%

% Change year

+0.92%

+1.01%

+2.00%

+2.33%

+2.60%
 Now lets take a look at the charts. All signals are annotated with 

green circles

. If you click on the charts they will become larger.
C Fund:
S Fund: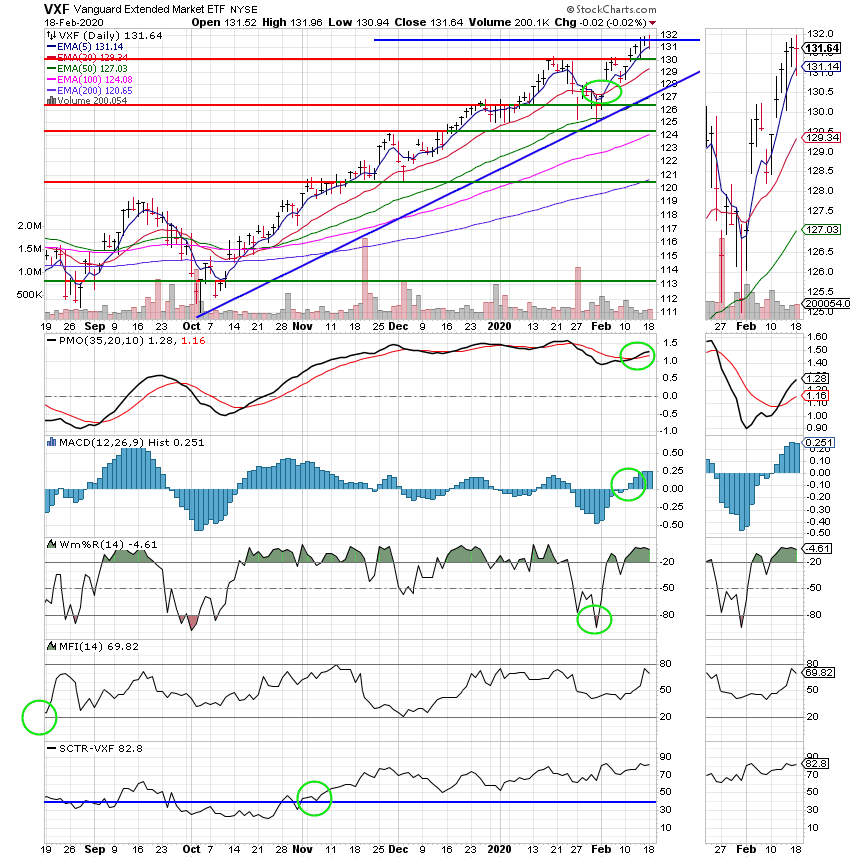 I Fund: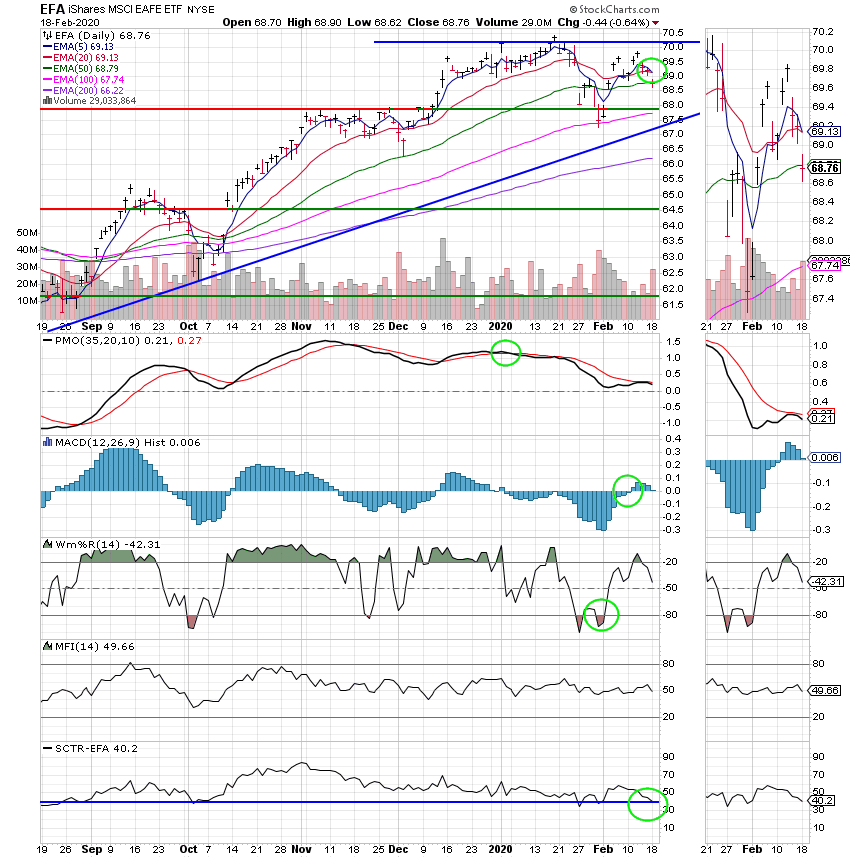 F Fund: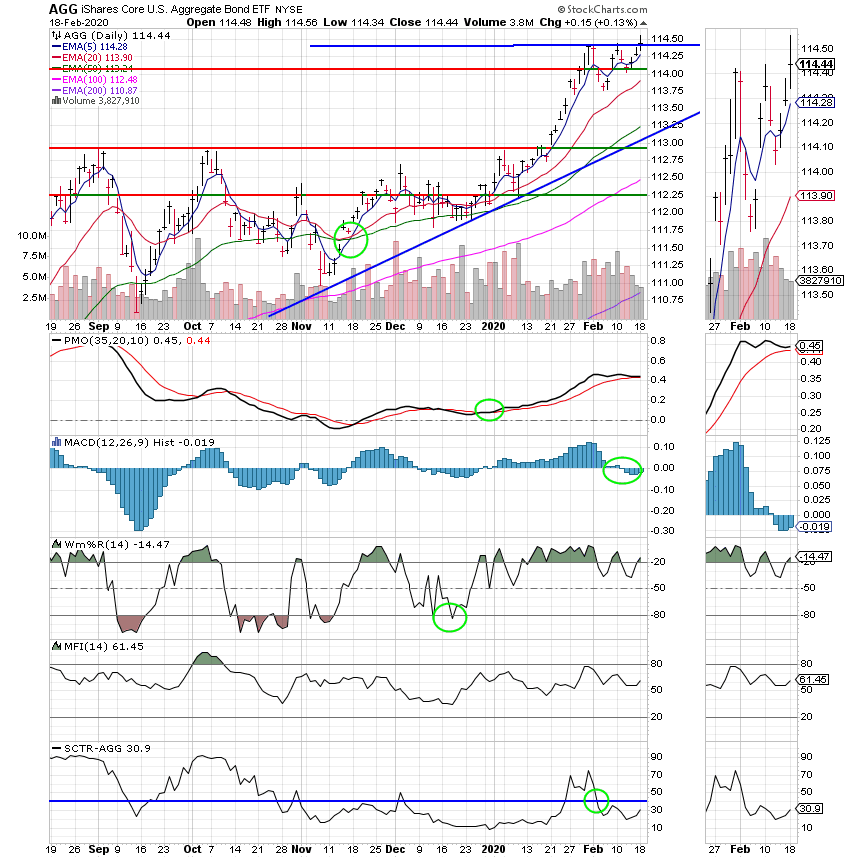 That's all for tonight. Have a nice evening and may God continue to bless your trades!
God bless, Scott 
***Just a reminder that you can review the perform

ance of our allocation at the Web Site TSPTALK.com in the autotracker section under the screen name KyFan1.
I produce and publish this blog as both a ministry and for the benefit of any Federal Government Employee. This is done to offer you some guidance as to how to approach your retirement more financially successful. When it is time for you to retire, I recommend you utilize the services of a Professional Money Manager, who works with a reputable investment firm. He understands the guidance you have already received and he can manage your savings assets utilizing a more advanced investment program into the future. 
If you would like to receive more information about this introduction, please feel free to contact me at  KyFan1@aol.com. 
Share