Good Evening, First of all let me say that I am praying that you all are well. I know these are unprecedented times. Well another day… some more stimulus. Today the White House proposed sending every American tax payer a $1000.00 check to help them get through the corona virus shutdown. They also proposed delaying taxes for 90 days. All that amounts to about three trillion with a T in stimulus. Also, the Federal Reserve said it would create a  special purpose vehicle, under the direction of the Treasury, to buy short-term, high-quality unsecured debt issued by companies that form an important part of the overall financing system's credit markets. I realize the market bounced in response to this news, but the last time I checked we still don't have a cure for COVID-19 and it is still spreading. Until we see the corona virus numbers start to drop these measures will do little more than keep the economy afloat which I might add is their purpose. Now once the numbers start to go down which estimates say will be around 45 days things should start to make a sustained move higher. I must add that President Trump said we could still be battling COVID-19 in August or September. So patience will need to be practiced by all. There is light at the end of the tunnel if you can just hang on! Keep praying!! The Lord God will see us through. Be sure and give Him all the praise!!
The days trading left us with the following results. Our TSP allotment was steady in the G Fund. For comparison, the Dow added +5.20%, the Nasdaq +6.23%, and the S&P 500 +6.00%. It was a nice day but they've still got a lot of ground to make up.
The days action left us with the following signals: C-Sell, S-Sell, I-Sell, F-Sell. We are currently invested at 100/G. Our allocation is now -3.21% on the year not including the days results. Here are the latest posted results:
03/16/20
Prior Prices
Fund
G Fund
F Fund
C Fund
S Fund
I Fund
Price

16.4078

20.3621

35.0453

36.5634

22.5738

$ Change

0.0017

0.1761

-4.7668

-6.1501

-2.3413

% Change day

+0.01%

+0.87%

-11.97%

-14.40%

-9.40%

% Change week

+0.01%

+0.87%

-11.97%

-14.40%

-9.40%

% Change month

+0.06%

-0.48%

-19.15%

-28.93%

-23.12%

% Change year

+0.35%

+3.27%

-25.85%

-35.03%

-31.00%

 

L INC
L 2020
L 2030
L 2040
L 2050
Price

19.8111

27.1369

28.5335

30.1937

17.0362

$ Change

-0.5147

-0.8047

-2.1517

-2.7405

-1.7762

% Change day

-2.53%

-2.88%

-7.01%

-8.32%

-9.44%

% Change week

-2.53%

-2.88%

-7.01%

-8.32%

-9.44%

% Change month

-5.05%

-5.73%

-13.75%

-16.29%

-18.47%

% Change year

-6.49%

-7.41%

-18.13%

-21.43%

-24.23%
 Now lets take a look at the charts. All signals are annotated with 

green circles

. If you click on the charts they will become larger.
C Fund: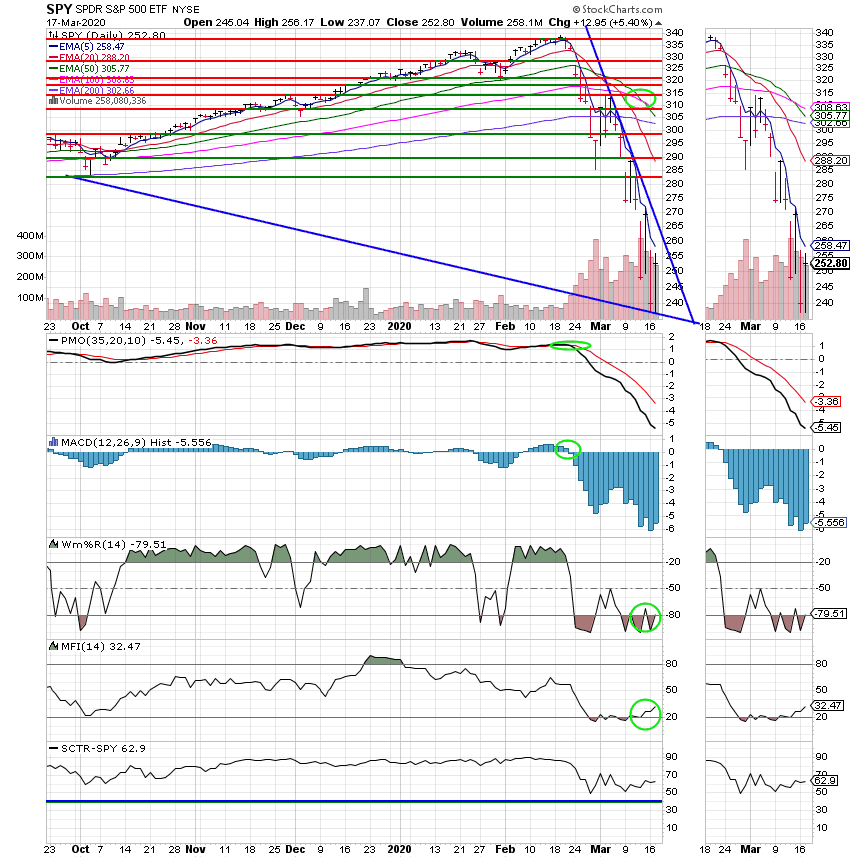 S Fund: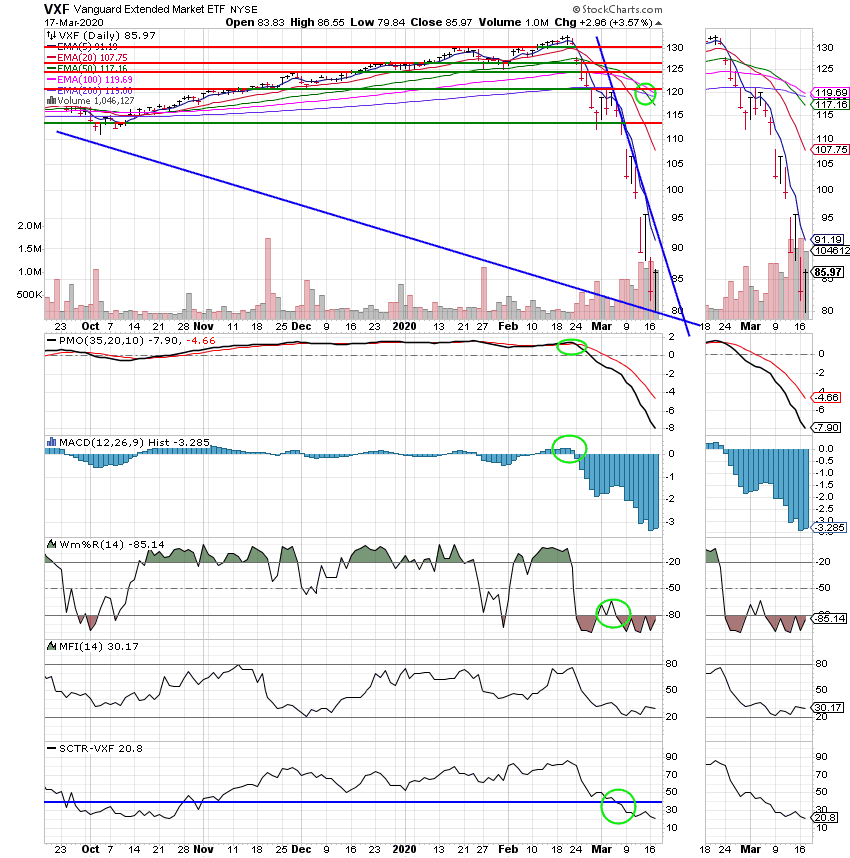 I Fund: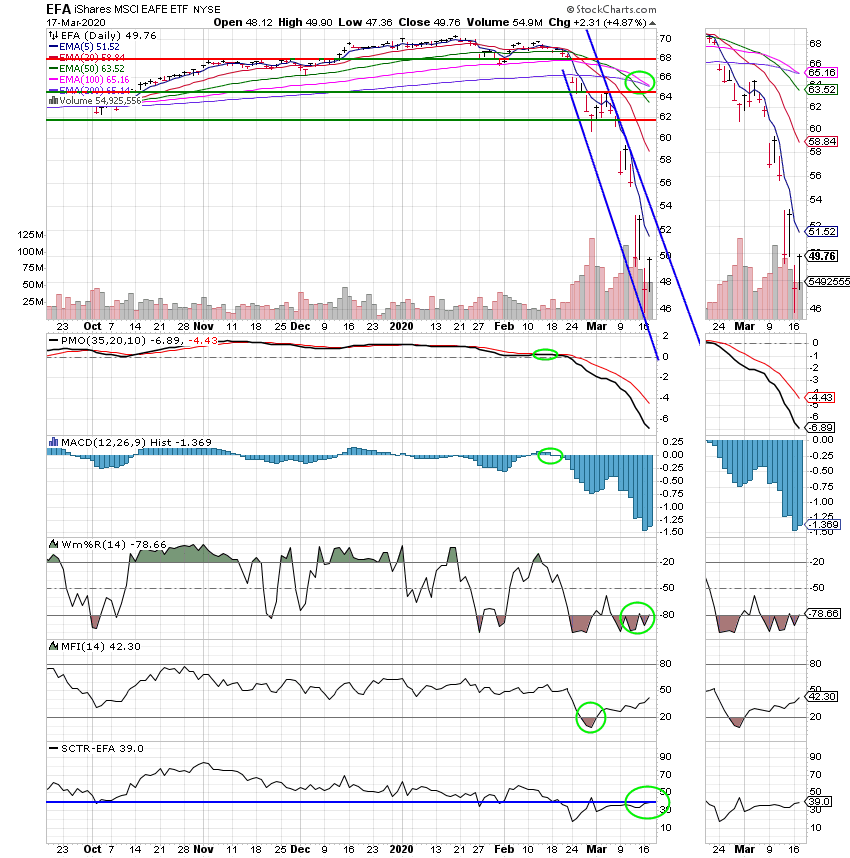 F Fund: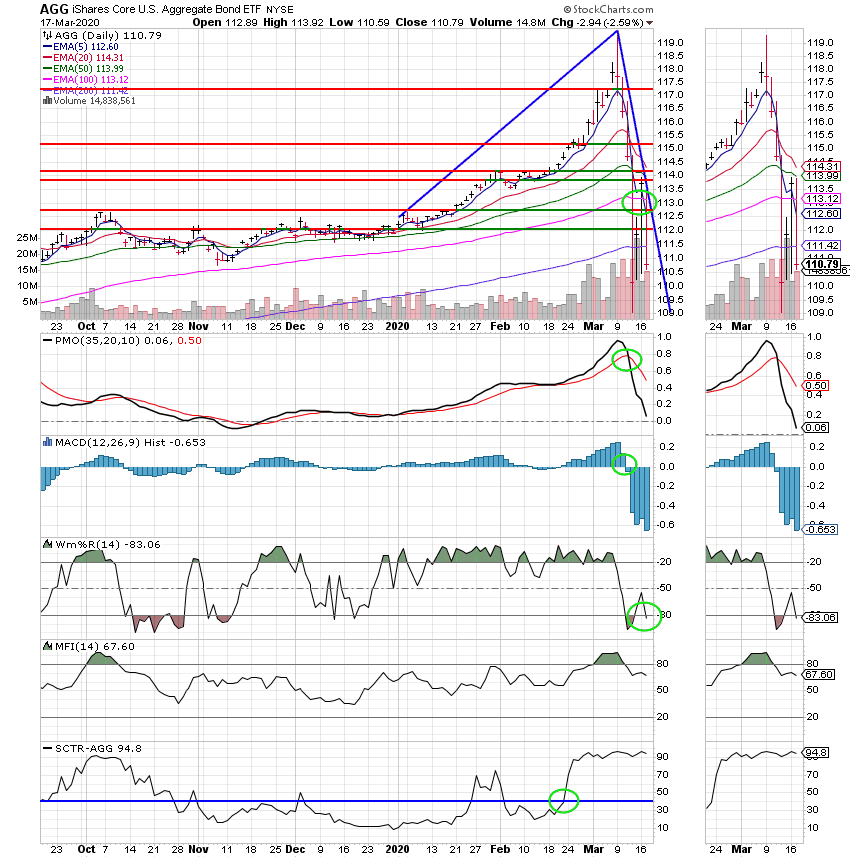 Folks, I don't even one chart out of all the charts that I monitor that is telling me I should be in this market. Not one! Unless I'm pleasantly surprised it may be awhile….. That's all for tonight. Have a nice evening while your social distancing…..and may God continue to bless your trades.
God bless, Scott 
***Just a reminder that you can review the perform

ance of our allocation at the Web Site TSPTALK.com in the autotracker section under the screen name KyFan1.
I produce and publish this blog as both a ministry and for the benefit of any Federal Government Employee. This is done to offer you some guidance as to how to approach your retirement more financially successful. When it is time for you to retire, I recommend you utilize the services of a Professional Money Manager, who works with a reputable investment firm. He understands the guidance you have already received and he can manage your savings assets utilizing a more advanced investment program into the future. 
If you would like to receive more information about this introduction, please feel free to contact me at  KyFan1@aol.com. 
Share