Good Evening, This market is exactly like a roller coaster. It twists and turns and goes upside down at a high rate of speed! All the stimulus and high speed computer trading are giving the word volatility a new meaning. Today the market had it's best day since 1933. Wow, that's 87 years! That's some kind of bounce. It traded higher on sentiment that a massive stimulus bill will soon clear congress. It actually got started when President Trump talked about reopening the economy when the current corona virus waiting period is over. A lot of experts commented that the virus was too bad for that to happen but many others said it needed to happen, that we should not let the cure become worse than the sickness. I don't know about that. I'll leave it to the economists and doctors. As far as stocks go today's rally had the feeling of a counter trend bounce to me. Some would refer to it as a bear trap. That said, I wouldn't panic too much if I chased the rally today. I'm reasonably sure no one ever got hurt buying stocks at a 34 percent discount……….That is if your time frame is long enough. It is possible that we could see as much as another 20 percent downside before a solid bottom is put in. However, given all the stimulus that's being pumped into this market no one knows for sure. It definitely gives you the feeling that it will catch fire at some point and I believe that point will be when the corona virus cases start to peek and head down. Then watch out! There's an awful lot of fuel on this fire. It could get hot and get hot quick! I am starting to buy a few things on the downside in my portfolio on the street and will not hesitate to pull the trigger in TSP when enough of my indicators start to turn up. I would say that emotion will again rule tomorrows morning session as the futures are already trading 300 points higher on the possibility of this new stimulus bill passing through congress. Then we'll see if stocks can hold up in the afternoon session. The COVID 19 news is getting awfully gloomy. I really don't expect  the market to make any meaningful progress until the number of new cases starts to diminish. So while I'm anxious to get on this speedy train before it leaves the station, I think I'll wait until the last all aboard call to get into my seat…..
The days trading left us with the following results: Our TSP allotment remains steady in the G Fund. For comparison, the Dow gained 11.37%. the Nasdaq 8.12%, and the S&P 500 +9.38%.
The days action left us with the following signals: C-Sell, S-Sell, I-Sell, F-Neutral. We are currently invested at 100/G. Our allotment is now -3.19% on the year. Here are the latest posted results:
03/24/20
Prior Prices
Fund
G Fund
F Fund
C Fund
S Fund
I Fund
Price

16.4122

19.9764

35.9488

38.0886

23.7091

$ Change

0.0006

0.0639

3.0890

3.4636

1.6218

% Change day

+0.00%

+0.32%

+9.40%

+10.00%

+7.34%

% Change week

+0.01%

+1.36%

+6.20%

+7.89%

+6.17%

% Change month

+0.08%

-2.37%

-17.07%

-25.97%

-19.25%

% Change year

+0.38%

+1.31%

-23.93%

-32.32%

-27.53%

 

L INC
L 2020
L 2030
L 2040
L 2050
Price

19.9333

27.3308

29.0939

30.9171

17.512

$ Change

0.3660

0.5686

1.4488

1.8243

1.1703

% Change day

+1.87%

+2.12%

+5.24%

+6.27%

+7.16%

% Change week

+1.48%

+1.67%

+3.99%

+4.76%

+5.41%

% Change month

-4.47%

-5.06%

-12.06%

-14.29%

-16.19%

% Change year

-5.91%

-6.74%

-16.52%

-19.55%

-22.11%
 Now lets take a look at the charts. All signals are annotated with 

green circles

. If you click on the charts they will become larger.
C Fund: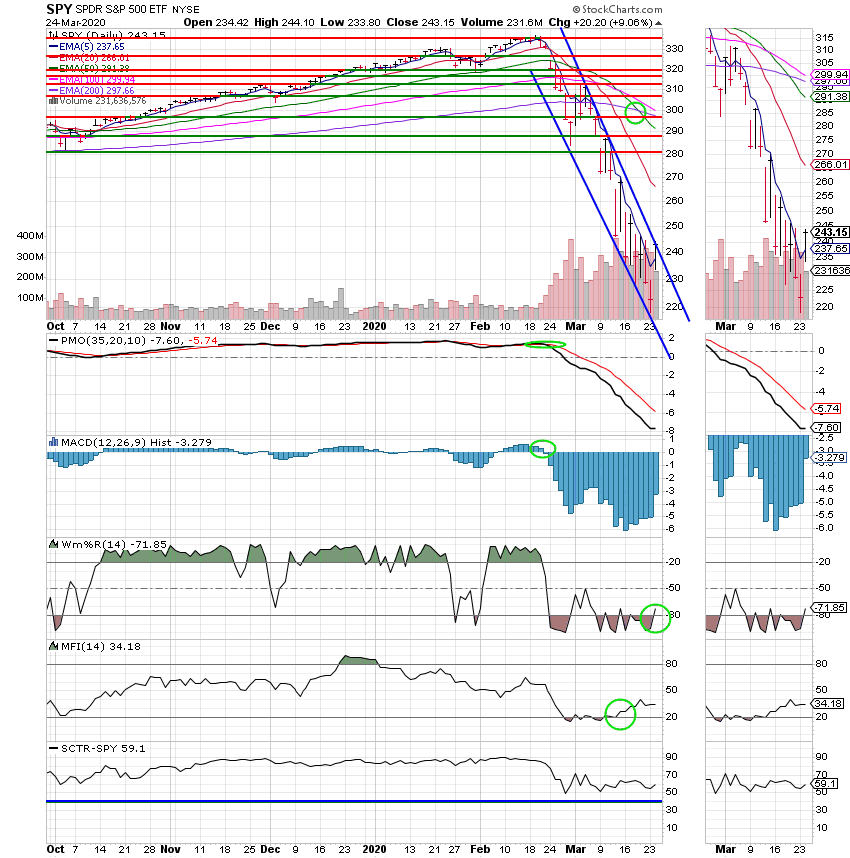 S Fund: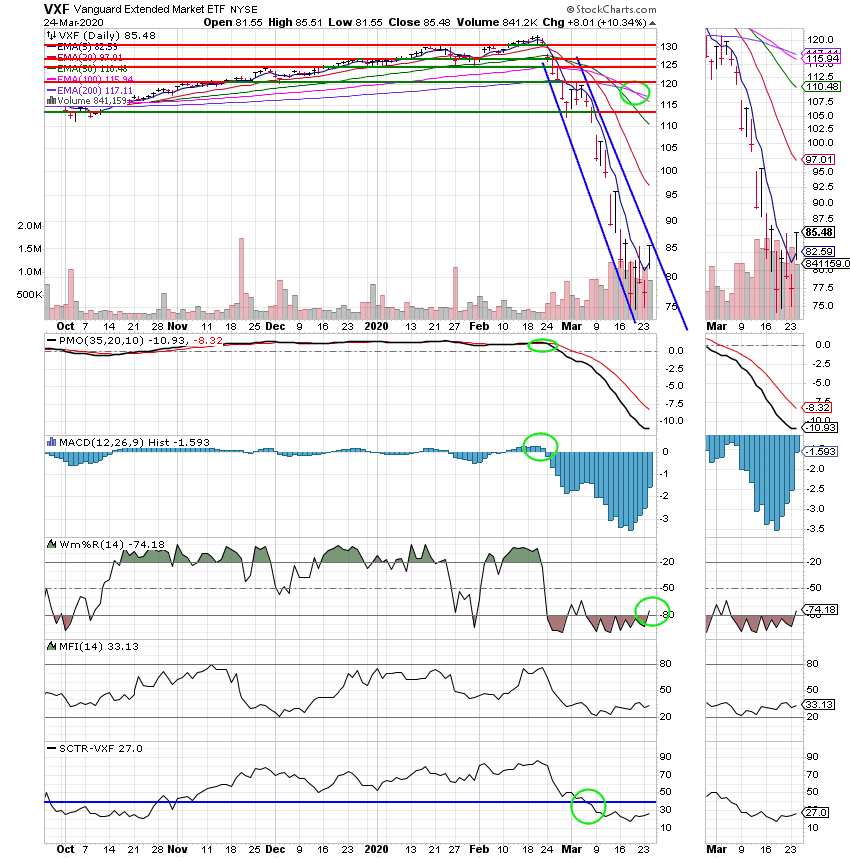 I Fund: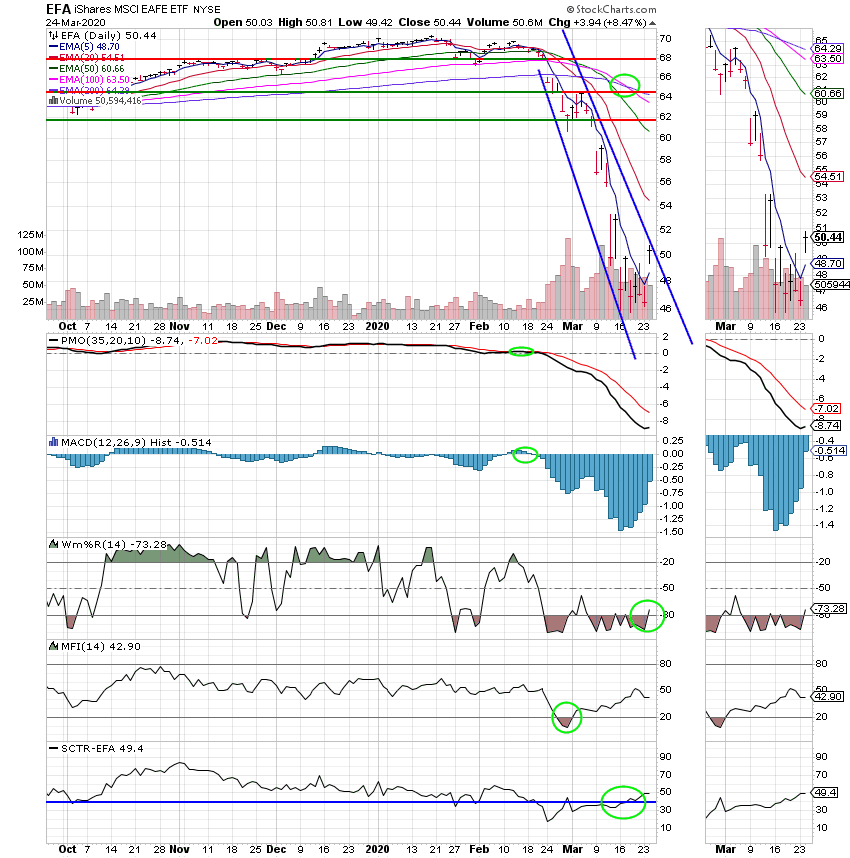 F Fund: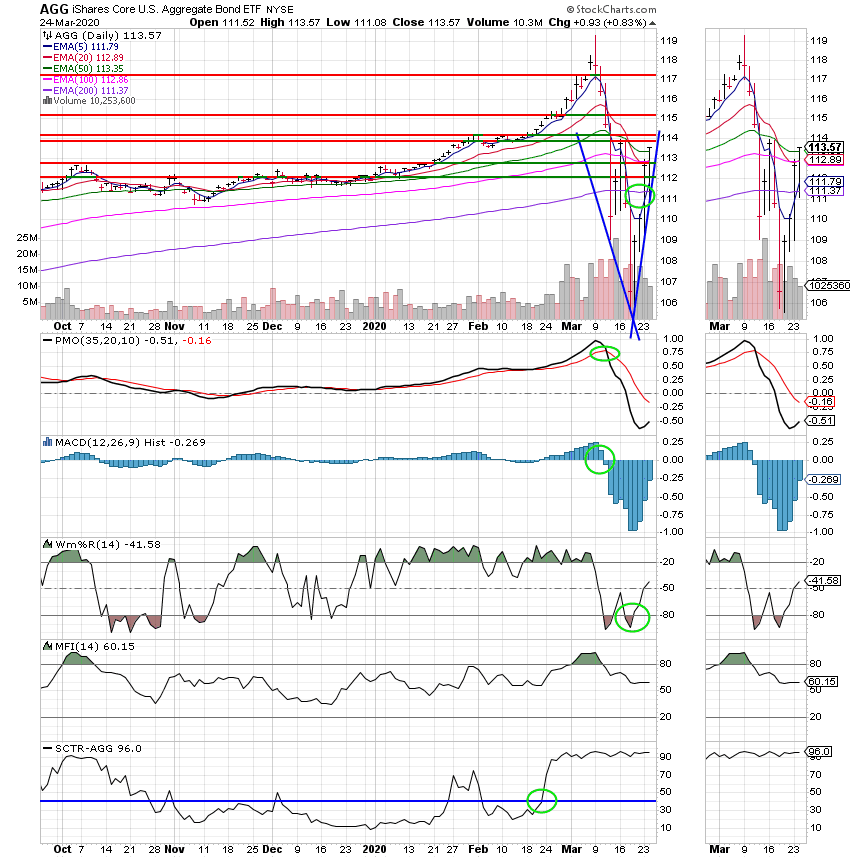 I know it's hard to be patient with a bounce like we had today but given the steady rise in COVID 19 cases there is a strong probability that we'll see some more downside. That's all for tonight. I'll be praying that you all stay safe and well. Have a nice evening and may God continue to bless your trades.
God bless, Scott 
***Just a reminder that you can review the perform

ance of our allocation at the Web Site TSPTALK.com in the autotracker section under the screen name KyFan1.
I produce and publish this blog as both a ministry and for the benefit of any Federal Government Employee. This is done to offer you some guidance as to how to approach your retirement more financially successful. When it is time for you to retire, I recommend you utilize the services of a Professional Money Manager, who works with a reputable investment firm. He understands the guidance you have already received and he can manage your savings assets utilizing a more advanced investment program into the future. 
If you would like to receive more information about this introduction, please feel free to contact me at  KyFan1@aol.com. 
Share