Good Evening, I bet you all have been wondering why we didn't reenter the market early last week. After all, a lot of the paid services did! Well today's action was a good example of why. There is still some rough water ahead. Fundamentally speaking cases of corona virus and unemployment must first peek before volatility decreases. That may be the case in a few weeks but it's certainly not now. The economy is going to have to reopen for business. The corporate reports are going to be dreadful. We know that. The US economy is going to officially enter a recession. Oh but Scott, we are in one now. Sorry, we may be but we need two successive quarters of declining GDP for it to be official and well……it hasn't been two quarters yet! Yeah, it feels like a recession to be sure and it will be a miracle if we don't enter one, but we simply just aren't there yet. It's just going to take a while for things to play out and it's going to be awful hard for there to be a recovery until they do. This thing is going to take time. If you are thinking that we'll have a warp speed recovery then I agree. You are probably right, once a recovery starts……and it will start when corona virus cases start to decrease, folks start to go back to work, and the economy opens up (i.e. all this stimulus money starts to get spent). Speaking of stimulus, don't be surprised if this recovery happens in record time. Why? Simple, we have record stimulus from the Federal Reserve and Congress. Which brings me to my next point. You need to be positioned when this high speed train leaves the station. This much economic stimulus will surely bring the economy on line quickly. Very quickly. So you will want to be positioned before you get left behind. Which brings me to the final point. What am I seeing in the charts? I'm not going to bore you all with a bunch of technical analysis (many of you have told me over and over that you can do without that) I'm just going to cut to the point and tell you what I see. Currently upper resistance is established at 2630 on the S&P 500 index. Support is 2200. Our plan is simple if overhead resistance is breached at 2630 I will buy. If price bounces off resistance and heads lower we will watch the 2200 level. If price reaches 2200 and heads back up we will buy. If it cuts through 2200 and moves lower we will hold until the next leg down is established. There you all go. There's the play book based on hard core technical analysis….. Of course we will also continue to pray to our Heavenly Father Who truly guides this group and always has!
The days trading left us with the following results. Our TSP allotment remains steady in the G Fund. For comparison, the Dow dropped -1.58%, the Nasdaq -0.95%, and the S&P 500 -1.60%. It's not over yet!
The days action left us with the following signals: C-Neutral, S-Neutral, I-Neutral, F-Buy. We are currently invested at 100/G. Our allocation is now -3.16% on the year. Here are the latest posted results.
03/31/20
Prior Prices
Fund
G Fund
F Fund
C Fund
S Fund
I Fund
Price

16.416

20.3288

37.9739

40.4378

25.2887

$ Change

0.0005

-0.0205

-0.6143

-0.4324

0.0219

% Change day

+0.00%

-0.10%

-1.59%

-1.06%

+0.09%

% Change week

+0.01%

+0.46%

+1.72%

+0.93%

+1.03%

% Change month

+0.11%

-0.64%

-12.40%

-21.40%

-13.87%

% Change year

+0.40%

+3.10%

-19.65%

-28.14%

-22.70%

 

L INC
L 2020
L 2030
L 2040
L 2050
Price

20.2206

27.774

30.1989

32.3116

18.4078

$ Change

-0.0425

-0.0662

-0.1742

-0.2212

-0.1425

% Change day

-0.21%

-0.24%

-0.57%

-0.68%

-0.77%

% Change week

+0.32%

+0.36%

+0.84%

+1.00%

+1.13%

% Change month

-3.09%

-3.52%

-8.72%

-10.42%

-11.90%

% Change year

-4.56%

-5.23%

-13.35%

-15.92%

-18.13%
 Now lets take a look at the charts. All signals are annotated with 

green circles

. If you click on the charts they will become larger.
C Fund:
S Fund: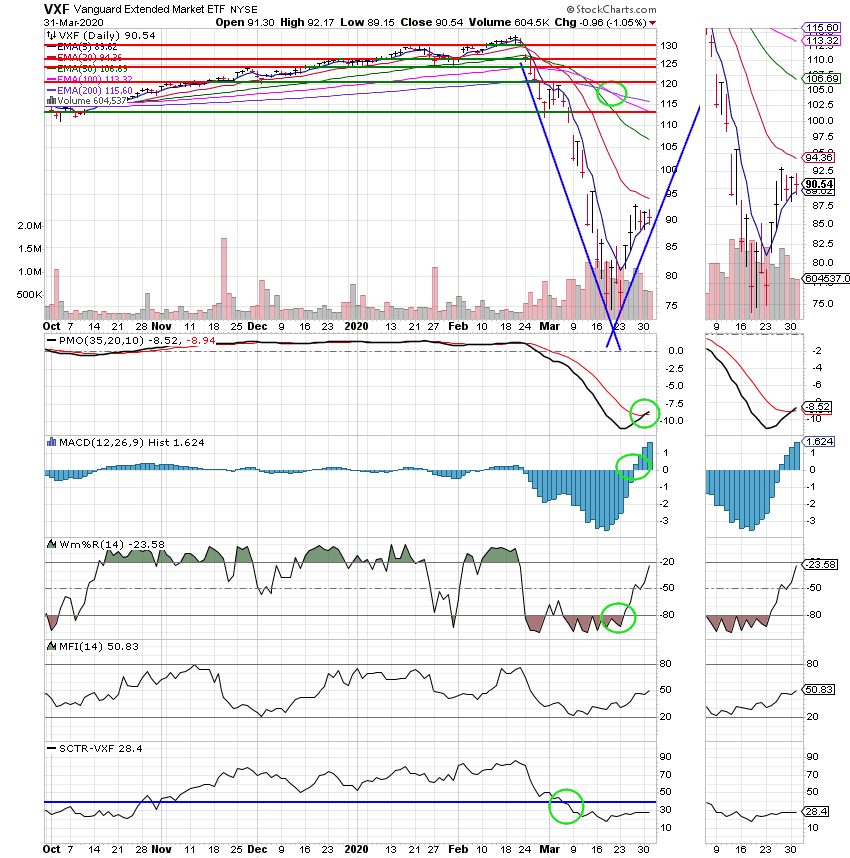 I Fund: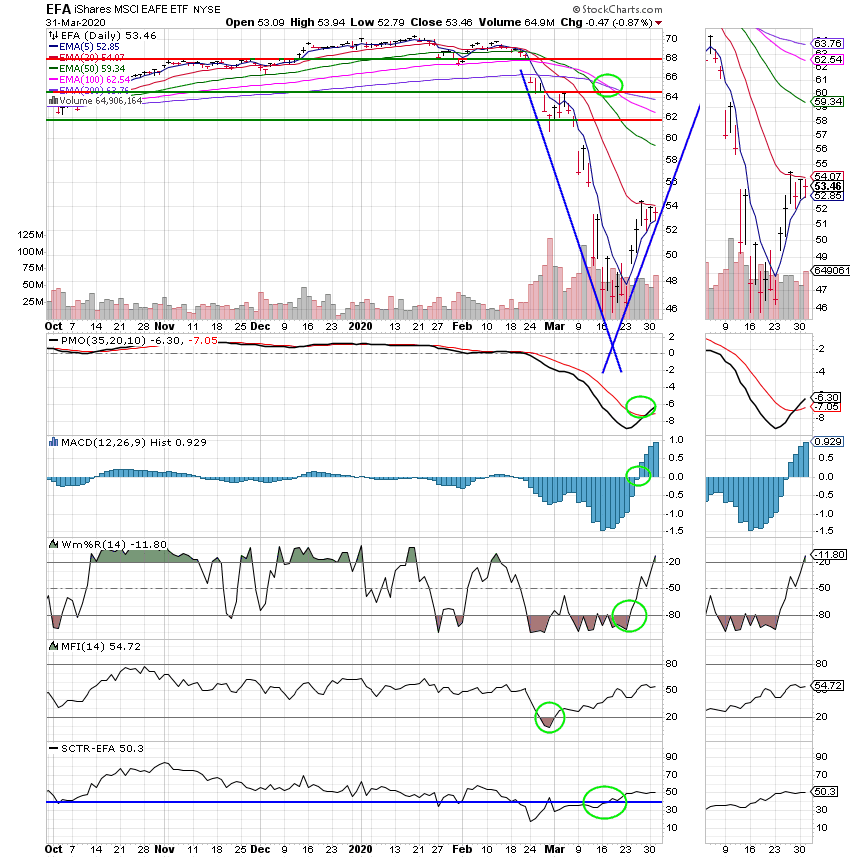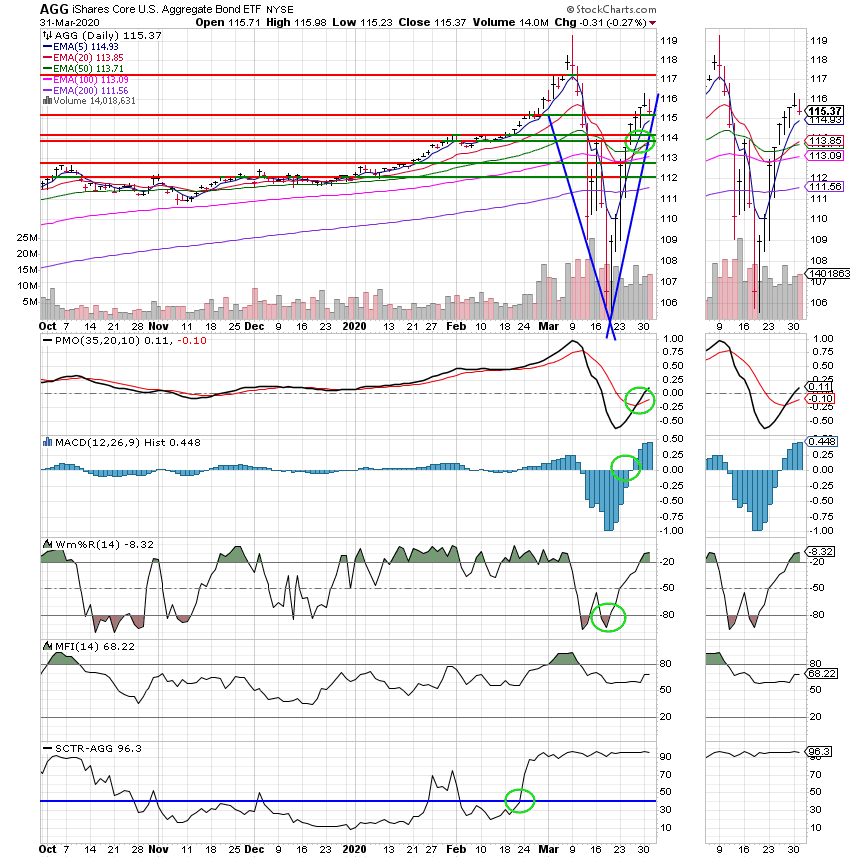 It's just another day at the office right? Be patient with all of this. It doesn't look like it's going to be over any way soon. Keep an eye on your charts and watch those levels I mentioned earlier. That's all for tonight. Have a nice evening and may God continue to bless your trades. I pray that each and every one of you is protected from this demonic virus in the mighty name of Jesus!
God bless, Scott 
***Just a reminder that you can review the perform

ance of our allocation at the Web Site TSPTALK.com in the autotracker section under the screen name KyFan1.
I produce and publish this blog as both a ministry and for the benefit of any Federal Government Employee. This is done to offer you some guidance as to how to approach your retirement more financially successful. When it is time for you to retire, I recommend you utilize the services of a Professional Money Manager, who works with a reputable investment firm. He understands the guidance you have already received and he can manage your savings assets utilizing a more advanced investment program into the future. 
If you would like to receive more information about this introduction, please feel free to contact me at  KyFan1@aol.com. 
Share