Good Evening, Wouldn't it be nice if a market that sold off just found the bottom one day and starting moving straight back up? That would be nice for sure, but that's not the way that it usually works. I understand that we've experienced many V Shaped recoveries over the past ten years and that's exactly what I just described. Straight back up. However, those recoveries occurred during small dips or corrections, not during a bear market. This is the thing you have to remember about bottoming. It is a process and while the V shaped recoveries may have ruled the smaller dips and corrections in the recent past, I can't think of a bear market that has ever recovered in that manner. So what do I mean by a process? It is a process where the bottom is retested several times before the market eventually moves back to it's pre bear market level. Stocks just don't move up from a certain level and leave it behind. Instead of the aforementioned V shaped recovery the bottom is tested and retested several times before the market moves back up in a series of higher highs and higher lows. Pretty much the opposite of a V Shaped recovery. I can hear you now, but Scott, you said this market would leave us behind if we didn't get back in! What I said is that the recovery will be fast and that you need to be positioned before it starts. I did mention somewhere along the way that a V Shaped recovery might be possible given all the stimulus that has been applied. Either way it will move up fast once it starts. Nevertheless, there will be time to get in during the bottoming process which brings me to where we are at now. The market continues to be volatile as it moves higher and lower on corona virus headlines. That volatility is reflected by a VIX that is still at 46.70. I would prefer to not even be in the market when the VIX is above 16.0! So have we reached the bottom? I don't think we've reached the final bottom where we move up to never retest that level again, but I do believe we are in the bottoming process and that the bottom will ultimately be near the SPX 2200 range. If for some reason that level doesn't hold then you'll know we're moving at least another leg down before the bottoming process begins again. Like I said, I don't think that's the case but if I'm wrong we'll have to deal with it. What I do know for sure at this point is that a handful of my early bird indicators are showing that we may be moving higher. Given that information I have decided to get positioned before the market moves back up for the last time. At this point there is a nice discount somewhere in the 20 percent range when prices move back to early December levels So why not lock it in? In the event that current support doesn't hold at 2200 we will still make our profit when the market returns those December levels. However, given my belief that we are more than likely bottoming at the 2200 level, I decided to "lock it in" by moving to the C Fund. This move will ensure us a profit of 20 percent or more but will require us to be patient while the bottoming process plays out. I am especially speaking to those of you that have only been trading since 2009. This market will likely not move straight back up like you are accustomed to seeing. So be patient! You have to be positioned now because once it does finally bottom it will likely move fast fueled by all the government stimulus. Yesterdays massive rally is a good example of what it may look like. Our task right now is to wait it out until that occurs…….and if that means holding for another leg lower then that's what we'll do. Let me say one more thing on a more positive note! When the market does recover massive stimulus and pent up demand should move the market beyond all time highs!!! So that 20 percent is just the beginning of what you should make. It may be a rough ride but the destination will be well worth it…..
The days trading left us with the following results: Our TSP allotment was steady in the G Fund. For comparison, the Dow slipped -0.12%, the Nasdaq -0.33%, and he S&P 500 -0.16%. The market give up some really nice gains into the close. You can read about it in the link below.
Stocks close lower after roller-coaster session, Dow gives up 900-point surge
The days action left us with the following signals: C-Neutral, S-Neutral, I-Neutral, F-Buy. As of the close of business today we are invested at 100/C. Our allocation is now -3.15% for the year not including the days results. Here are the latest posted results.
04/06/20
Prior Prices

Fund

G Fund

F Fund

C Fund

S Fund

I Fund

Price

16.4184

20.3553

39.1463

40.268

25.2419

$ Change

0.0011

-0.0316

2.5689

3.0137

1.1363

% Change day

+0.01%

-0.15%

+7.02%

+8.09%

+4.71%

% Change week

+0.01%

-0.15%

+7.02%

+8.09%

+4.71%

% Change month

+0.01%

+0.13%

+3.09%

-0.42%

-0.19%

% Change year

+0.42%

+3.23%

-17.17%

-28.45%

-22.85%

 

L INC
L 2020
L 2030
L 2040
L 2050
Price

20.2968

27.8657

30.4756

32.6543

18.6228

$ Change

0.2719

0.3981

1.1128

1.4176

0.9187

% Change day

+1.36%

+1.45%

+3.79%

+4.54%

+5.19%

% Change week

+1.36%

+1.45%

+3.79%

+4.54%

+5.19%

% Change month

+0.38%

+0.33%

+0.92%

+1.06%

+1.17%

% Change year

-4.20%

-4.92%

-12.56%

-15.03%

-17.17%
 Now lets take a look at the charts. All signals are annotated with 

green circles

. If you click on the charts they will become larger. 
C Fund: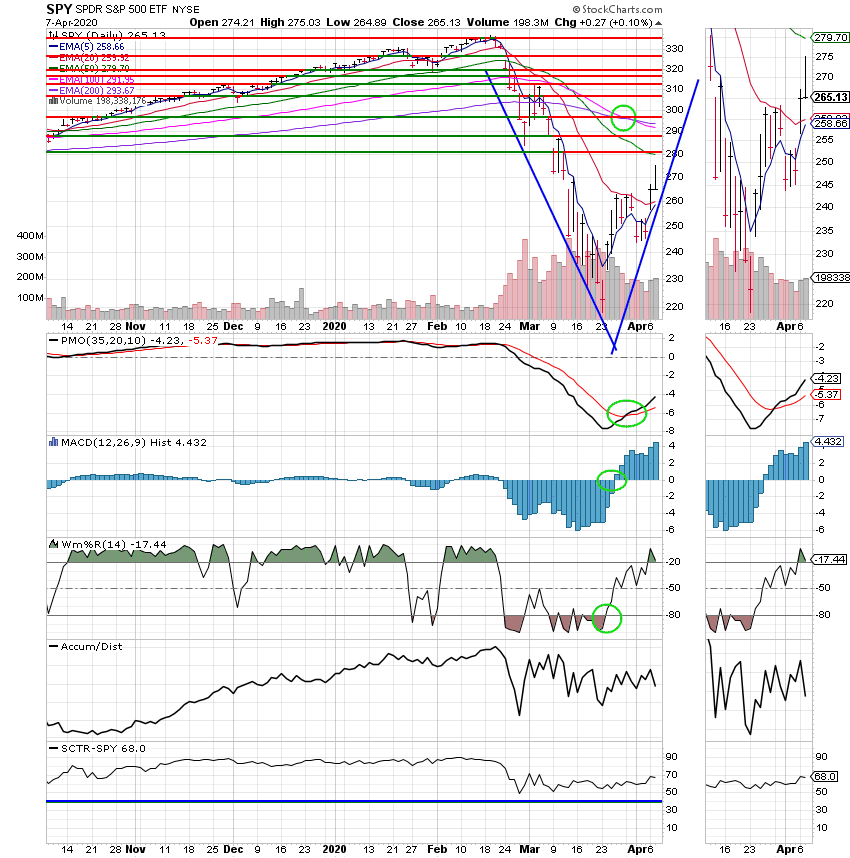 S Fund: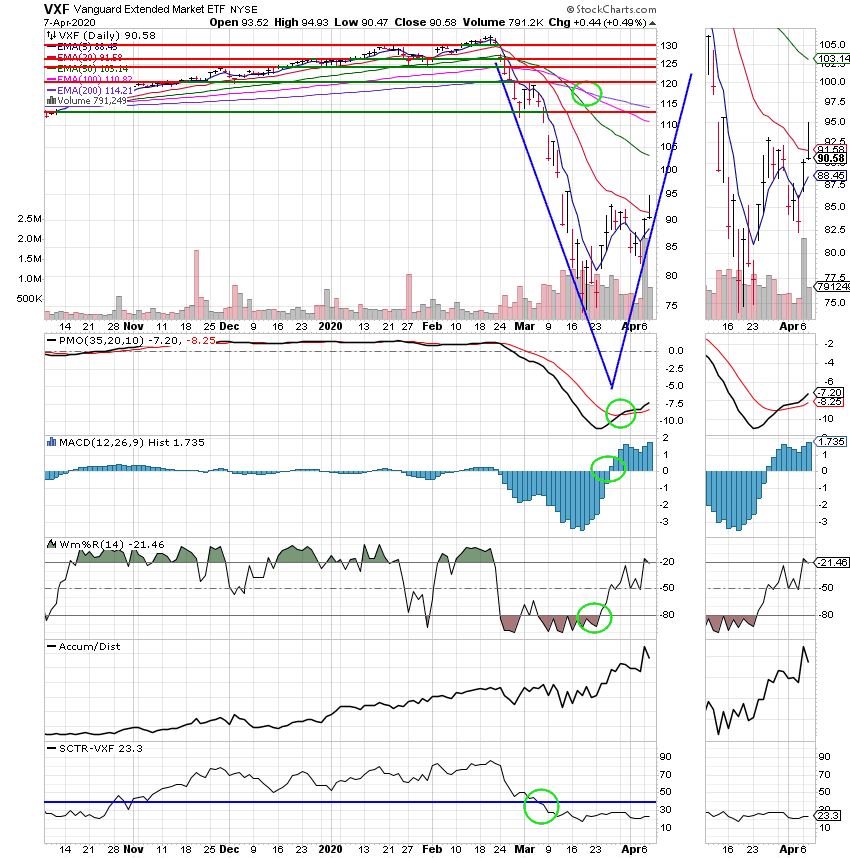 I Fund: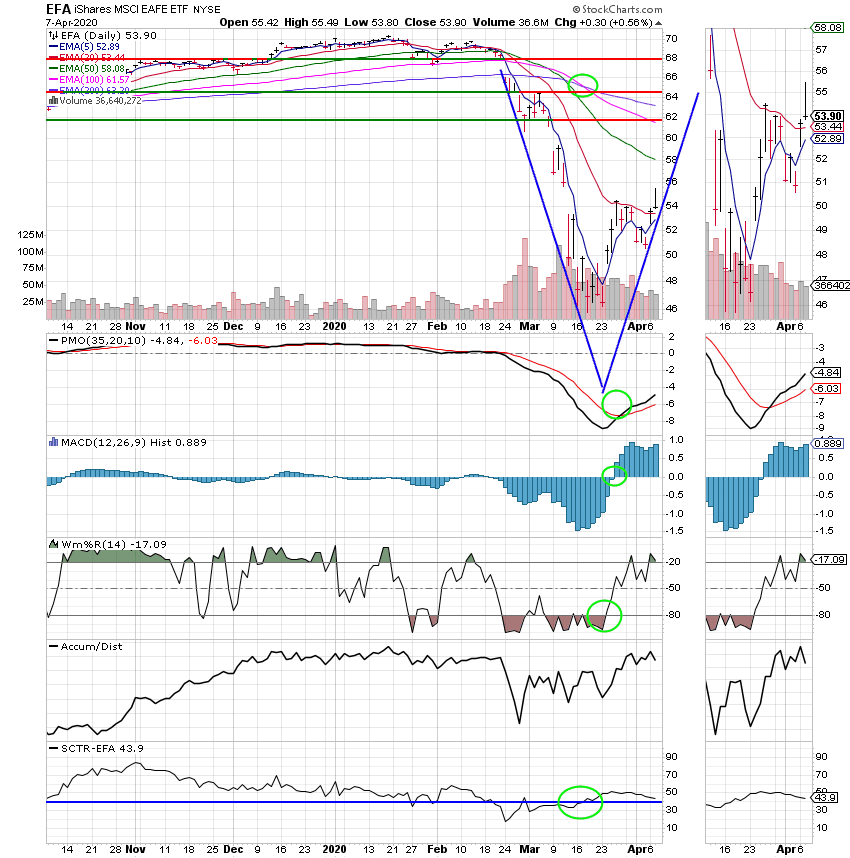 F Fund: This ones moving higher……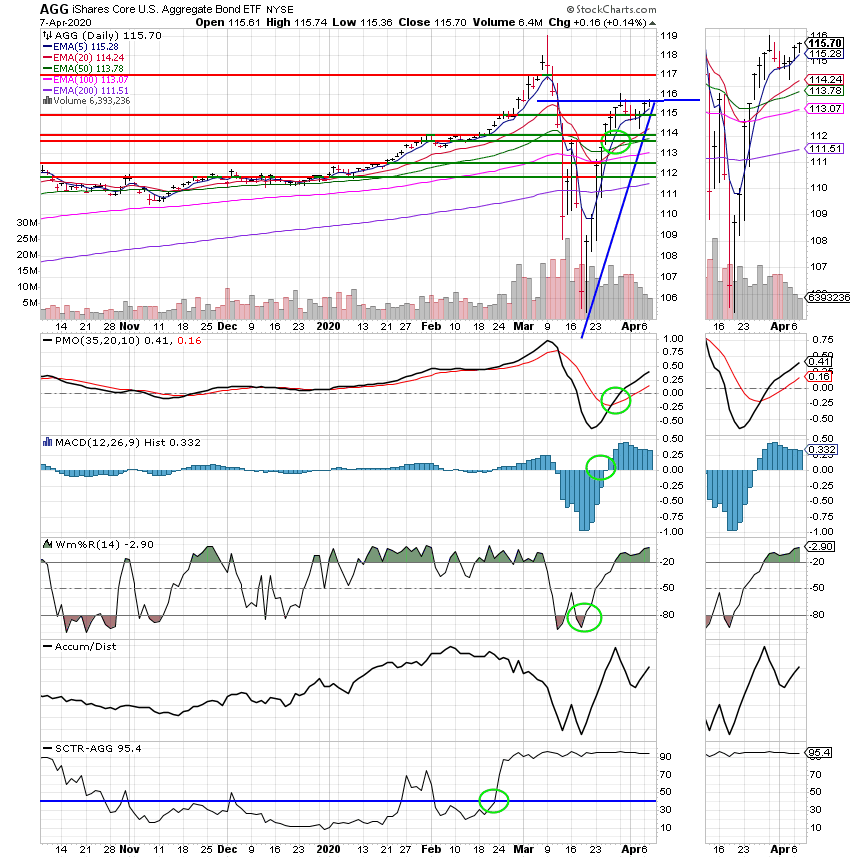 We're in it now! Remember, be patient. It's all about the long game. Don't let the volatility make you take your eye off the ball! That's all for tonight. In the mighty name of Jesus I pray that  you all stay safe. That goes double for my brothers and sisters in the BOP.   Have a nice evening and may God bless this trade.
God bless, Scott 
***Just a reminder that you can review the perform

ance of our allocation at the Web Site TSPTALK.com in the autotracker section under the screen name KyFan1.
I produce and publish this blog as both a ministry and for the benefit of any Federal Government Employee. This is done to offer you some guidance as to how to approach your retirement more financially successful. When it is time for you to retire, I recommend you utilize the services of a Professional Money Manager, who works with a reputable investment firm. He understands the guidance you have already received and he can manage your savings assets utilizing a more advanced investment program into the future. 
If you would like to receive more information about this introduction, please feel free to contact me at  KyFan1@aol.com. 
Share