Good Morning, I have always thought that different markets have different personalities. This one requires more patience than I can remember needing in the past. Perhaps because it started with a pandemic that was made even more exasperating by the unwinding of Federal Stimulus that had been in place for a decade. At any rate this market will try your patience. We are waiting for developments in the both the small and the large scheme of things. Or course, the big picture is the reduction of inflation and recovery of the economy. Hopefully, without a hard recession. Then there's the short picture, how will the current news effect what they Fed will do in their battle to bring the big picture under control? These two views often bring different interpretations of the same news. What I am saying is that sometimes good news is bad and bad news is good. This can be confusing, even to seasoned investors let alone rookies. Take for instance recent employment reports. A few of them have shown strong employment. In the long term view this is good because it shows that the economy is healthy and there is less risk of recession. In the short view it is viewed as bad as the strong labor market will contribute to higher inflation and encourage the Fed to continue to raise rates. Also, negative, it is viewed by invest0rs as possibly causing the Fed to raise rates too much and drive the economy into a deeper recession. So as you see, opposing points of view are in constant conflict which makes if very hard to predict the outcome.  All these market pundits that claim to be able to tell the future are doing no more than guessing. That is the reason it is so hard to answer the questions you give me about if we might make a move based on a new piece of news. I often waste time trying to explain what I will do if the news results on one outcome or the other, but the reality of it all is that all I really ever do is watch the charts and react to the changes I see. In much simpler terms we are reactive not anticipatory investors. Now before some of you are quick to judge, I will say this in our defense. We had a rough time adjusting to the unwinding of Federal stimulus. As we stumbled, the buy and hold crowd continued their subpar performance that they had always achieved over the past 25 years or so. Lacking as it was, it was enough to out perform us and boy did they let us know about it as they still are!!! Couple that with a new generation of investors and you have the perfect storm. This has become the generation of instant gratification. It doesn't matter that we out performed them by close the 300% over the past ten years. They have a new generation of investors that weren't around then and the only thing they know or understand is a market that for the most part went straight up for the past decade. This now enables the buy and holders to market their poison to this new generation of investors. I've heard it all over the past 16 months. They say "Why you'd be better off if you'd stayed in one fund and never moved" . That's what they tell them. After all they were more than happy with their (at best) ten percent a year over the past 30 years. You know they are right in one sense. We'd have done better in this period of adjustment if we'd just left things alone. Albeit, we'd be doing it with close to 300% less had we bought and held all along. Folks, we'd have to lose a lot of money to get back down to where they where the best of the past 16 months. So if you believe they are they best, then you should go follow their recommendations right now and quit wasting your time reading this. Here's the reality though, while they continued plodding along with their same mindless system, spending more time watching our allocation than trying to improve their own, we were developing a new set of indicators for a new market. With God's help we were evolving. As with any system it takes a little time to get in synch with the market. It was no different for us. Our recent move into the C Fund was they first move that put us totally in synch with our new signals. So we got a slow start out of the gate in January and February, but it's a long race. With God's help we will pass the buy and holders again and add to our substantial advantage. All I can say, is look at our past track record and if you want to bet against us then do so. We don't take one drop of credit for anything we have ever accomplished here. It was only with God's guidance that we had any success and it is only though him the we will do so in the future. Give Him all the praise and glory for He and He alone is worthy. Now moving on……we are looking at two market moving events this week. Tomorrow the CPI (consumer product index) will be released. This is one three indexes that the Fed watches closely to determine their monetary policy. Then on Thursday we have the PPI (Producer Price Index which is also closely watched by the Fed. While were on the subject I will also point out that the Fed watches another index called the CPE or Consumer Personal Expenditure Index. It is their favorite indicator. So just to break it down the Feds favorite indicators to watch are the CPI, PPI, and CPE. I will add also don't get confused with the other CPI known as the Core Price Index which is the same thing as the CPI (consumer Price Index) less  volatile energy and food costs. For some reason they give that one less weight. One more thing to keep your eye on as the week progresses. First quarter earnings reports will start to be released beginning with the big banks. It is expected that they will reflect a slowing economy. How will the market react to that??? Refer to what I have written above…………
So far trading has produced the following results. Our TSP allotment is flat at -0.00%. For comparison, the Dow is up +0.19%, the Nasdaq is off -0.50%, and the S&P 500 is flat at +0.00%.
Recent action has left us with the following signals: C-Buy, S-Hold, I-Buy, F-Buy. We are currently invested at 100/C. Our allocation is now -3.09% on the year not including the days results: Here are the latest posted results:
04/10/23
Prior Prices
Fund
G Fund
F Fund
C Fund
S Fund
I Fund
Price

17.4205

18.8465

63.3415

63.9086

36.8557

$ Change

0.0069

-0.1420

0.0646

0.5969

-0.1750

% Change day

+0.04%

-0.75%

+0.10%

+0.94%

-0.47%

% Change week

+0.04%

-0.75%

+0.10%

+0.94%

-0.47%

% Change month

+0.10%

+0.36%

+0.04%

-1.88%

-0.04%

% Change year

+1.08%

+3.51%

+7.53%

+3.86%

+8.58%
 Now lets take a look at the charts. All signals are annotated with 

green circles

. If you click on the charts they will become larger. If you want to learn more about technical analysis check out the website StockCharts.com.
C Fund: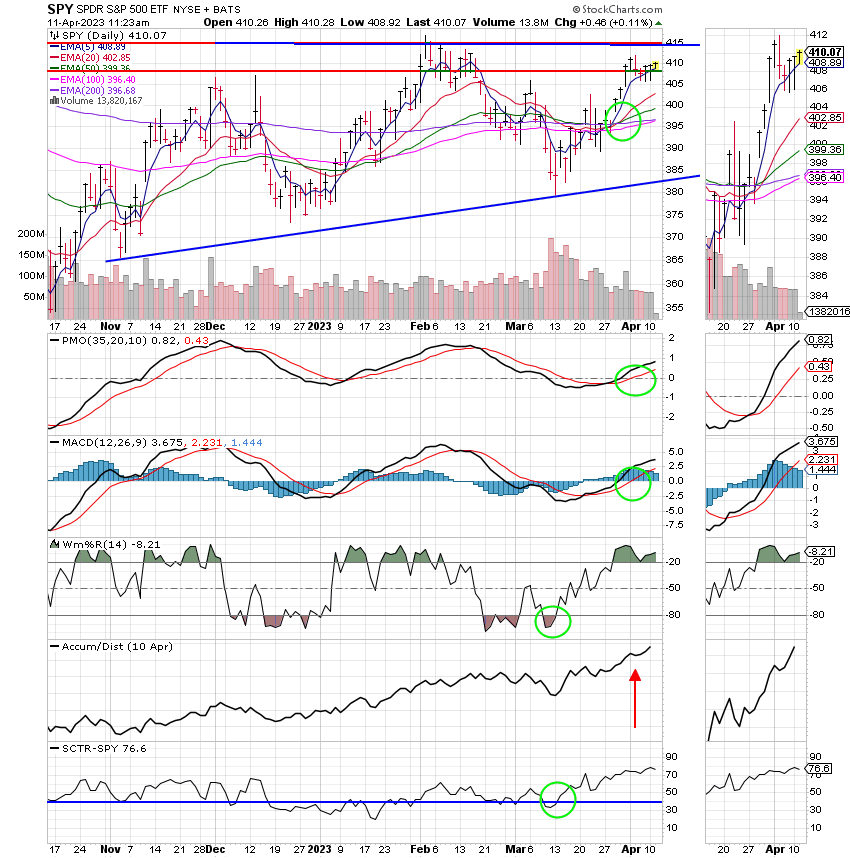 S Fund: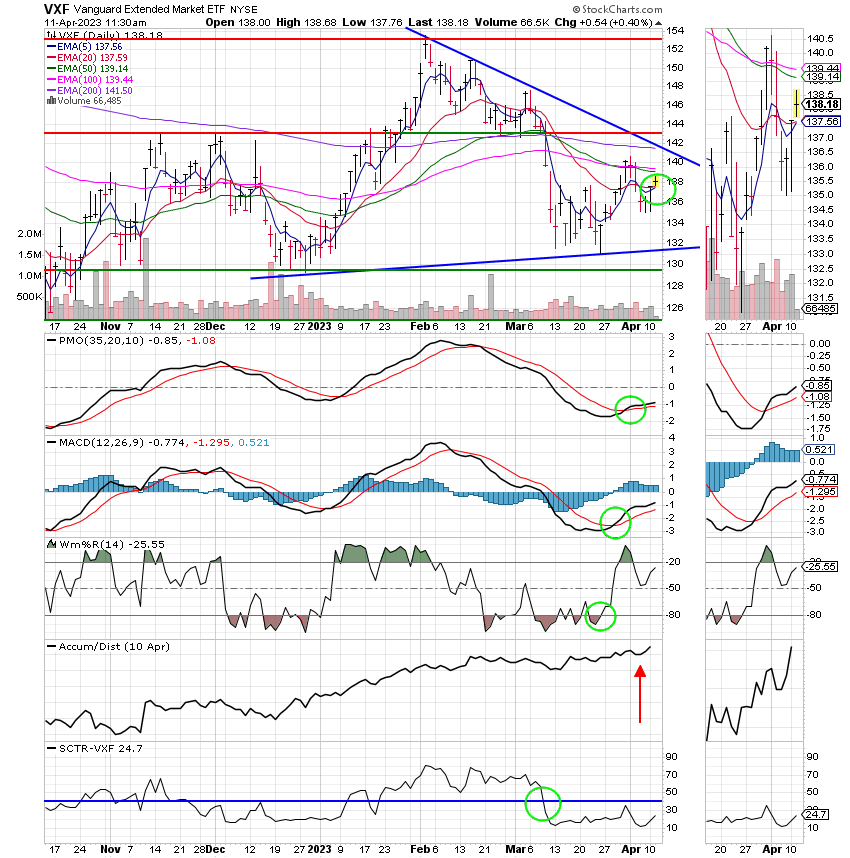 I Fund: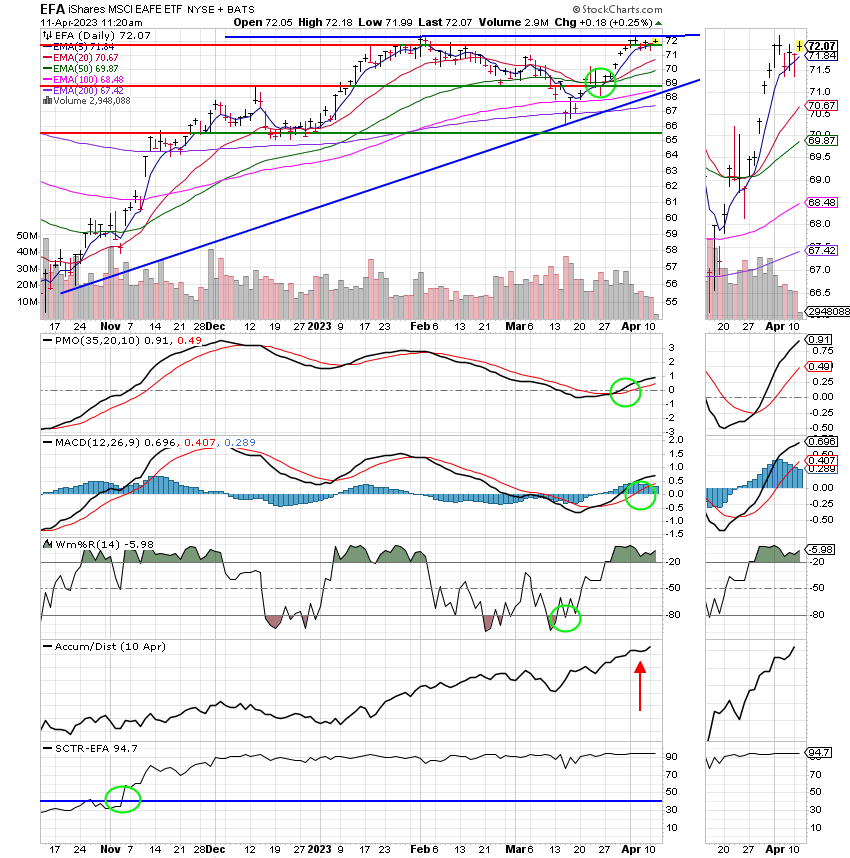 F Fund: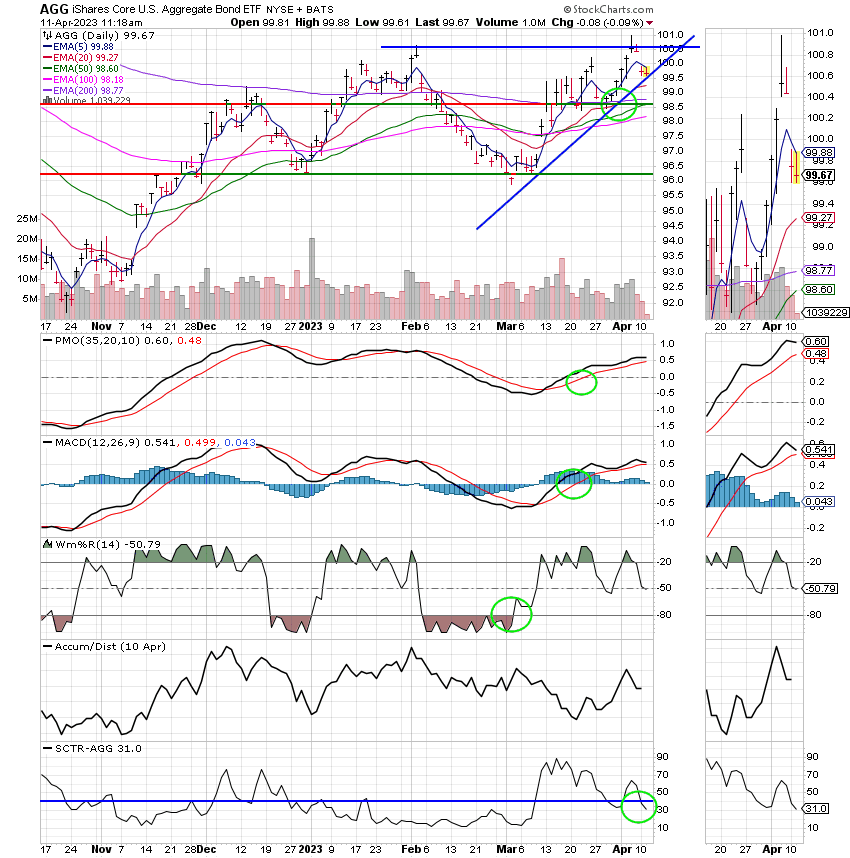 We're back in synch with our system now. It will take a little time but we will now begin to consistently perform well as we have in the past. That's all for today. Have a great day and may God continue to bless your trades.
God bless, Scott 
***Just a reminder that you can review the performance of our allocation at the Web Site TSPTALK.com in the autotracker section under the screen name KyFan1.
I produce and publish this blog as both a ministry and for the benefit of any Federal Government Employee. This is done to offer you some guidance as to how to approach your retirement more financially successful. When it is time for you to retire, I recommend you utilize the services of a Professional Money Manager, who works with a reputable investment firm. He understands the guidance you have already received and he can manage your savings assets utilizing a more advanced investment program into the future.
If you would like to receive more information about this introduction, please feel free to contact me at  KyFan1@aol.com.