Good Evening, The major indices all finished down. The S&P 500 and C Fund were down. Bad day for the market right?? Wait just a minute. Not everything is what it seems. Healthcare and Technology stocks that have been leading the recent rally where down today, but the other sectors where up. I call that a redistribution day. Investors where buying value and the money had to come from somewhere. Stocks like banks, energy, and industrial stocks were up. So hows that good for us Scott?? It's elementary my dear Holmes. Investors were encouraged by the fact that several states are starting to reopen their economies. So they started buying stocks other than just popular growth stocks such as Apple (AAPL) and Amazon (AMZN). This redistribution will ultimately drive the market higher barring any unexpected bad news. The leaves us with an S&P 500 that is consolidating in a treading range between 2600 and 2900. More than likely that's where it will remain until we either get some really bad news or some really good news. I'm hoping and praying (actually praying more than hoping) that it will be good news in the form of a reduction in the number of COVID 19 cases and/or an effective vaccine/treatment for the same. As I mentioned several times lately. We are positioned for the breakout from this current trading range. I won't go into that again, but the short of it is that we are here to stay until things get better. They won't scare us out or wear us out…… We are in at a good price and we are going to make money. The bottom line is that it will be up and down and side to side in the 2600 – 2900 range until things become a little clearer. So dig in and be patient!!!!!
Today's trading left us with the following results: Our TSP allotment fell back -0.52%, For comparison, the Dow slipped -0.13%, the Nasdaq -1.40%, and the S&P 500 -0.52%. Although today was not a winner I give God praise for the recent run that we have had!
The days action left us with the following signals: C-Buy, S-Buy, I-Neutral, F-Buy. We are currently invested at 100/C. Our allocation is now +4.37% on the year. Here are the latest posted results.
04/28/20
Prior Prices
Fund
G Fund
F Fund
C Fund
S Fund
I Fund
Price

16.4267

20.688

42.1182

46.1764

26.6435

$ Change

0.0003

0.0506

-0.2192

0.2413

0.2984

% Change day

+0.00%

+0.25%

-0.52%

+0.53%

+1.13%

% Change week

+0.01%

-0.05%

+0.95%

+4.33%

+2.80%

% Change month

+0.07%

+1.77%

+10.91%

+14.19%

+5.36%

% Change year

+0.47%

+4.92%

-10.88%

-17.95%

-18.56%

 

L INC
L 2020
L 2030
L 2040
L 2050
Price

20.6644

28.4023

31.9521

34.551

19.8631

$ Change

0.0122

0.0178

0.0462

0.0607

0.0409

% Change day

+0.06%

+0.06%

+0.14%

+0.18%

+0.21%

% Change week

+0.45%

+0.48%

+1.25%

+1.51%

+1.75%

% Change month

+2.19%

+2.26%

+5.81%

+6.93%

+7.91%

% Change year

-2.46%

-3.09%

-8.32%

-10.09%

-11.65%
 Now lets take a look at the charts. All signals are annotated with 

green circles

. If you click on the charts they will become larger.
C Fund: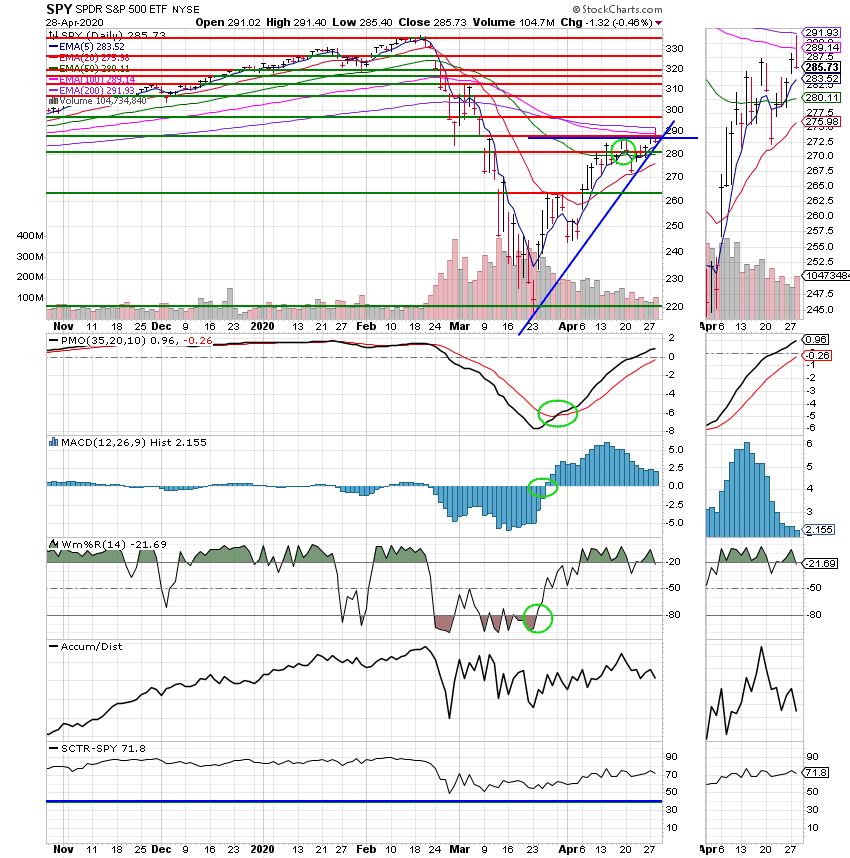 S Fund: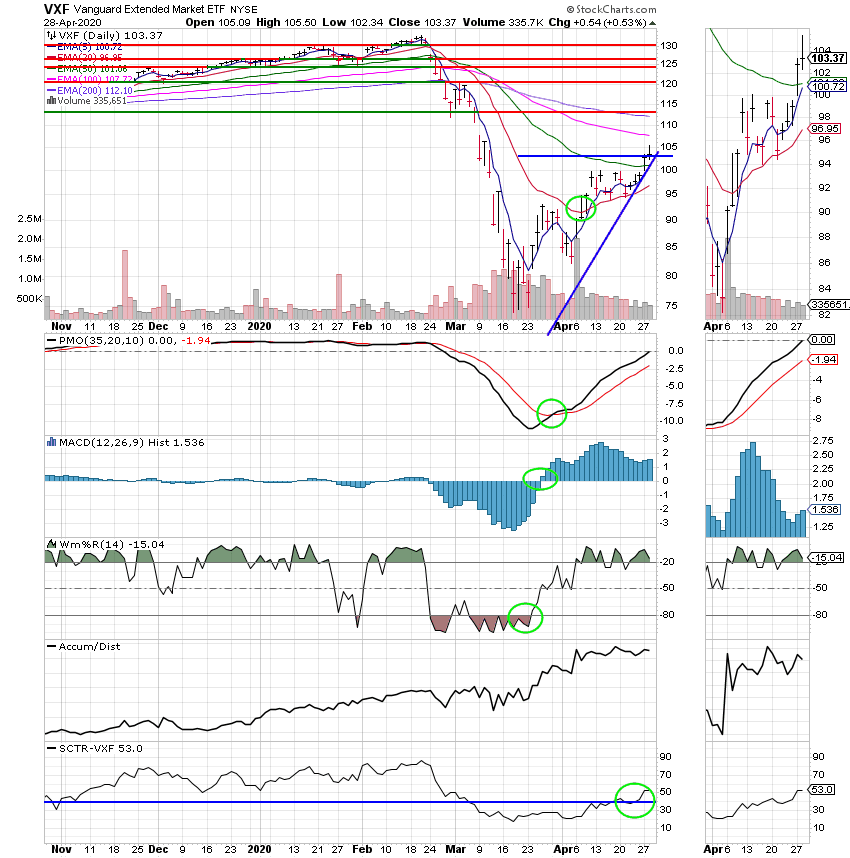 I Fund: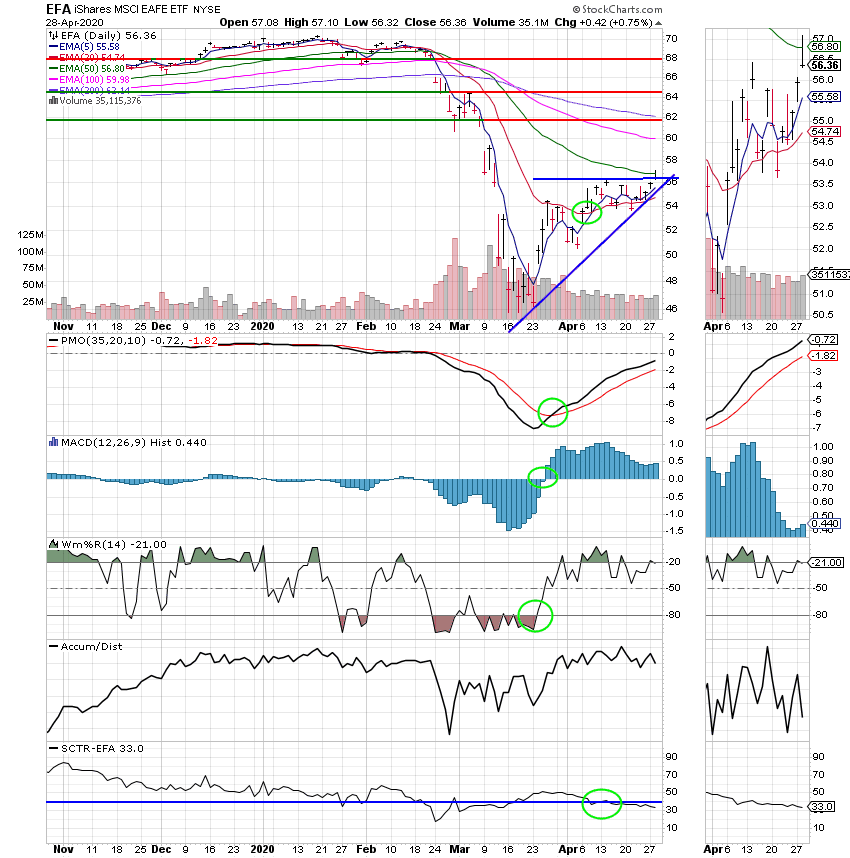 F Fund: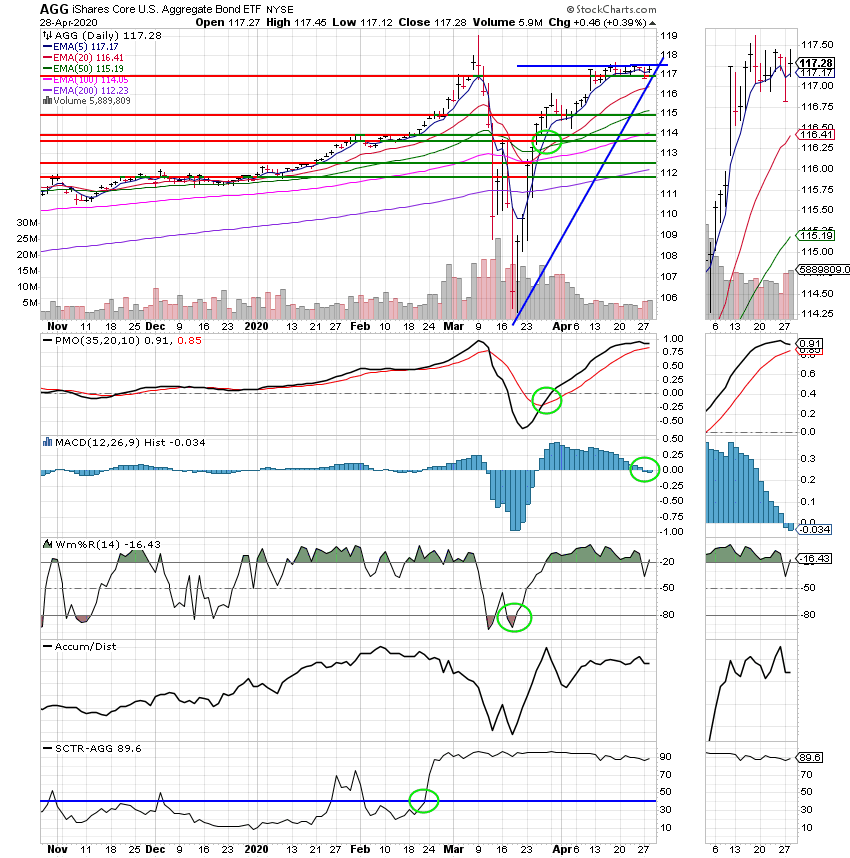 That's all for tonight. Have a nice evening and may God bless your trades. Stay safe in the Lord; Psalms 91.
God bless, Scott 
***Just a reminder that you can review the perform

ance of our allocation at the Web Site TSPTALK.com in the autotracker section under the screen name KyFan1.
I produce and publish this blog as both a ministry and for the benefit of any Federal Government Employee. This is done to offer you some guidance as to how to approach your retirement more financially successful. When it is time for you to retire, I recommend you utilize the services of a Professional Money Manager, who works with a reputable investment firm. He understands the guidance you have already received and he can manage your savings assets utilizing a more advanced investment program into the future. 
If you would like to receive more information about this introduction, please feel free to contact me at  KyFan1@aol.com. 
Share