Good Evening, The market remains in a trading range, gaining ground on one day and giving it up on another. Today it in traded flat most of the day ending up slightly in the red. This was a result of a small hangover from last weeks First Federal Bank trouble leading to JP Morgan Chase buying most of the regional bank at bargain basement prices this weekend. First Republic collapse sparks regional bank shares sell-off . Also slowing investors down is the fact that they are not willing to place any big bets ahead of the upcoming May Fed meeting. Although, it is widely anticipated that the Fed will increase rates by a quarter point, I would still expect there to be a negative reaction by the the market if that is the case. I haven't seen many Fed meetings resulting in a rate increase that did not have at least a limited negative impact on the market. Also supporting the thought that the Fed will increase rates was todays PMI report. The Institute for Supply Management (ISM) said this morning that its manufacturing PMI rose last month from March. It looks like a Fed rate increase is all but certain.  Earnings also continue to roll in with several large cap tech firms reporting this week. Mighty Apple which is one of the largest companies in the market by market cap will be reporting on Thursday. It is considered a bellwether stock and many investors will be watching that report closely.  The reports so far for the most part have been okay with most companies beating diminished expectations. There really hasn't been any exciting market moving news one way or the other regarding earnings as the bar was set so much lower in recent guidance. Last week we moved our allocation to 100% G as our charts began to look a little extended. We felt that the First Republic Bank Failure coupled with additional stress over the upcoming Fed meeting and the fact that our charts were (and still are) looking a little long in the tooth gave us some good reasons to take a rest. Our strategy now is to watch our charts for a new uptrend, but only after the market retreats.
The days trading left us with the following results: Our TSP allotment remains steady in the G Fund. For comparison, the Dow slipped -0.20%, the Nasdaq -0.11%, and the S&P 500 -0.04%. Stocks remain in a trading range testing resistance which is around 4150 for the S&P 500. We will try to wait until that range is resolved one way or the other before we make our next move.
The days action left us with the following signals: C-Buy, S-Hold, I Buy, F-Hold. We are currently invested at 100/G. Our allocation is now -2.40% for the year not including the days results. Here are the latest posted results:
04/28/23
Prior Prices
Fund
G Fund
F Fund
C Fund
S Fund
I Fund
Price

17.4552

18.8923

64.3024

63.7099

37.9281

$ Change

0.0053

0.1048

0.5332

0.5360

0.0354

% Change day

+0.03%

+0.56%

+0.84%

+0.85%

+0.09%

% Change week

+0.09%

+0.83%

+0.89%

-1.06%

+0.07%

% Change month

+0.30%

+0.61%

+1.56%

-2.18%

+2.87%

% Change year

+1.28%

+3.76%

+9.16%

+3.54%

+11.74%
 Now lets take a look at the charts. All signals are annotated with 

green circles

. If you click on the charts they will become larger. If you want to learn more about technical analysis check out the website StockCharts.com.   
C Fund: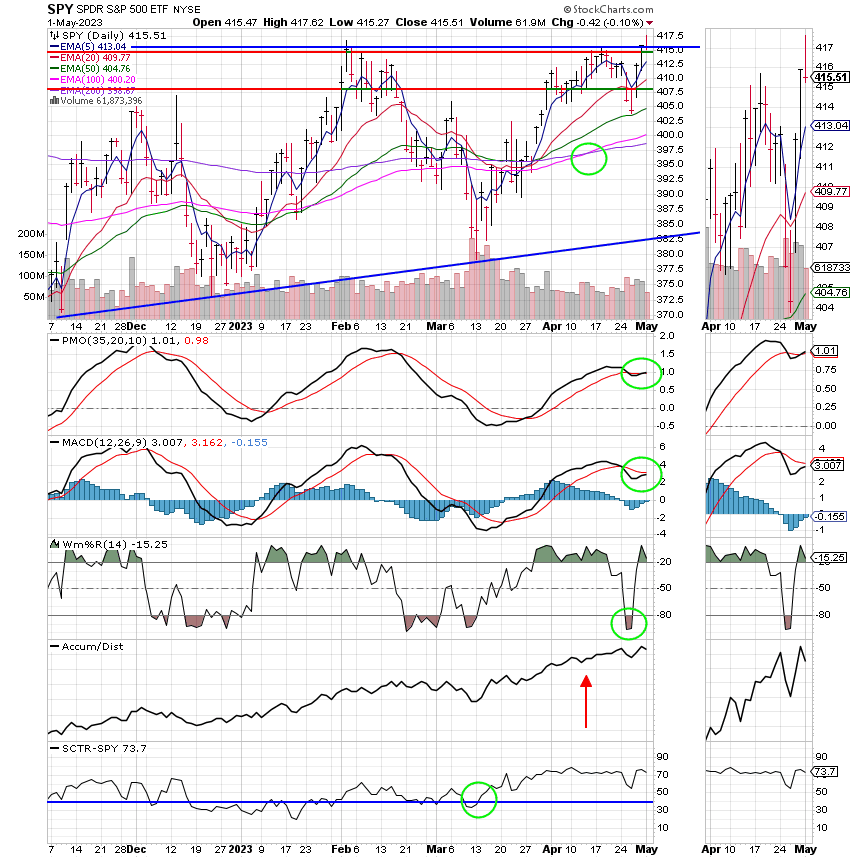 S Fund: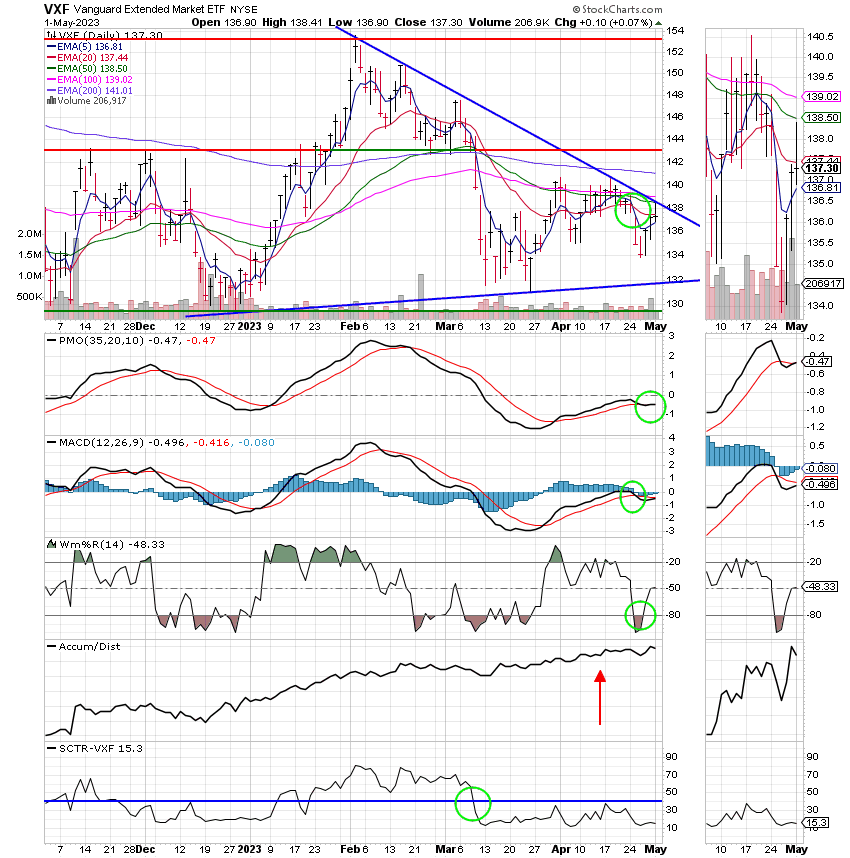 I Fund: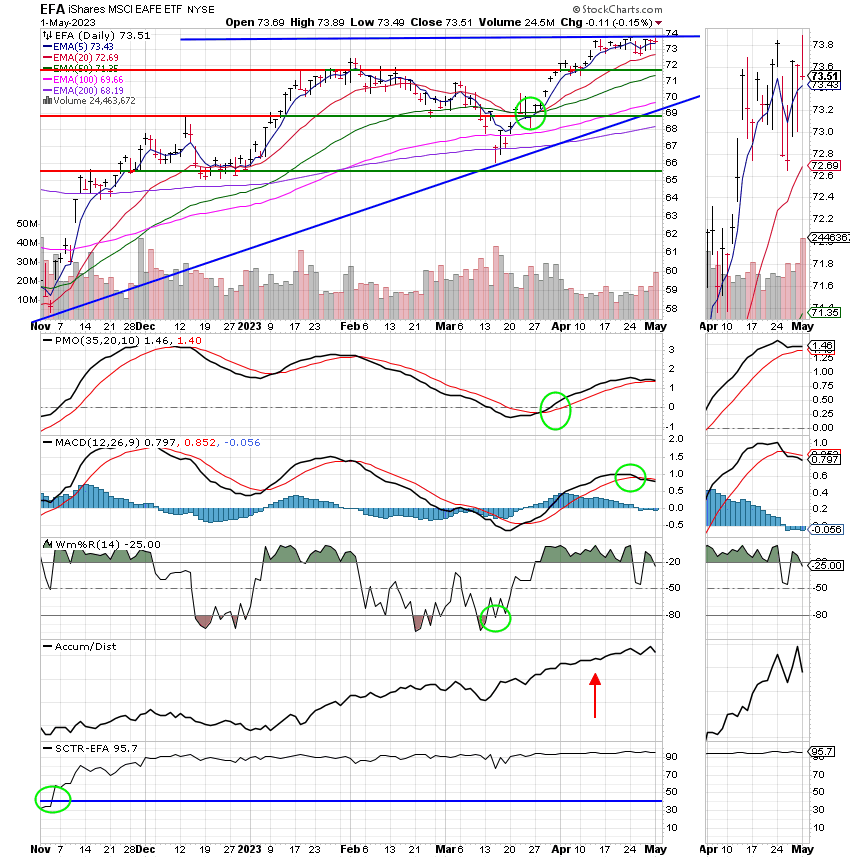 F Fund: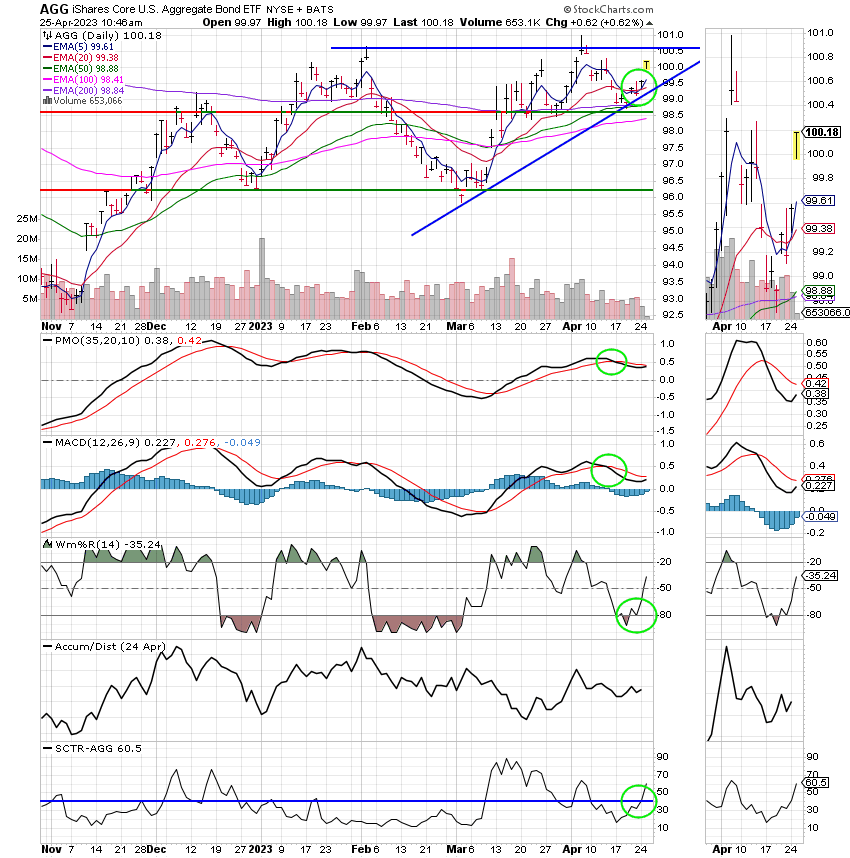 Once again, our task is to watch the charts for the next uptrend. Right now our equity based charts are all coming up against strong resistance. We feel that there will be a pullback from that point. That is what we would prefer to see. However, if the charts break thought this resistance and the resistance become support, we will consider investing at that point as well. Just to be clear based on what I am seeing on most my indicators right now, I think a pullback from this point is the most likely scenario, but as I have said many times in the past, we must always have a plan for all contingencies so that we will be able to react in a timely manner to whatever we see. No surprises that way!! That's  all for this week. Have a nice evening and may god continue to bless your trades!
God bless, Scott 
***Just a reminder that you can review the performance of our allocation at the Web Site TSPTALK.com in the autotracker section under the screen name KyFan1.
I produce and publish this blog as both a ministry and for the benefit of any Federal Government Employee. This is done to offer you some guidance as to how to approach your retirement more financially successful. When it is time for you to retire, I recommend you utilize the services of a Professional Money Manager, who works with a reputable investment firm. He understands the guidance you have already received and he can manage your savings assets utilizing a more advanced investment program into the future.
If you would like to receive more information about this introduction, please feel free to contact me at  KyFan1@aol.com.