Good Evening, Things have settled down a bit and we have started out this week well……normal. Yes the best description of the action so far this week is normal and I attribute that to the fact that we have no major crisis so far this week. I praise God for that. The main things that have settled us back down to a state of normal are first that the crypto currency market has recovered from last weeks major selloff and second that the bond yields have been tame. Also, not to be overlooked is that recent Fed statements have managed to calm investors inflation fears. Just a quick thought on the crypto thing. Whether we like it or not the market has become increasingly tied to crypto currencies which just for the record I don't like. I know that a lot of you invest in them and I also am aware that some of you have done quite well. I am happy for you! However, I still think that investing in crypto is like investing in a bubble. You are totally dependent on other investors to drive up the price. That is it. That is all there is. Crypto has no intrinsic value whatsoever. I'd much rather own companies or physical products such as precious metals or grain. The only value I see is in it all is the blockchain technology that crypto currencies use. So last week bitcoin which is the number one crypto currency crashed and and the market sold off as well. That was especially true for companies like Tesla that have become heavily invested in the currency. Anyway, my point is that to a certain degree, so goes crypto so goes the market these days…… but at least so far this week, everything seems normal and that's just alright with me.
The days trading left us with the following results. Our TSP allotment posted a nice gain of +1.37%. For comparison, the Dow was up +0.03%, the Nasdaq +0.59%, and the S&P 500 +0.19%. We had them covered today. Praise God for a great day!
The days action left us with the following signals: C:Buy, S-buy, I-Buy, and F-Hold. We are currently invested at 100/S. Our allocation is now +10.68% on the year. Here are the latest posted results:
05/26/21
Prior Prices
Fund
G Fund
F Fund
C Fund
S Fund
I Fund
Price

16.5919

20.7256

62.8277

82.1225

38.9179

$ Change

0.0007

-0.0139

0.1185

1.1363

-0.0465

% Change day

+0.00%

-0.07%

+0.19%

+1.40%

-0.12%

% Change week

+0.02%

+0.34%

+0.98%

+1.66%

+0.66%

% Change month

+0.11%

+0.34%

+0.48%

-1.48%

+3.04%

% Change year

+0.51%

-2.22%

+12.37%

+10.68%

+9.97%

Fund
L INC
L 2025
L 2030
L 2035
L 2040
Price

22.8941

11.762

41.4101

12.4254

46.9794

$ Change

0.0119

0.0129

0.0597

0.0199

0.0831

% Change day

+0.05%

+0.11%

+0.14%

+0.16%

+0.18%

% Change week

+0.25%

+0.48%

+0.61%

+0.67%

+0.72%

% Change month

+0.36%

+0.61%

+0.74%

+0.79%

+0.84%

% Change year

+2.77%

+5.40%

+6.79%

+7.40%

+8.03%

Fund
L 2045
L 2050
L 2055
L 2060
L 2065
Price

12.8613

28.157

13.8051

13.805

13.8048

$ Change

0.0249

0.0590

0.0360

0.0360

0.0359

% Change day

+0.19%

+0.21%

+0.26%

+0.26%

+0.26%

% Change week

+0.77%

+0.82%

+0.96%

+0.96%

+0.96%

% Change month

+0.88%

+0.93%

+1.07%

+1.07%

+1.06%

% Change year

+8.55%

+9.10%

+11.22%

+11.22%

+11.22%
 Now lets take a look at the charts. All signals are annotated with 

green circles

. If you click on the charts they will become larger. If you want to learn more about technical analysis check out the website StockCharts.com.
C Fund: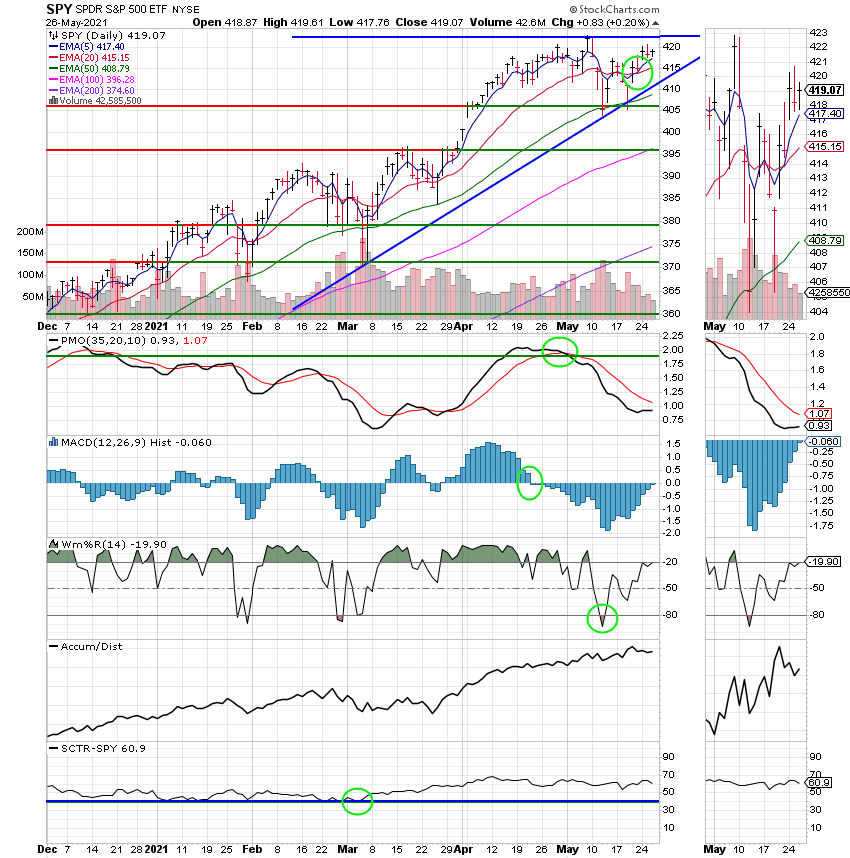 S Fund: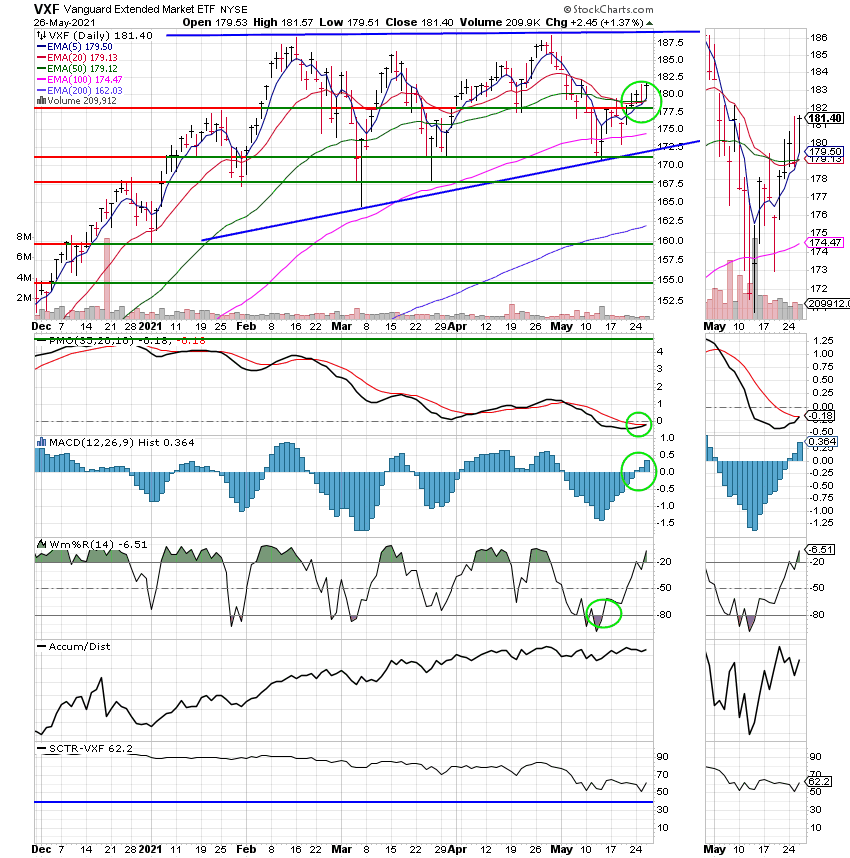 I Fund:
F Fund: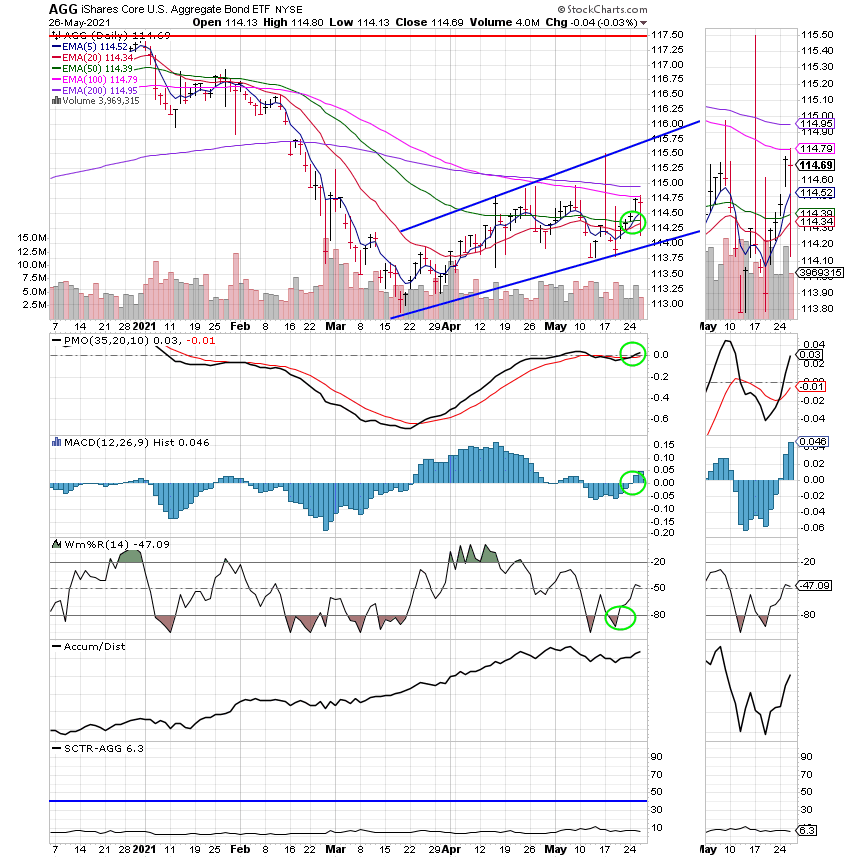 We'll be entering the dog days of summer soon. Lets see if the a recovery induced rally can make them more exciting than usual. That's all for tonight. Have a great evening and may God continue to bless your trades.
God bless, Scott 
***Just a reminder that you can review the perform

ance of our allocation at the Web Site TSPTALK.com in the autotracker section under the screen name KyFan1.
I produce and publish this blog as both a ministry and for the benefit of any Federal Government Employee. This is done to offer you some guidance as to how to approach your retirement more financially successful. When it is time for you to retire, I recommend you utilize the services of a Professional Money Manager, who works with a reputable investment firm. He understands the guidance you have already received and he can manage your savings assets utilizing a more advanced investment program into the future. 
If you would like to receive more information about this introduction, please feel free to contact me at  KyFan1@aol.com. 
Share