Good Evening, Last week we talked about 5 issues that were effecting the market. Well welcome to number six! This is an issue that occurred earlier this year and has now reared it's ugly head yet again. It is rising treasury yields. God's word says there is nothing new under the sun and that definitely applies here. If you remember when it occurred last time we said that it was only an amount of time before it occurred again. Why? because as we mentioned at the time it is the result of a hot or improving economy. Treasury yields and interest rates are going to rise. It is a normal occurrence. So why did we have such a bad day? Were investors selling and going away so they could come back on another day??? No! They were selling tech and other interest sensitive stocks and buying stocks that will benefit from this such as Financials, Energy, and Value related stocks. So this problem will work itself out as long as inflation doesn't get out of hand. Now that we've mentioned treasury yields lets talk briefly about a couple of the other five issues….. Remember when I said that the congressional budget debate could cause major headaches for the market. Well it was equally culpable with treasury yields in todays large decline. This from CNBC on the subject:
"Also weighing on sentiment was a budget showdown in Washington. Senate Republicans blocked a House-passed bill Monday that would have funded the government into December and suspended the debt ceiling until December of 2022.
Congress must approve government funding by Friday to avoid a shutdown, and Treasury Secretary Janet Yellen warned Congress in a letter on Tuesday that lawmakers need to raise the debt limit by Oct. 18 to avoid a government default. President Biden's massive infrastructure plan also faces an uncertain future."
There you have it. Everything we talked about. I'm not ready to pull the plug just yet but I will say this. I will be watching my charts to see how this issue effects them with a finger not too far from the eject button. This is a wait and see type of thing so we will wait and see. I would caution you all not to get in too big of a hurry in selling your equity positions because you can bet there will be one heck of a relief rally when and if this budget crisis is resolved provided that the debt ceiling is not raised too much. What is too much? That market will decide that. Nobody said this would be easy. We thought it would be a wild ride and so far it has not failed to disappoint! What should we do? Watch our charts. Pray for our government and pray for our group. Also, never forget to pray with praise for and thanksgiving to our heavenly Father who knows what we have need of even before we do. I am reminded every time the market dips that he has never let our group down. He has blessed us so many times that I have honestly lost count. I will add one last thing on this subject. Even if He does not bless our group this time, I will praise Him anyway. I can't speak for you, but He has already done far more for me than I deserve. If by chance your reading this and you wonder what the heck this crazy guy is talking about. If you want to know Him and do not. All you have to do is pick up a Bible and turn to the book of Romans Chapter 10,  verses 9 and 10. It will tell you what to do. I promise you this. If you do it will change your life because it sure changed mine!
The days trading left us with the following results: Our TSP allotment fell -2.04%. For comparison, the Dow lost -1.63%, the Nasdaq -2.83%, the S&P 500 -2.04% and for those of you keeping Score the S Fund dropped -2.47%. There was definitely a lot of red on the ledgers today!
The days action left us with the following signals: C-Hold, S-Hold, I-Hold, F-Sell. We are currently invested at 100/C. Our allocation is now +12.21% on the year. Here are the latest posted results:
09/28/21
Prior Prices
Fund
G Fund
F Fund
C Fund
S Fund
I Fund
Price

16.6713

20.8797

65.4708

83.661

38.5833

$ Change

0.0007

-0.0774

-1.3576

-2.1713

-0.7032

% Change day

+0.00%

-0.37%

-2.03%

-2.53%

-1.79%

% Change week

+0.02%

-0.49%

-2.30%

-2.15%

-1.93%

% Change month

+0.11%

-0.95%

-3.67%

-3.07%

-2.39%

% Change year

+0.99%

-1.49%

+17.10%

+12.75%

+9.03%
 Now lets take a look at the charts. All signals are annotated with 

green circles

. If you click on the charts they will become larger. If you want to learn more about technical analysis check out the website StockCharts.com.
C Fund: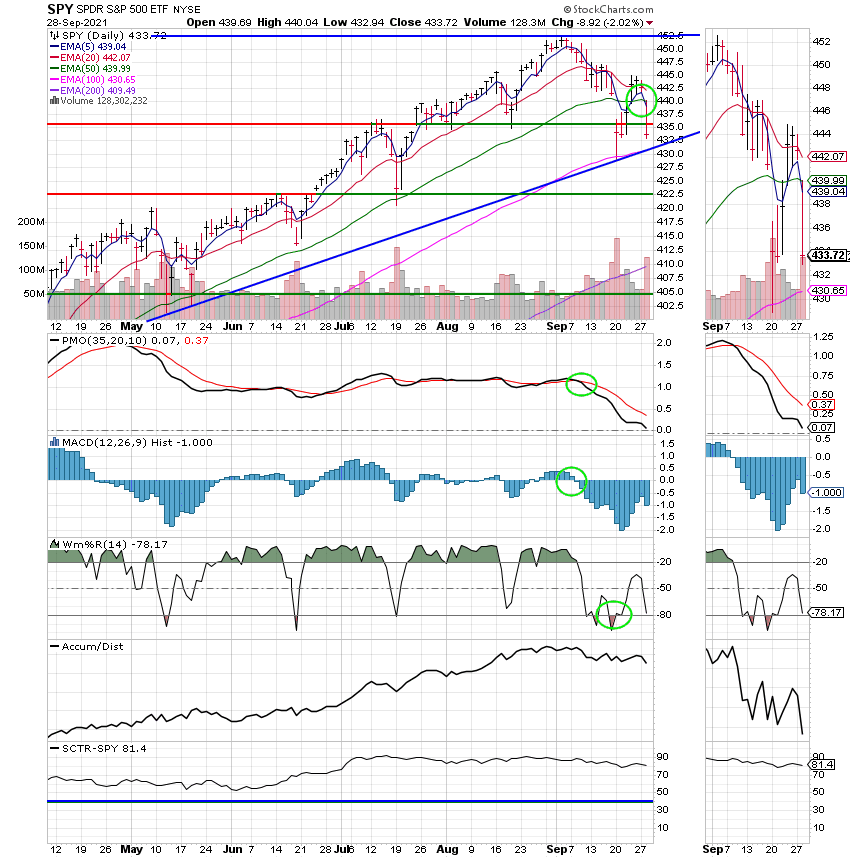 S fund: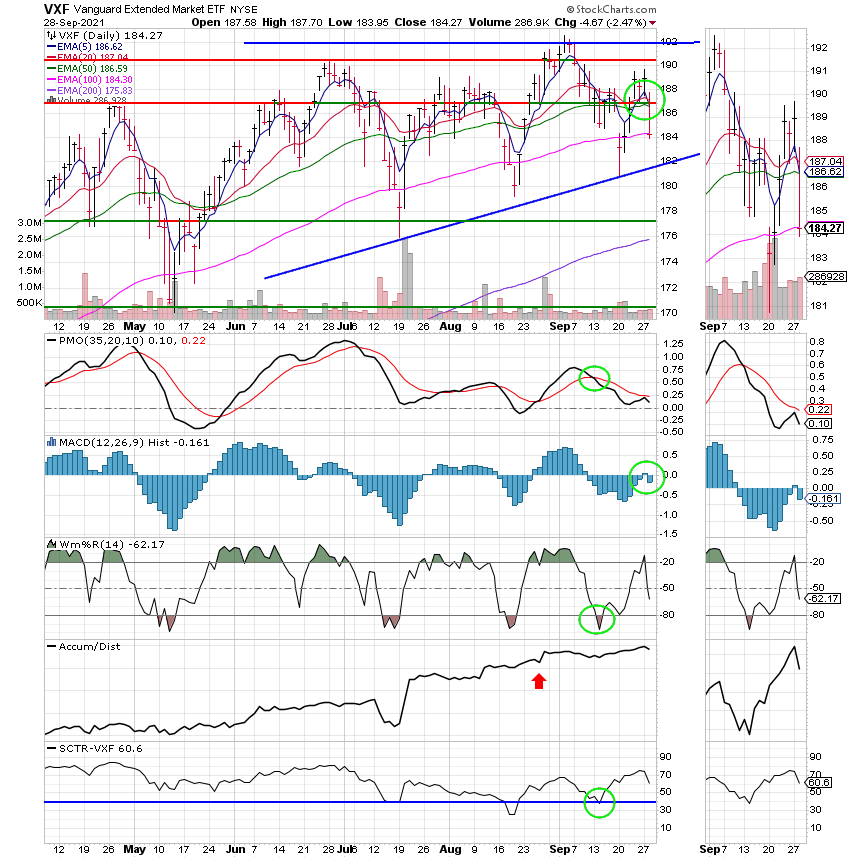 I Fund: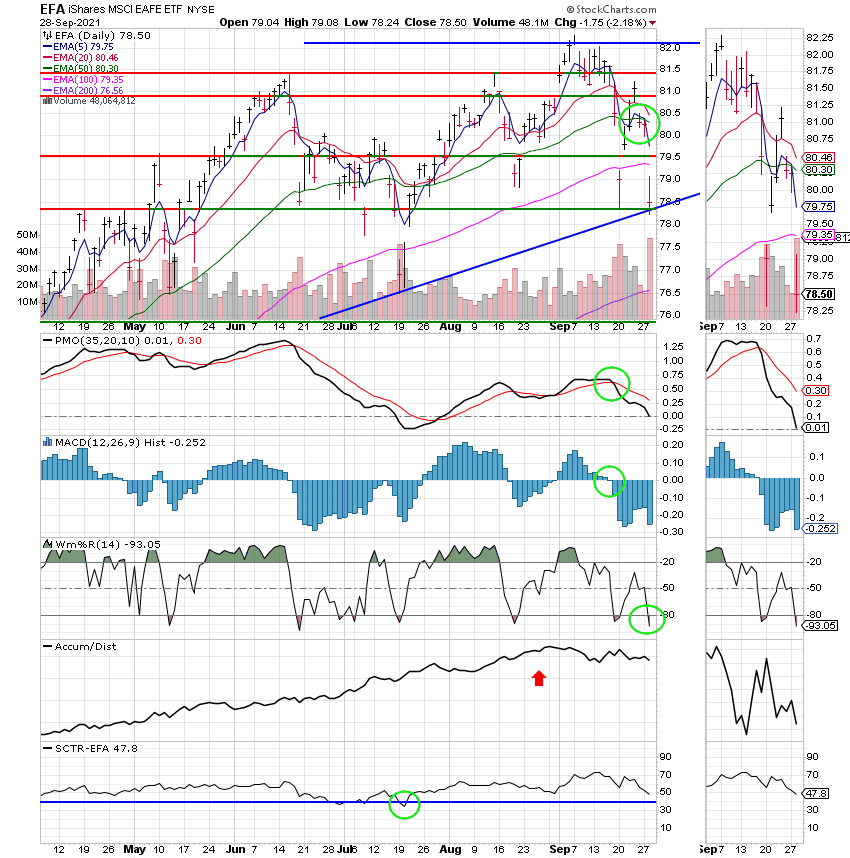 F Fund: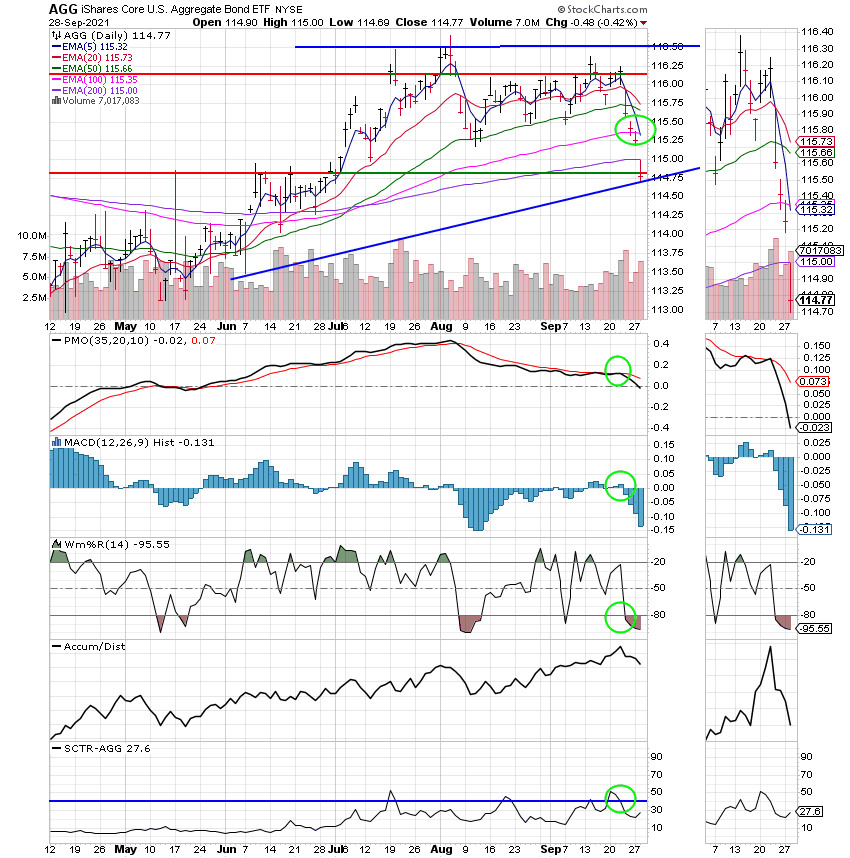 Nothing to add here. That's all for tonight. Have a nice evening and may God continue to bless your trades!
God bless, Scott 
***Just a reminder that you can review the perform

ance of our allocation at the Web Site TSPTALK.com in the autotracker section under the screen name KyFan1.
I produce and publish this blog as both a ministry and for the benefit of any Federal Government Employee. This is done to offer you some guidance as to how to approach your retirement more financially successful. When it is time for you to retire, I recommend you utilize the services of a Professional Money Manager, who works with a reputable investment firm. He understands the guidance you have already received and he can manage your savings assets utilizing a more advanced investment program into the future. 
If you would like to receive more information about this introduction, please feel free to contact me at  KyFan1@aol.com. 
Share