Good Morning, Last week about this time many investors were thinking the market had finally bottomed for good. The only problem was nothing had changed. Well you know what? It still hasn't changed and if anything it has deteriorated. There are multiple issues that are destabilizing the market right now. The unknown effects of quantitative tightening (we've never experienced this before). The War in the Ukraine is escalating. Covid is making yet another comeback in China choking off the micro chip supply line (didn't they vaccinate any of those people). Treasury yields continue to rise and show no sign slowing. The dollar continues to strengthen hurting US companies that do business abroad and destabilizing third world and emerging economies (this has a significant effect on commodities that are priced in dollars). Energy prices are making a comeback which hurts everybody everywhere. Europe is already in a recession and will likely drag us into one as well (skyrocketing energy prices moving into winter will only accentuate that). The the rate of inflation remains stubbornly high. Given recent strong labor reports there is little to dissuade the FED from further hiking rates. The general consensus among skilled investors is that the Fed started hiking rates to late and may now go to far. Highly regarded Morgan Stanley CEO, Jamie Dimon said in a recent interview that while the Fed "waited too long and did too little" as inflation jumped to four-decade highs, the central bank is "clearly catching up.""And, you know, from here, let's all wish him success and keep our fingers crossed that they manage to slow down the economy enough so that whatever it is, is mild — and it is possible," he added. This is the same man that back in June predicted the current downturn saying that he was preparing his Morgan Stanley Bank for an upcoming "economic hurricane"! Well Mr. Dimon may have been correct. It sure seems like the skies are getting cloudy and the wind is starting to blow a little harder. Also, in the interview above, the media folks asked him what his thoughts were concerning the S&P 500. He said that if the Fed failed to bring the economy in for a soft landing the benchmark could yet fall by "another easy 20%" from current levels, adding that "the next 20% would be much more painful than the first." I totally agree with that analysis. There are two clear paths for the market to take from here and that will be determined by how successful the Fed is in their quest to control inflation with minimal damage to the economy. It is more than evident when looking at this issue why I always say here at MY TSP Guide that you can't predict what the market will do. This is exactly what I mean when I say that no one has a crystal ball and this is why it is so critical to watch your charts. Mr. Dimon did not predict that the S&P 500 would absolutely drop 20%. What he said was that if the Fed was unable to bring the economy in for a soft landing that it could drop that much. Again, I agree with that analysis. So we will watch our charts and prepare a plan for what we will do if the Fed is successful and what we will do if they are not. With those contingency plans in place we watch and wait for the next trend. That's what you do and that's how you do it!! I'm sure the buy and hold crowd is now relenting that they jumped on our lack of success earlier in the year. It entirely possible if not just a little probable that they could find themselves as far are farther behind us than we were behind them at that time. I take no joy in their misfortune. It is my sincere desire that they realize how reckless it is to leave money in equites at a time like this. I know we're not there just yet, but it is entirely possible we could be facing a scenario like we did in 2000 when it took investors nearly five years to recoup their losses. As I have repeatedly said, this market is more like that one than it is like the market of the last twelve years. It is going to take more time and patience to get through this than it has in the past. Patience is one of the fruits of the Spirit listed in God's word. So if you use your charts, seek guidance from God and receive patience from the Holy Spirit you will be more than fine when this is over. Give Him all the Praise for He and He alone is worthy!!
Current trading is leaving us with the following results: Our TSP allotment is steady in the G Fund. For comparison the Dow is now back in the green at +0.39%, the Nasdaq is down -0.76%, and the S&P 500 is off -0.42%. I caution everyone not to take much from a particular day's trading in this market. This is the time when you really need to see an established uptrend before you make a commitment to go long.
Stocks fall as investors look ahead to key inflation data, earnings reports
Recent action has generated the following signals: C-Sell, S-Sell, I-Sell, F-Sell. We are currently invested at 100/G. Our allocation is now -27.51% on the year not including the days results. Here are the latest posted results:
10/10/22
Prior Prices
Fund
G Fund
F Fund
C Fund
S Fund
I Fund
Price
17.0743
17.8581
55.6287
60.0168
29.1623
$ Change
0.0000
0.0000
0.0000
0.0000
0.0000
% Change day
+0.00%
+0.00%
+0.00%
+0.00%
+0.00%
% Change week
+0.00%
+0.00%
+0.00%
+0.00%
+0.00%
% Change month
+0.07%
-0.23%
+1.56%
+2.54%
+1.63%
% Change year
+2.02%
-14.50%
-22.68%
-28.07%
-26.06%
 Now lets take a look at the charts. All signals are annotated with green circles. If you click on the charts they will become larger. If you want to learn more about technical analysis check out the website StockCharts.com.
C Fund: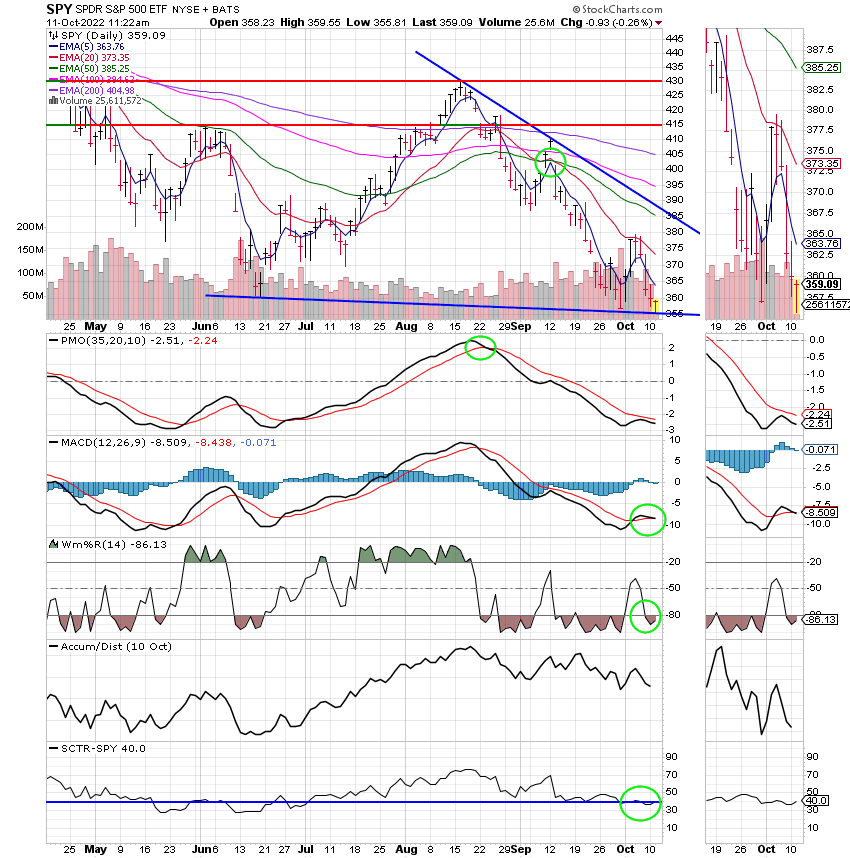 S Fund: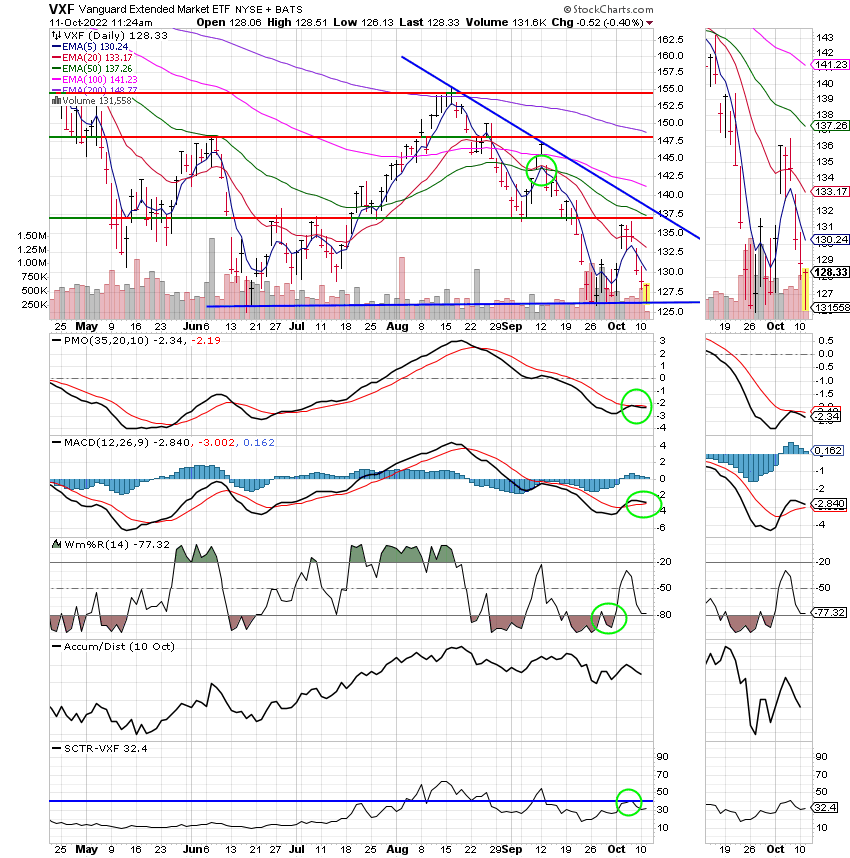 I Fund: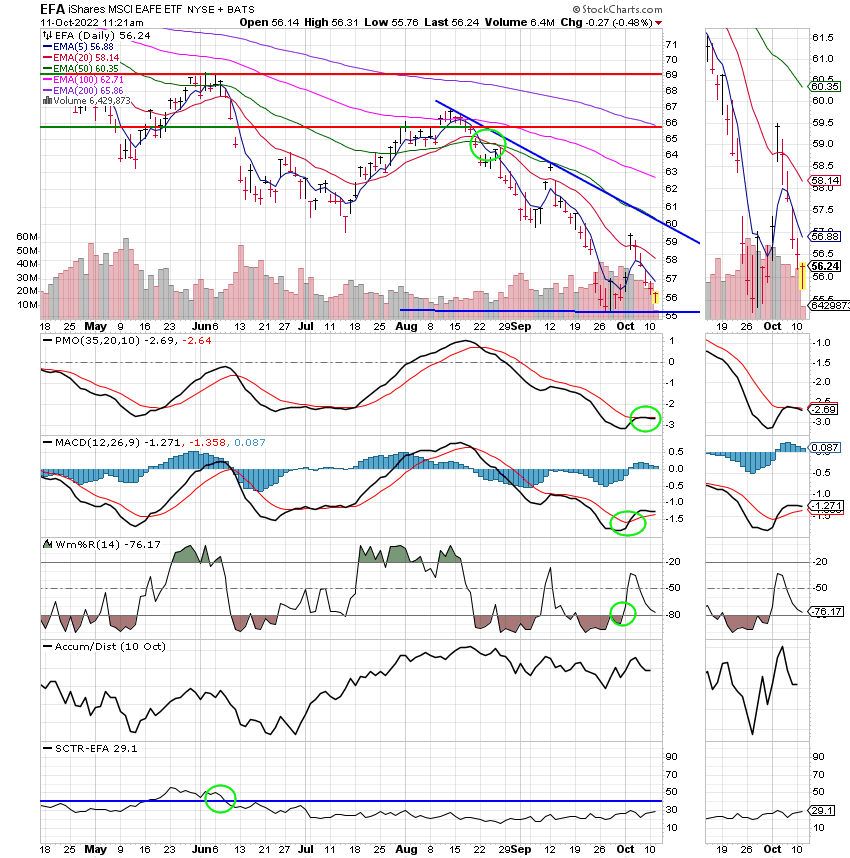 F Fund: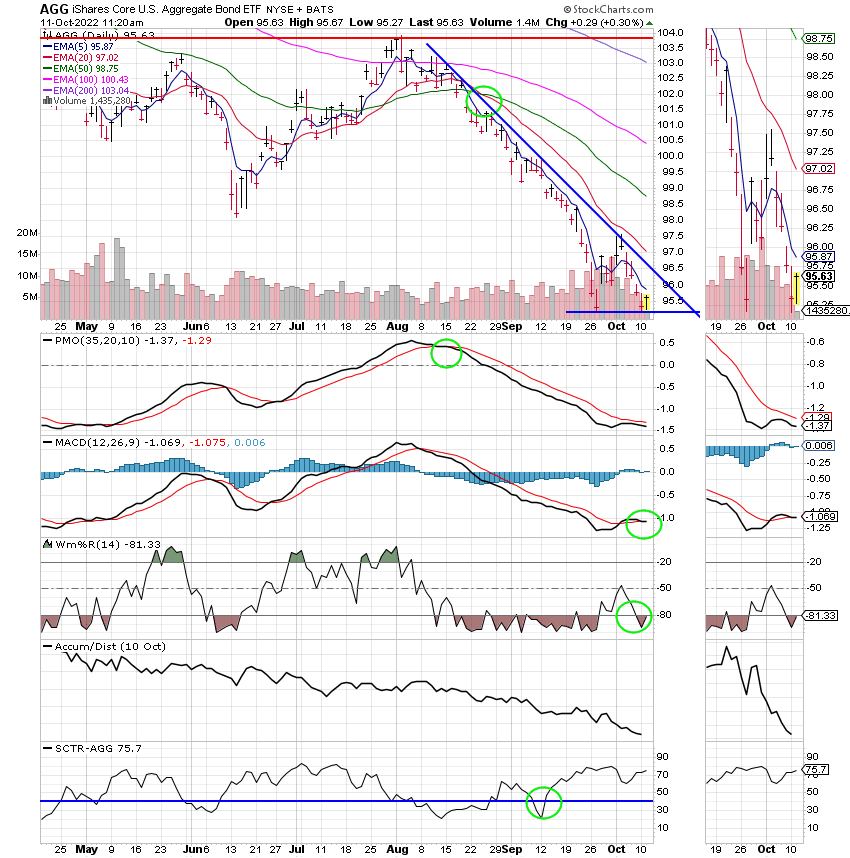 Lets be perfectly clear here. At best I have maybe two indicators that are hinting that the market could move higher. The rest of them (and I have a lot) are currently pointing lower. So given the overwhelming weight of my indicators I believe that the market will move lower. One thing I can in fact guarantee is that there will continue to be volatility. As we have noted week after week that will remain the case until the rate of inflation takes a significant turn lower. That said, this is no time to slack off your charts! Remain vigilant! When the new uptrend does start it will likely be a surprise. You will definitely see it on the charts before you hear about it in the news. Also, be patient. Don't jump to soon!! The market is down far enough that you will have plenty of time to get back and make nice gains without taking unnecessary risks! Give it time to turn. Don't be a hero!! A wrong move now could easily cost you another 10-20%!!
That's all for this week. Have a great day and may God continue to bless your trades!
God bless, Scott
***Just a reminder that you can review the performance of our allocation at the Web Site TSPTALK.com in the autotracker section under the screen name KyFan1.
I produce and publish this blog as both a ministry and for the benefit of any Federal Government Employee. This is done to offer you some guidance as to how to approach your retirement more financially successful. When it is time for you to retire, I recommend you utilize the services of a Professional Money Manager, who works with a reputable investment firm. He understands the guidance you have already received and he can manage your savings assets utilizing a more advanced investment program into the future. If you would like to receive more information about this introduction, please feel free to contact me at KyFan1@aol.com.
Share