Good Afternoon, The market is undergoing it's second day in the green after multiple weeks of pain. The S&P 500 is moving toward it's first back to back days in the green in two weeks. Is this just an oasis in the desert or have we reached the promised land? Yesterday and today's rallies are based on third quarter earnings reports that have started to flow in. Johnson and Johnson, Bank of America, Bank of New York Mellon, Lockheed Martin, and Goldman Sachs Group all kicked off the earnings season by beating estimates. As we have said here many times before earnings are what make the market go round. So what do these earnings mean for the market looking into the future? This is where you have to apply a little logic. How do these good reports fit into the psych of the market? They are sending a mixed message. First the economy is strong and we may not be in a recession just yet. The Fed rate increases haven't hurt the economy as badly as anticipated. At least not yet. Then there's the flip side of this news. Strong earnings and a strong economy do nothing to dissuade the Fed from continuing to aggressively increase interest rates and make no mistake the market does not like the tighter money supply created by higher interest rates. The dynamic when it comes to these rate increases is how much is too much? How much before the corporations that make up the stock market begin to show decreased earnings and issue poor guidance? How much before the economy slows down enough to move into a recession? It's all about getting things just right and there's only a small window for that! I don't mean to be negative. I just want to keep it real so to speak. Could we have a meaningful rally here? Yes it is possible, but I do not believe it will be lasting rally. If I were forced to guess, I would say that we might move up around 10% or so before the market gives way to downward pressure. What downward pressure you say? Let me answer your question with a question. What else has changed other than a few good earnings reports? Not much. Be aware of this, earnings reports are always quarter behind. A report issued by a company today does not represent what is happening with the company in the present. It represents what the company did during the past quarter. So it is easily possible for the Fed to overdo it with the rate increases and not be fully cognizant of the fact until the next quarter. There are many critics of the Fed that say that they should take more of a wait and see approach in order to be fully aware of the effect of the rate increases that they have already put in place before they consider new ones. Then there's the root of all the problems in the first place, inflation. The rate of inflation is still running hot at over 8%. While strong earnings and job reports sound positive and are to a certain extent, they send a signal to the Fed that demand will continue to be strong or in other words inflation will not go down. So….lets make it simple. There are a lot of things that have not changed at all and they all boil down to inflation (yes here he goes again). Until inflation makes a meaningful well established move lower continue to expect volatility in the market and downward pressure on the market. I fully expect the market to move higher when inflation moves lower. The closer the rate of inflation gets to the Fed target of two percent the better things will get. I must add one caveat here though. There is one thing that could give the market amnesia and make it forget about the current rate of inflation and rally now. That is the November 4th mid term elections. If politicians that the market views as friendly are elected to congress and the senate it will be rally on. I did not say what politicians. I will leave that to your interpretation. For the purposes of this conversation we will define these politicians as those that are viewed by the market as market friendly. Ok, lets tie this up. My view on the current market is that there may be opportunities to make some short term money over a period of weeks. If we get the proper signals on our charts we will attempt to jump in and take advantage of this short uptrend. That's what we do. I have confidence enough in our current set of indicators that I will have no problem doing that if the opportunity presents it's self. As usual it's a game of wait and see. We have a plan and won't hesitate to put it in place if we see the proper changes on our charts.
The days trading has so far left us with the following results. Our TSP allocation remains steady in the G Fund. For comparison, The Dow is up +1.11%, the Nasdaq +0.86%, and the S&P 500 1.06%. Thank God for a day in the green.
Dow gains 400 points in volatile trading as strong earnings reports boost stocks for a second day
Recent action has left us with the following signals: C-Hold, S-Hold, I-Hold, F-Sell. We are currently invested at 100/G. Our allocation is now -27.43% on the year not including the days results. Here are the latest posted results.
10/17/22
Prior Prices
Fund
G Fund
F Fund
C Fund
S Fund
I Fund
Price
17.0932
17.6668
56.2251
60.2922
29.4768
$ Change
0.0057
0.0192
1.4502
1.9306
0.7443
% Change day
+0.03%
+0.11%
+2.65%
+3.31%
+2.59%
% Change week
+0.03%
+0.11%
+2.65%
+3.31%
+2.59%
% Change month
+0.18%
-1.30%
+2.65%
+3.01%
+2.73%
% Change year
+2.13%
-15.42%
-21.85%
-27.74%
-25.26%
 Now lets take a look at the charts. All signals are annotated with green circles. If you click on the charts they will become larger. If you want to learn more about technical analysis check out the website StockCharts.com.
C Fund: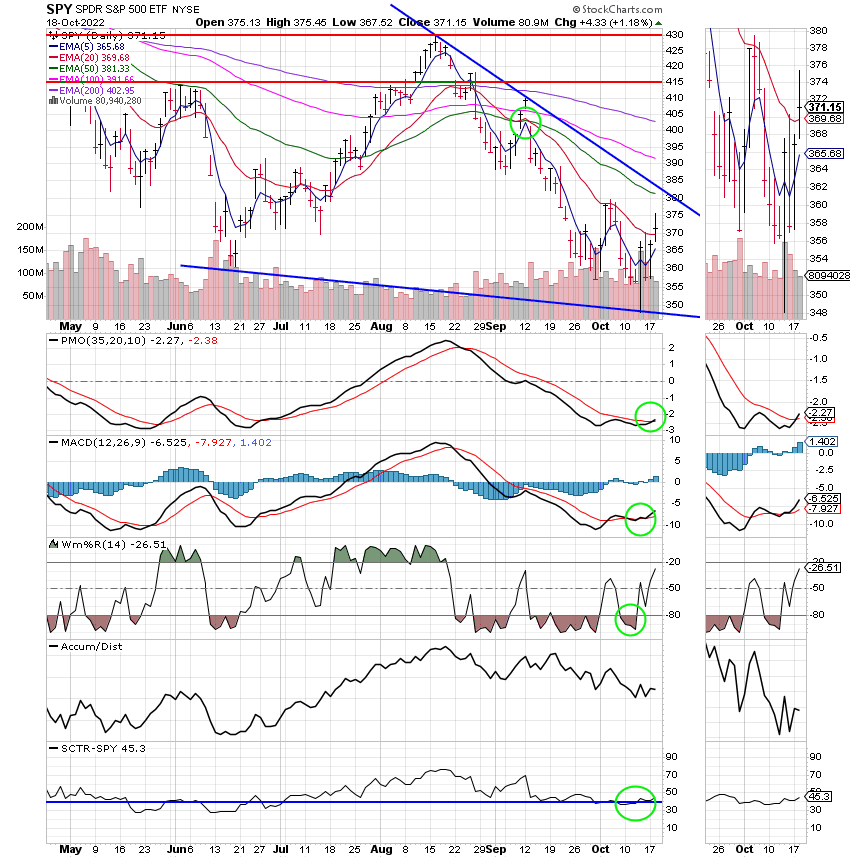 S Fund: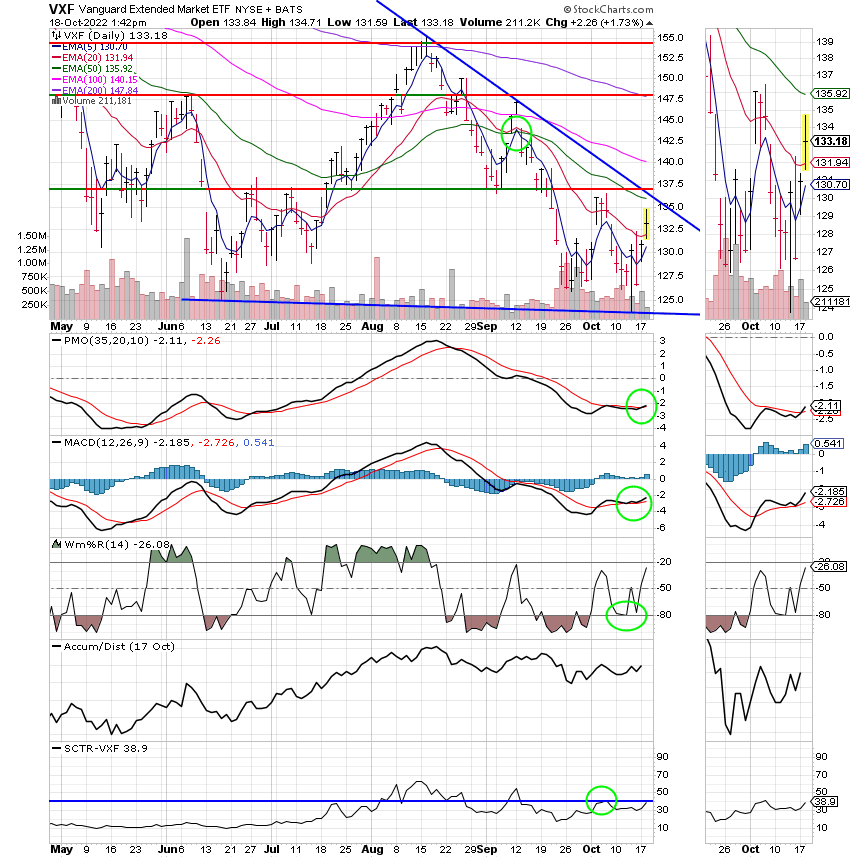 I Fund: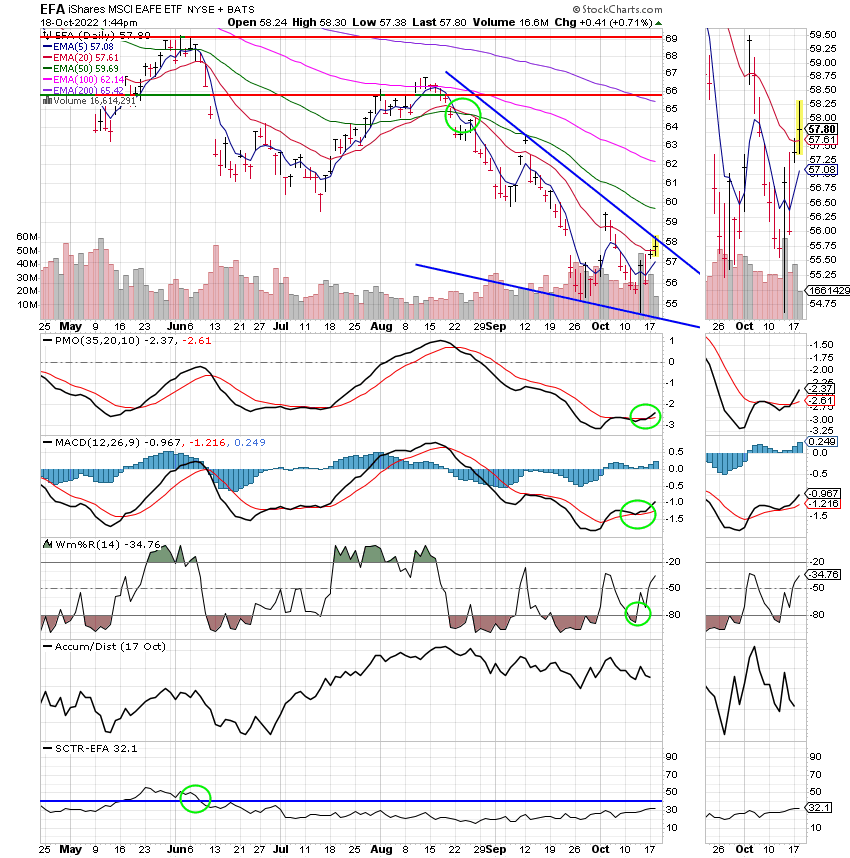 F Fund: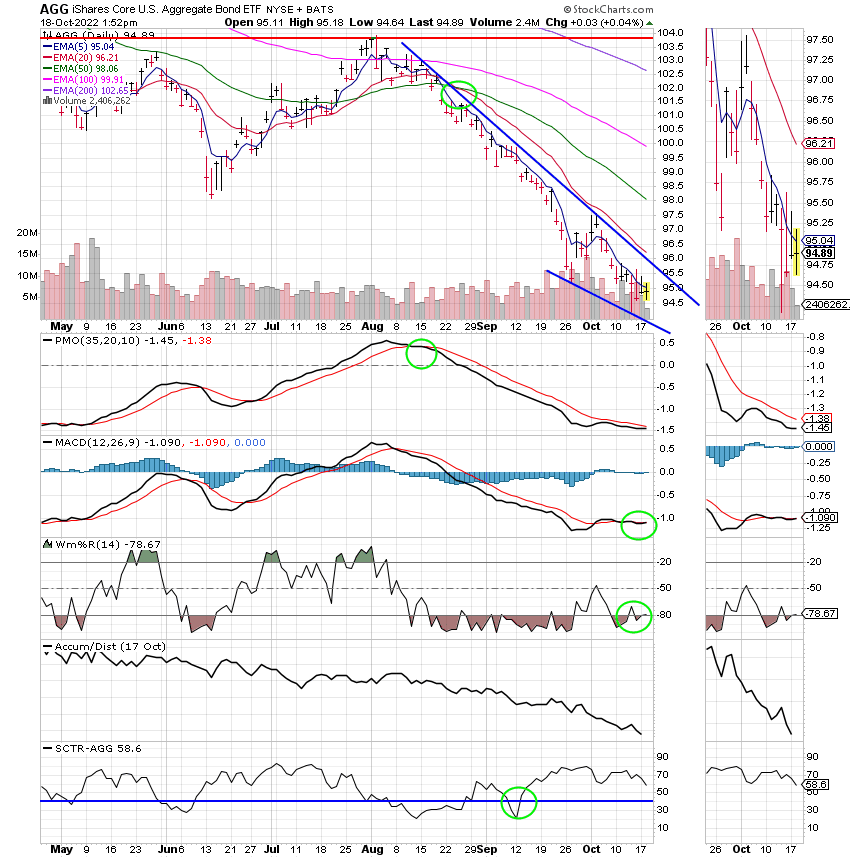 Looking at the charts as the market I see that there may be the opportunity to pick up some short term money in the near future. So keep a close eye on your charts. You will have to move quickly if this opportunity develops. That's all for this week. Have a great evening and may God continue to bless your trades!
God bless, Scott 

***Just a reminder that you can review the performance of our allocation at the Web Site TSPTALK.com in the autotracker section under the screen name KyFan1.
I produce and publish this blog as both a ministry and for the benefit of any Federal Government Employee. This is done to offer you some guidance as to how to approach your retirement more financially successful. When it is time for you to retire, I recommend you utilize the services of a Professional Money Manager, who works with a reputable investment firm. He understands the guidance you have already received and he can manage your savings assets utilizing a more advanced investment program into the future.
If you would like to receive more information about this introduction, please feel free to contact me at KyFan1@aol.com.
Share