Good Evening, Lets do a little housekeeping first. I was contacted by member of our group who pointed out to me that several folks were struggling with the language in our alerts. She pointed out that the new TSP site utilized a different system for making an interfund transfer and that in fact it was not called an interfund transfer any longer but is now referred to as 'changing the mix'. Due to this change in language many folks do not understand the difference between an interfund transfer and changing the allocation from your check into TSP. I chose not to deal with this previously because I just didn't want to suddenly change the way we had been doing things for so many years. After all, the old timers know what an interfund transfer is no matter what you call it. Nevertheless, I can see where some of the newer folks might have an issue with it. They attempted to improve TSP, but I think they just made it more confusing by trying to apply common everyday language to investing. I think they missed the mark. Nobody I know calls it a mix. So to be clear with regard to our latest alert you need to change your Mix to 100/C. You need to make sure your Future Contributions are 100/G. That protects your money coming out of your check in case it is deposited on a bad day for the market. That money then stays in the G Fund and is automatically picked up the next time you change your mix. If it helps any, most of us in the business refer to what they are calling a mix as an allocation. For future reference here is a sample of the most recent alert using the new Thrift language:
Good Morning, It's time to adjust our mix. The new mix is 100/C. Please remember that this is the percentage of money that we have invested in each fund, not the money that is taken from your check and deposited into thrift. Those future contributions should always be 100% G Fund. That automatically protects your deposit in the event that it is made on a bad day for the market. The funds that accumulate in the G Fund are automatically picked up the next time you change your mix. As for today, you should change your mix to 100/C.
Thinking of the TSP….. I really wonder if this was necessary……why fix something that's not broke.
OK or as one of our readers prefers, Okay. I find either one acceptable….LOL The next 8 days are going to be critical in determining the direction of the market in the intermediate time frame. First and foremost is today and tomorrows Fed meeting. It is widely thought that the Fed will be hiking interest rates another 0.75 % or 75 points. At this point that is already accepted and priced in. The big issue that investors will be following will be the Fed Statement. Specifically they want to see language in the statement indicating that the Federal Reserve Board will consider reducing the December rate hike from 0.75% to 0.50% or 50 points. That would indicate to market players that inflation is starting to peek. That's all we need to see a nice rally. Then next on the agenda is the midterm election with control of the US House of Representatives and Senate on the line. This is complicated yet simple. If politicians that the market views as market friendly are elected then it will be rally on. Investors will likely ignore current issues and look to the future with rose colored glasses if they are happy with the outcome of the election. At least for a little while…. You can probably figure out what will happen if they don't like it. I'll let you decide who is market friendly and who is not. I won't touch that one with a ten foot pole! Unless of course I am forced to. It's all up in the air. All indications are that early voting turn out is heavy. If you haven't already done so then get out and vote. The future of our country will certainly be decided at this election. May God guide us in selecting the best leaders on November 8th. In the end, the whole market all boils down to the rate of inflation. All of it!!!!! I told you this a long long time ago. The closer the rate of inflation gets to 2% the better the market will get. Right now the rate of inflation is still over 8% and that makes high volatility the norm. A lot can change in the next eight days. A lot! So buckle up your seat belts. It's going to be a wild ride.
The days trading left us with the following results. Our TSP allotment was off by -0.44%. For comparison, the Dow was down -0.24%, the Nasdaq -0.89%, and the S&P 500 -0.44%.
Stocks finish lower as Wall Street braces for key Fed decision
The days action left us with the following signals: C-Buy, S-Buy, I-Buy, F-Hold. We are currently invested at 100/C. Our allocation is now -27.88% on the year. Here are the latest posted results:
10/31/22
Prior Prices
Fund
G Fund
F Fund
C Fund
S Fund
I Fund
Price
17.1196
17.6733
59.2098
63.561
30.4105
$ Change
0.0057
-0.0742
-0.4415
-0.1756
-0.2572
% Change day
+0.03%
-0.42%
-0.74%
-0.28%
-0.84%
% Change week
+0.03%
-0.42%
-0.74%
-0.28%
-0.84%
% Change month
+0.34%
-1.26%
+8.10%
+8.59%
+5.98%
% Change year
+2.29%
-15.38%
-17.70%
-23.83%
-22.90%
Now lets take a look at the charts. All signals are annotated with green circles. If you click on the charts they will become larger. If you want to learn more about technical analysis check out the website StockCharts.com.
C Fund: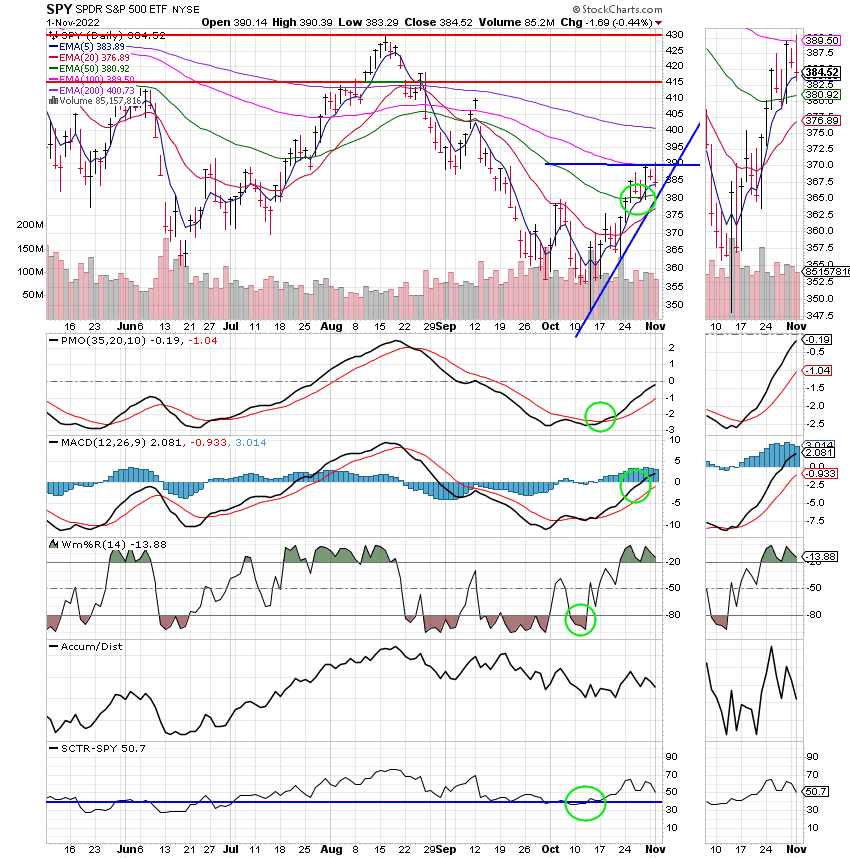 S Fund: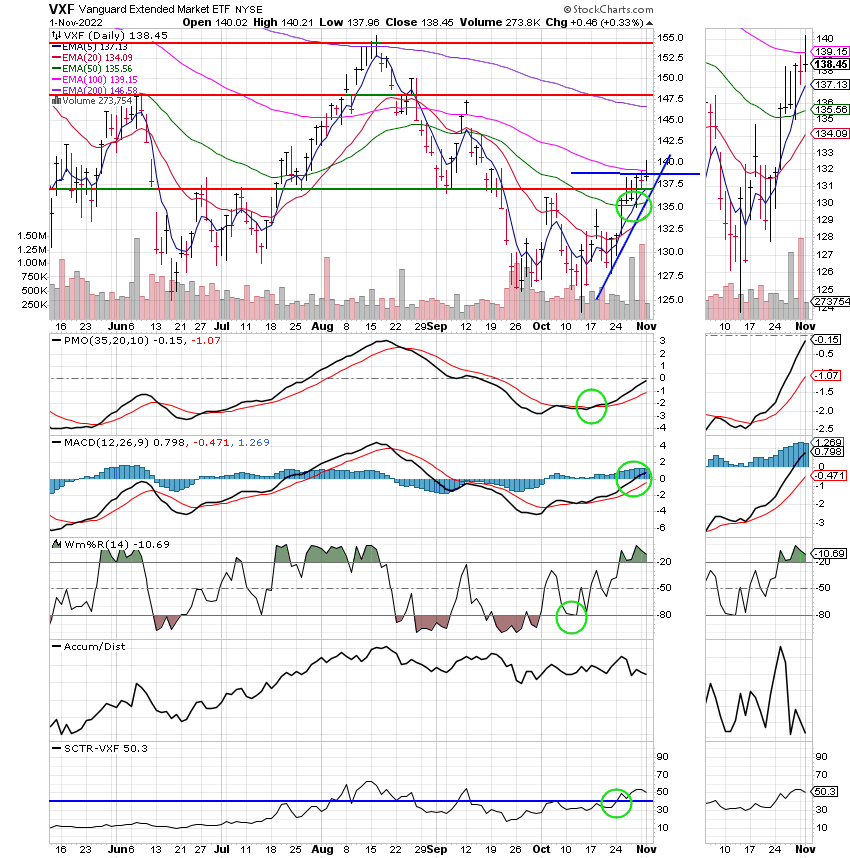 I Fund: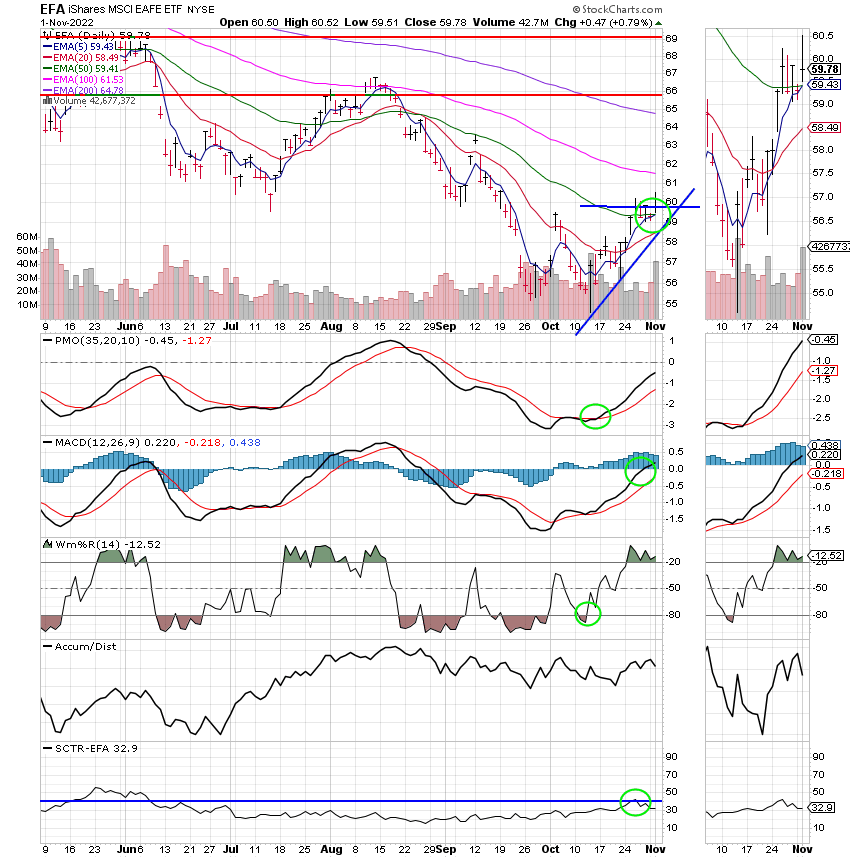 F Fund: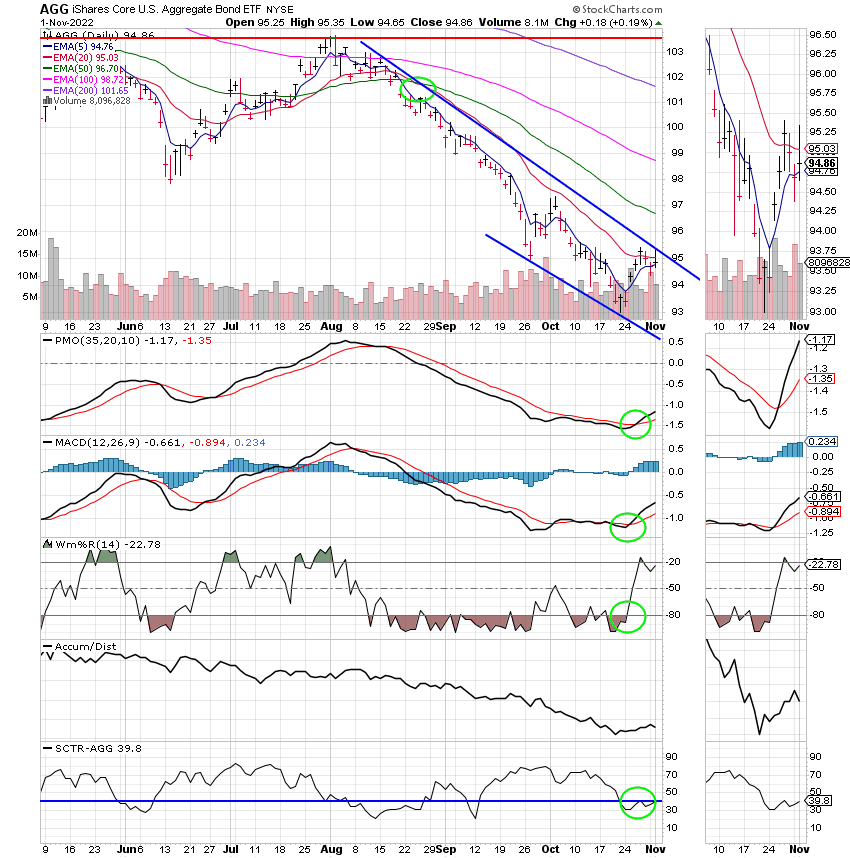 Alright, we're back in stocks. So now we need to be patient. We've got a lot going on in the next eight days starting with tomorrow. While we've got a solid buy signal it's safe to say that nothing is safe with all this volatility. We need to watch our charts closely and make sure the C Fund remains on a buy signal. In the event that it reverses we have have two trades in our back pocket for November. I don't sound very confident you say? After all we've been through so far this year I have become accustomed to the unexpected. That's okay though. God's still on the throne and He'll see us through to the end of this bear market just as He has always done. Give Him all the praise for He is worthy!! That's all for tonight. Have a nice evening and may God continue to bless your trades.
God bless, Scott
***Just a reminder that you can review the performance of our allocation at the Web Site TSPTALK.com in the autotracker section under the screen name KyFan1.
I produce and publish this blog as both a ministry and for the benefit of any Federal Government Employee. This is done to offer you some guidance as to how to approach your retirement more financially successful. When it is time for you to retire, I recommend you utilize the services of a Professional Money Manager, who works with a reputable investment firm. He understands the guidance you have already received and he can manage your savings assets utilizing a more advanced investment program into the future.
If you would like to receive more information about this introduction, please feel free to contact me at KyFan1@aol.com.
Share