Good Evening, The market decided to take a rest today. I'm not too concerned as a little profit taking after the nice run in October is healthy. We will see how things go from here but my guess is that the market is consolidating before the next move up. All the boxes are being checked one by one for a rally into the new year and the infrastructure package that was passed by congress this past weekend was another step in the right direction. With earnings pretty much out of the way the market will now focus on the continued reopening of the economy with a close eye on inflation. As we have mentioned many times lately the attention on inflation will be in relation to how if might influence the Fed policy on interest rates. Interest rates are ultimately where all paths lead. I have reviewed our TSP Charts carefully and decided to move to the S Fund to take advantage of the seasonal bias for small cap stocks. While the S Fund is not made up entirely of small cap stocks it does have a great deal of them and is the best way that we have available in TSP to invest in them. With that in mind I will be putting in a interfund transfer to 100/S that will be effective at the close of business tomorrow. Keep praying that God will continue to bless our hand!
The days trading left us with the following results: Our TSP allotment fell -0.35%. For comparison, the Dow dropped -0.31%, the Nasdaq-0.60%, and the S&P 500 -0.35%.
S&P 500 dips from record, snaps 8-day win streak ahead of key inflation data
The days action left us with the following signals: C-Buy, S-Buy, I-Buy, F-Hold. We are currently invested at 100/C but will be putting in an interfund transfer for 100/S effective at the close of business tomorrow. Our TSP allotment is currently +21.36% on the year not including the days results. Here are the latest posted results:
11/08/21
Prior Prices
Fund
G Fund
F Fund
C Fund
S Fund
I Fund
Price
16.6994
20.9833
70.8087
90.8115
40.0955
$ Change
0.0022
-0.0388
0.0632
0.4786
0.0852
% Change day
+0.01%
-0.18%
+0.09%
+0.53%
+0.21%
% Change week
+0.01%
-0.18%
+0.09%
+0.53%
+0.21%
% Change month
+0.03%
+0.44%
+2.12%
+3.96%
+1.86%
% Change year
+1.16%
-1.00%
+26.64%
+22.39%
+13.30%
 Now lets take a look at the charts. All signals are annotated with green circles. If you click on the charts they will become larger. If you want to learn more about technical analysis check out the website StockCharts.com.
C Fund: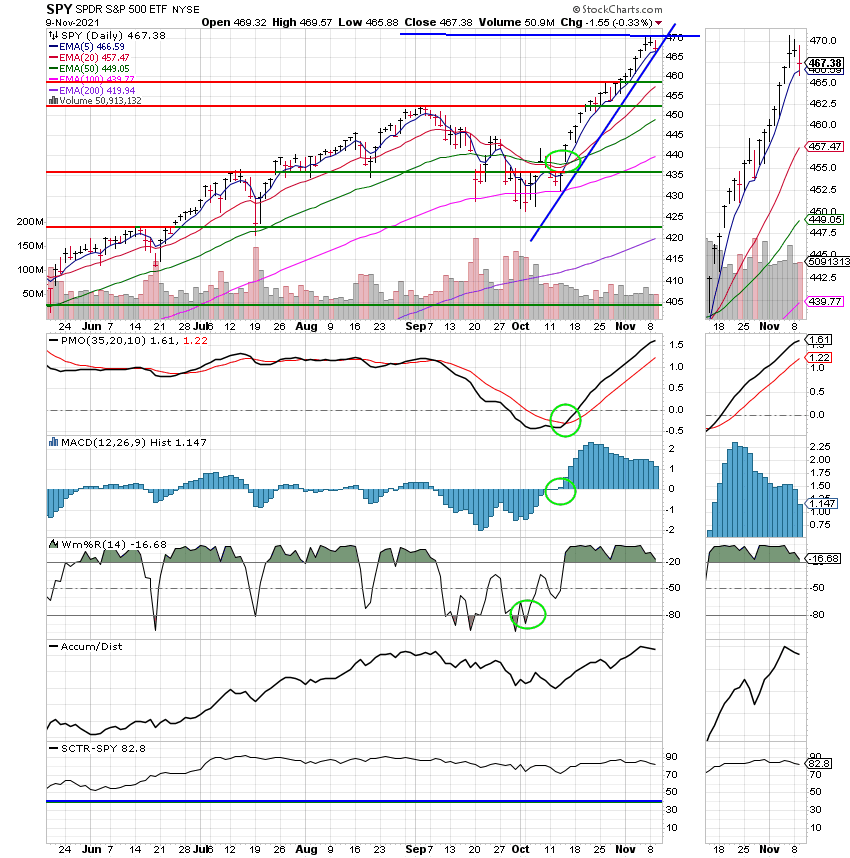 S Fund: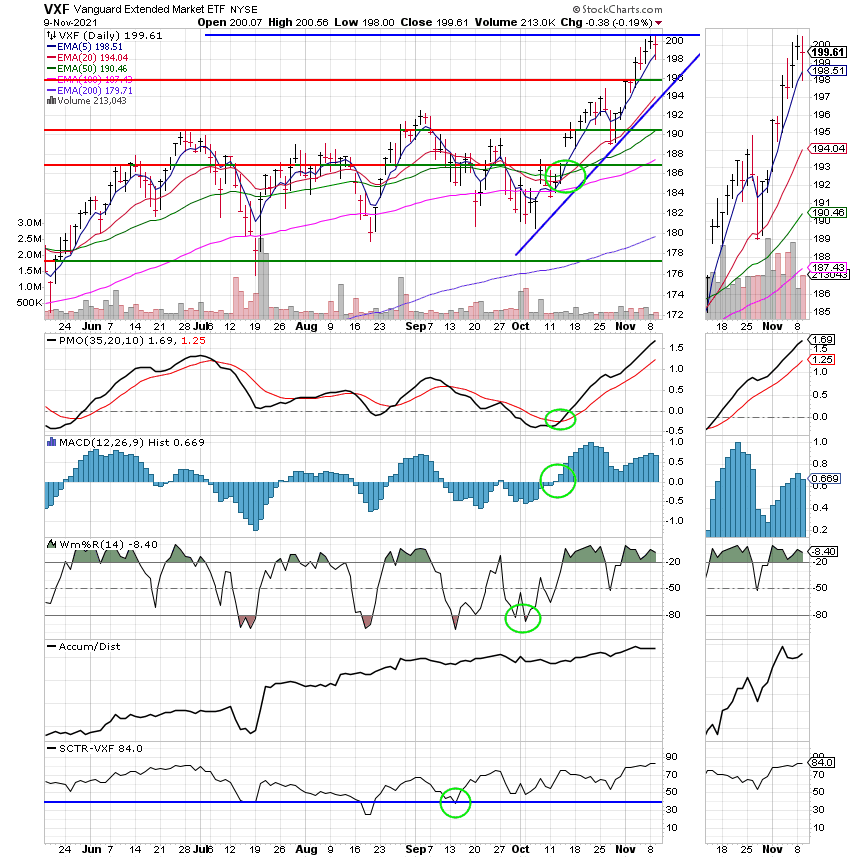 I Fund: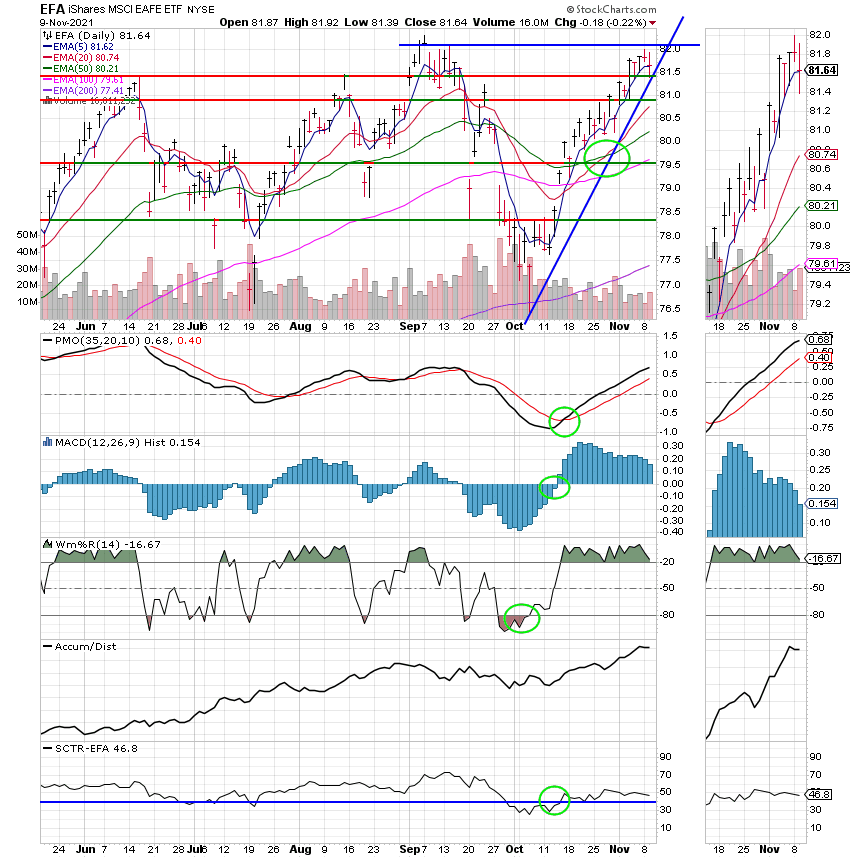 F Fund: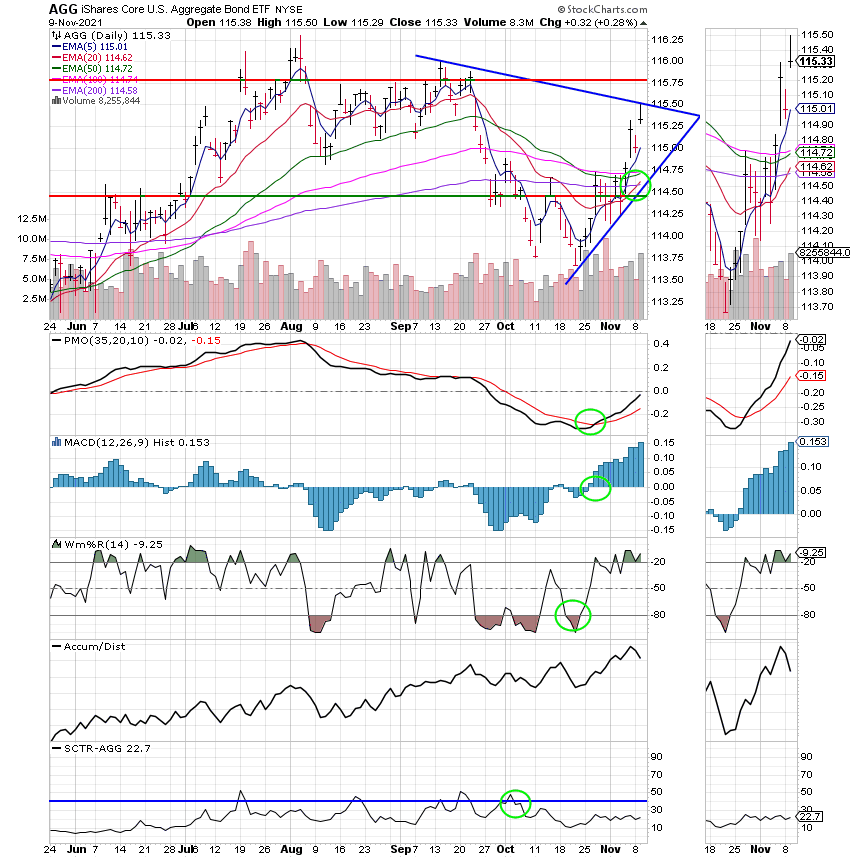 Our task remains to keep watching those charts for any change in the trend. That's all for tonight. Have great evening and may God continue to bless your trades!
God bless, Scott
***Just a reminder that you can review the performance of our allocation at the Web Site TSPTALK.com in the autotracker section under the screen name KyFan1.
I produce and publish this blog as both a ministry and for the benefit of any Federal Government Employee. This is done to offer you some guidance as to how to approach your retirement more financially successful. When it is time for you to retire, I recommend you utilize the services of a Professional Money Manager, who works with a reputable investment firm. He understands the guidance you have already received and he can manage your savings assets utilizing a more advanced investment program into the future.
If you would like to receive more information about this introduction, please feel free to contact me at KyFan1@aol.com.
Share