Good Evening, Like we said last week the only thing that doesn't change these days is change. With the VIX this high the market has been volatile and volatile means change. Last week the Consumer price index (CPI) came in lower than expected and things started to turn around for us. Today the producer price index (PPI) followed suite with a number that was only half of what was expected (.2 vs .4) and restarted the rally after it took a day off. Also igniting the fire was a solid report from Walmart. I can hear what your saying right now, "but Scott, the market has been selling off on good retail news. Doesn't that signal to the Fed that inflation will go higher?" In this case it wasn't the report that mattered. It was the statement!! In Walmart's report they stated that supply chain issues were easing and that empty areas on shelves would be gone. Remember, there are two sides to the economy supply and demand. High demand and/or short supply lead to inflation. So the message from a bellwether retailer is that supply shortages are easing! Put all this together and the market now thinks that the Fed will pivot and reduce the rate of their 0.75% interest rate increases sooner than originally thought. Perhaps as early as Decembers meeting. We will see. There is no denying that their are clear signs that inflation may be peeking. Which brings me to the last thing I wanted to touch on. The December Fed meeting will be the next market moving event. If the Fed does indeed pivot from their .75% rate increase it will be rally on through the end of the year. If not it will likely be a disappointment to the market. As we have become so accustomed to in 2022, we'll just have to take it day by day and week by week until this aggravating year is mercifully over. One thing about it though. Things are getting better just a little bit at a time. We have likely weathered the worst of the storm and for that we give praise to our Heavenly Father who continues to guide our hand. Give Him all the glory, all the honor, and all the praise for He is worthy!!
The days trading left us with the following results. Our TSP allotment posted a gain of +1.78%. For comparison, the Dow added +0.17%, the Nasdaq +1.45%, and the S&P 500 +0.87%. Praise God for another good day for our group!
S&P 500 closes higher after another lighter-than-expected inflation report, Nasdaq jumps 1.4%
The days action left us with the following signals: C-Buy, S-Buy, I-Buy, F-Hold. We are currently invested at 100/S. Our allocation is now -26.23% on the year not including the days results. Here are the latest posted results.
11/14/22
Prior Prices
Fund
G Fund
F Fund
C Fund
S Fund
I Fund
Price
17.1475
17.9798
60.5637
64.7668
33.2673
$ Change
0.0081
-0.0321
0.0284
0.0307
0.3510
% Change day
+0.05%
-0.18%
+0.05%
+0.05%
+1.07%
% Change week
+0.05%
-0.18%
+0.05%
+0.05%
+1.07%
% Change month
+0.16%
+1.73%
+2.29%
+1.90%
+9.39%
% Change year
+2.46%
-13.92%
-15.82%
-22.38%
-15.65%
 Now lets take a look at the charts. All signals are annotated with green circles. If you click on the charts they will become larger. If you want to learn more about technical analysis check out the website StockCharts.com.
C Fund: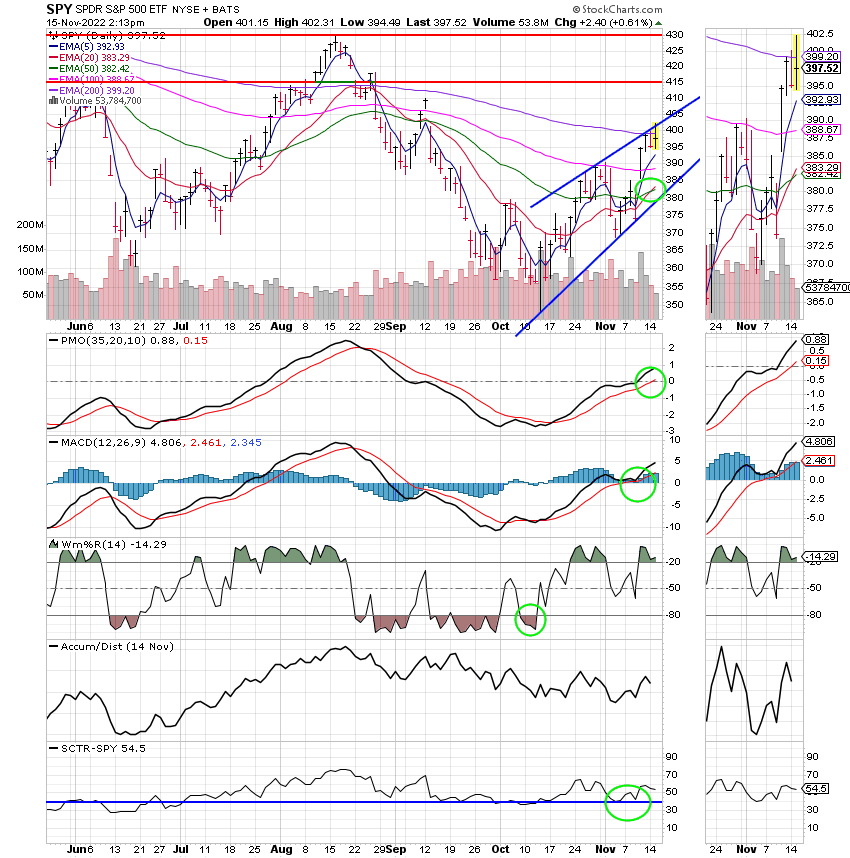 S Fund: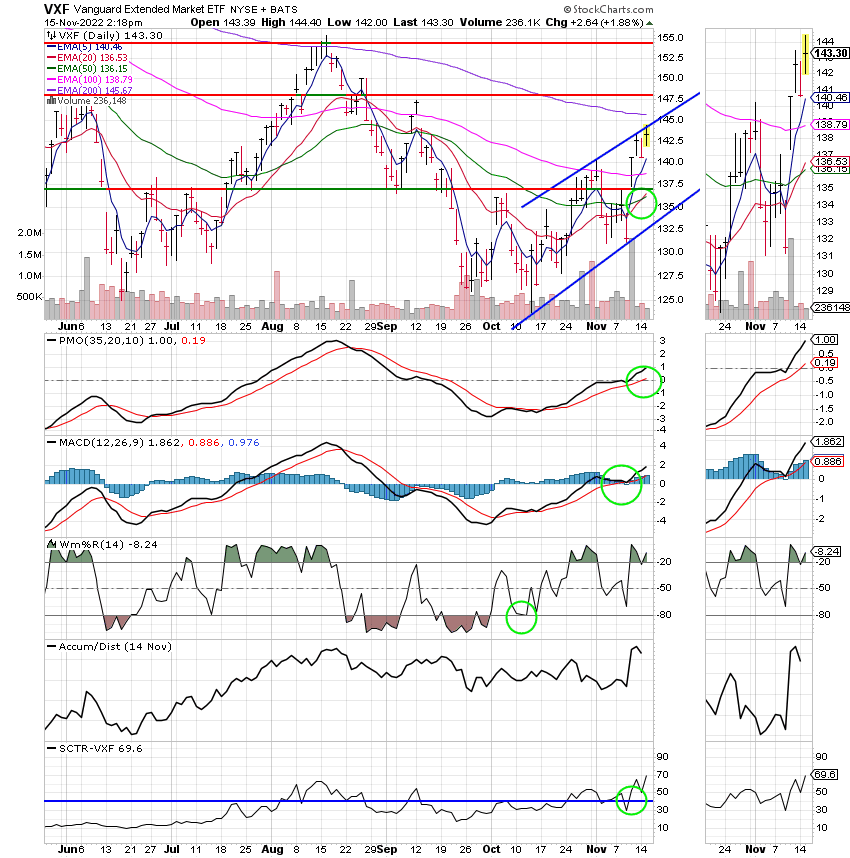 I Fund: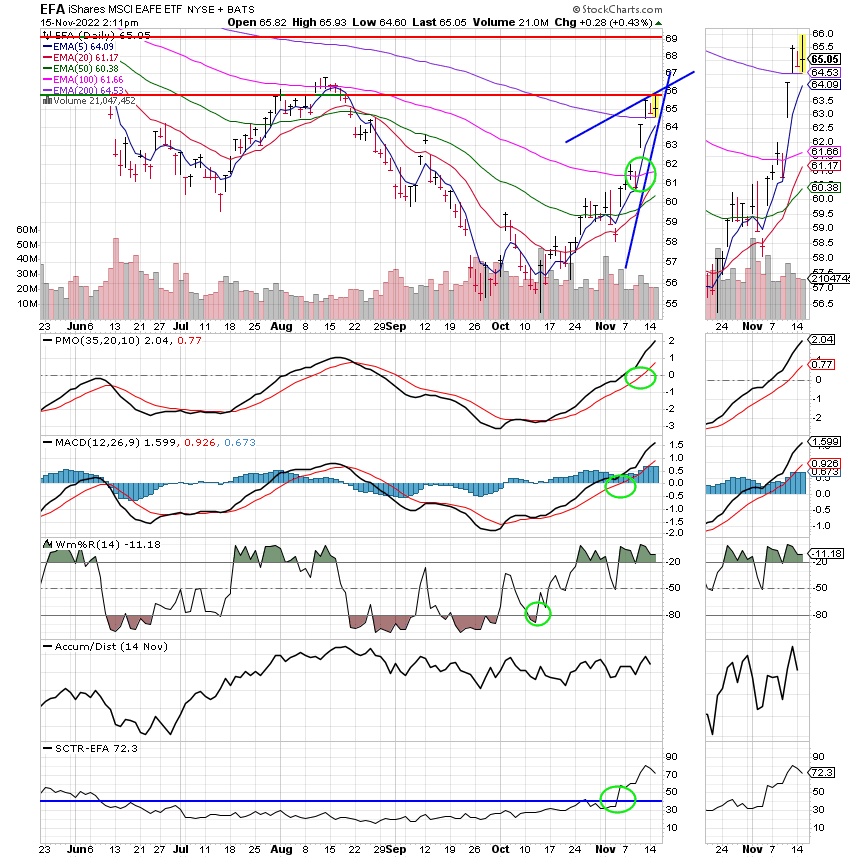 F Fund: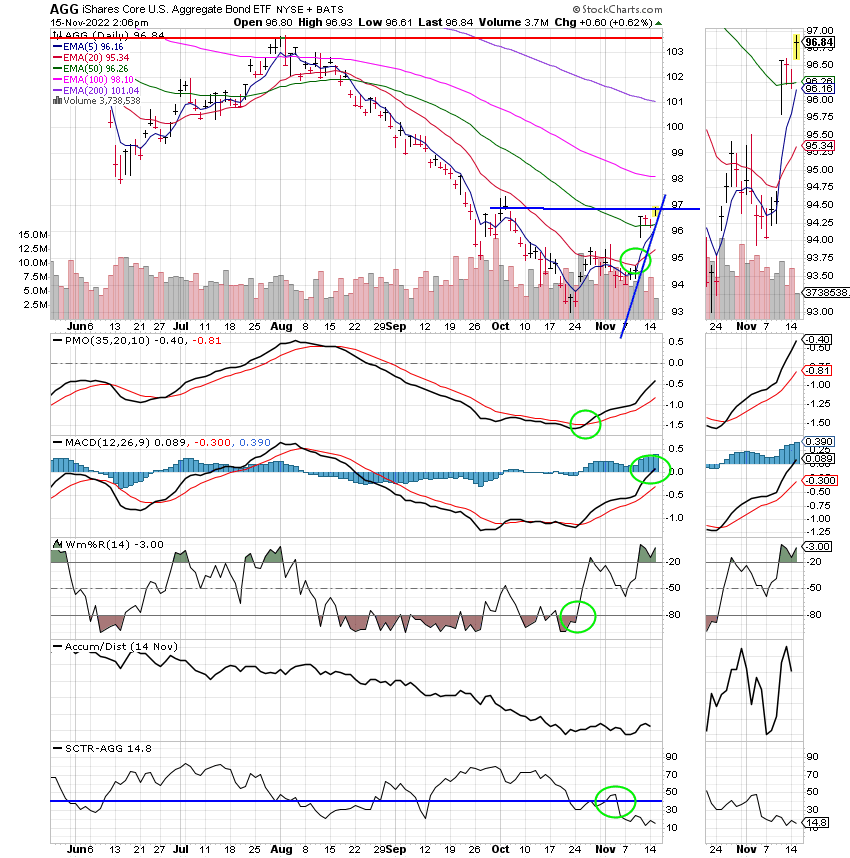 I just want to thank God again. He never left us. That's all for this week. Have a nice evening and may God continue to bless your trades!
God bless, Scott

***Just a reminder that you can review the performance of our allocation at the Web Site TSPTALK.com in the autotracker section under the screen name KyFan1.
I produce and publish this blog as both a ministry and for the benefit of any Federal Government Employee. This is done to offer you some guidance as to how to approach your retirement more financially successful. When it is time for you to retire, I recommend you utilize the services of a Professional Money Manager, who works with a reputable investment firm. He understands the guidance you have already received and he can manage your savings assets utilizing a more advanced investment program into the future.
If you would like to receive more information about this introduction, please feel free to contact me at KyFan1@aol.com.
Share