Good Afternoon, I'll start this weeks blog just as I have all fall. The market remains volatile. As long as the rate of inflation remains significantly above two percent that will be the case. Although, recently there have been a few possibly encouraging things to take place. The first and foremost is that the most recent CPI (Consumer Price Index) and PPI (Producer Price Index) reports came in lower than expected. We had been waiting quite while for one or both of these reports to slow down, so this was encouraging. One thing to look for in the future with regard to these reports. If the next CPI and PPI come in light once again then expect the market to rally hard and if they do not then expect a sizeable selloff. I don't usually make guarantees and I won't this time either, but I will say that this is a pretty sure thing one way or the other. The second encouraging thing (or shall I say things) that took place were that several bellwether retailers had outstanding reports. Walmart, Lowes, and Best Buy (today) come to mind. Understand that investors have been mostly preoccupied with a two things, inflation which we already mentioned and a possible recession which we haven't talked about today. Blow out reports by several retailers prove that consumers haven't gotten the memo on the recession as they keep spending in a strong fashion. This is encouraging to investors in that they feel that the Fed may indeed be able to bring the economy in for a soft landing or in simpler words reduce inflation without causing a recession. There you have it.
Possible concerns for this week? China announced that they had two deaths resulting from COVID. These were the first fatalities since the country relaxed their COVID restrictions. Investors are concerned that they might lock parts of the country down again reigniting previous supply chain disruptions. There have been no new developments there. So, so far so good as they say….. We remain invested at 100/S for now. Why the S? We feel like it is best to be positioned for the recovery from this bear market when it happens. My charts indicate that we may have bottomed in the middle of October and if that is the case we are unlikely to see significant downside from here. Define significant Scott? 10% or more. So with that in mind we feel that is important to be well positioned for the next bull market whenever it occurs. That is the reason we chose to be invested in the S Fund. Besides the fact that it has a good chart it is made up of the most small cap and tech stocks of any of our thrift funds and those were the sectors that were beat up the most during this sell off. Thus, they have the potential to move up the most in the subsequent recovery. Does that mean that we won't sell since we are now "positioned". No it does not! Sell is not a dirty word around here. If we get a sell signal we we'll probably sell because as you all know, we can't predict the future and we don't try. Through the use of technical analysis we can tell which direction the wind might be blowing. Technical analysis is like a wind sock. It is not like a crystal ball. Right now the majority or my indicators are pointing higher for the long term. The key word here is long term! Pay attention, this is a volatile market and it will swing wildly up and down. If you are uncomfortable with that then it is probably best for you to stay invested in the G Fund until the VIX falls below 20. As for us……we are in it for the long haul as long as we don't get the sell signal we mentioned above and I will add one last thing. That will have to be a well confirmed sell signal. It is our intention to stay invested until the recovery comes if it is at all possible.
The days trading has so far left us with the following results. Our TSP allotment is currently up +1.23%. I'll take it!! For comparison, the Dow is in the green by +1.14%, the Nasdaq +1.22%, and the S&P 500 +1.27%. Praise God for such a good day!
Dow jumps 300 points as investors bet rising rates and inflation to ease into year-end
Recent trading has left us with the following signals: C-Buy, S-Buy, I-Buy, F-Buy. We are currently invested at 100/S. Our allocation is now -27.55% for the year not including the days results. Here are the latest posted results:
11/21/22
Prior Prices
Fund
G Fund
F Fund
C Fund
S Fund
I Fund
Price
17.1614
18.1002
60.4918
63.6048
33.1085
$ Change
0.0060
0.0012
-0.2292
-0.5057
-0.2908
% Change day
+0.03%
+0.01%
-0.38%
-0.79%
-0.87%
% Change week
+0.03%
+0.01%
-0.38%
-0.79%
-0.87%
% Change month
+0.24%
+2.42%
+2.17%
+0.07%
+8.87%
% Change year
+2.54%
-13.34%
-15.92%
-23.77%
-16.06%
 Now lets take a look at the charts. All signals are annotated with green circles. If you click on the charts they will become larger. If you want to learn more about technical analysis check out the website StockCharts.com.
C Fund: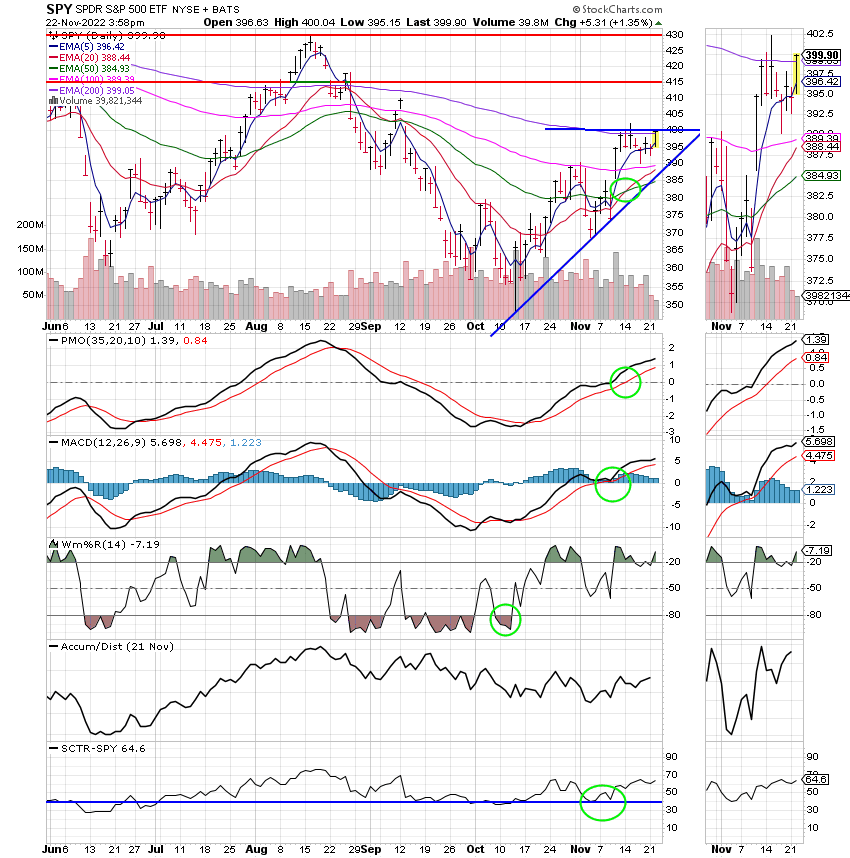 S Fund: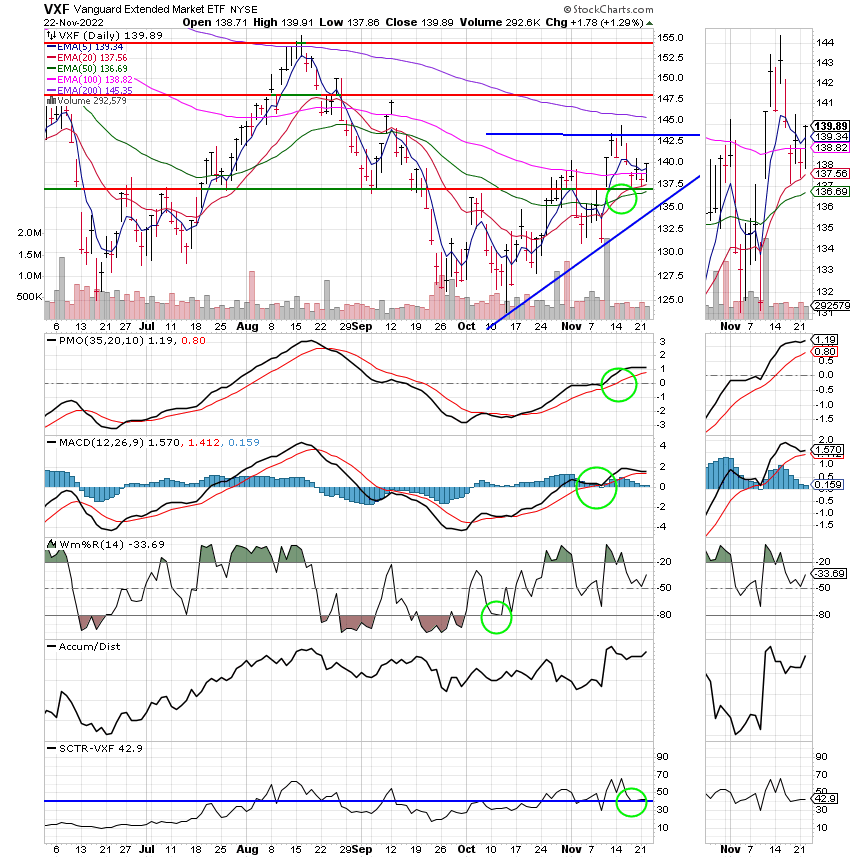 I Fund: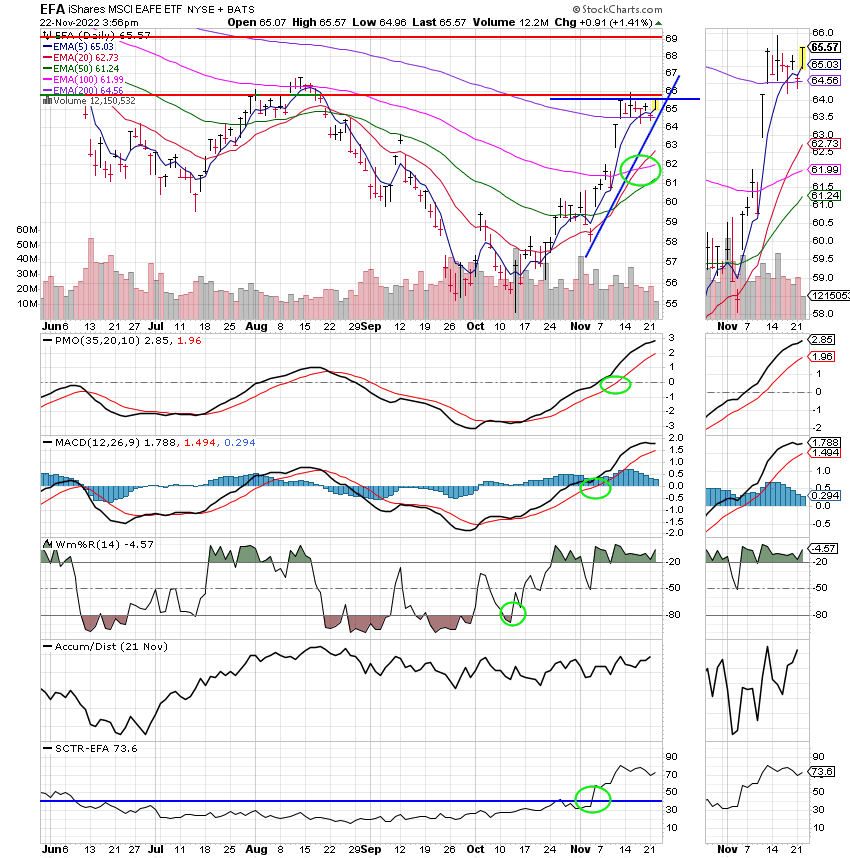 F Fund: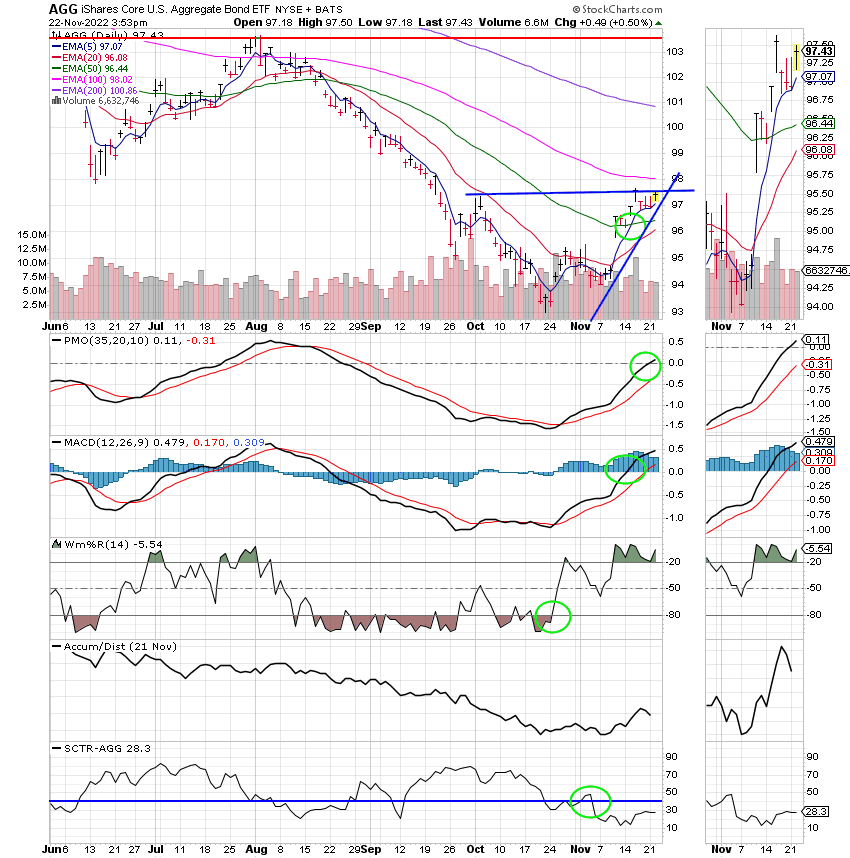 Yes, I do think the term roller coaster applies. That's all for this week? Have a great evening and may God continue to bless your trades!
God bless, Scott 

***Just a reminder that you can review the performance of our allocation at the Web Site TSPTALK.com in the autotracker section under the screen name KyFan1.
I produce and publish this blog as both a ministry and for the benefit of any Federal Government Employee. This is done to offer you some guidance as to how to approach your retirement more financially successful. When it is time for you to retire, I recommend you utilize the services of a Professional Money Manager, who works with a reputable investment firm. He understands the guidance you have already received and he can manage your savings assets utilizing a more advanced investment program into the future.
If you would like to receive more information about this introduction, please feel free to contact me at KyFan1@aol.com.
Share