Good Evening, I have the feeling that I have become redundant. It's hard not to when the market does the same thing over and over again. Rinse and repeat! Recently on more than one occasion we discussed how various Covid 19 related news topics would cause the market to swing one way and then the other. We talked about the fact that we are stuck in a trading range on the S&P 500 between 2910 and 2630 and would likely remain there until the pandemic was resolved. Well our analysis has been spot on so far. The market continues to swing and we remain mired in the aforementioned trading range. Actually we are even in a tighter range than that. For the most part the market has traded S&P 2910 to 2780. Today the market traded up adding to yesterdays nice gains until an STAT News report came out with one hour of trading remaining questioning the validity of yesterdays report on the success of Moderna Vaccine. You already know the rest of the story. The market tanked after that. Who the heck is STAT anyway? I wished they'd go back where they come from! Why get frustrated?  We knew this would happen. A report questioning a report. Pretty soon there will another report questioning the STAT report that will make the market rebound. Whatever, I for one am sick of this demonic virus and everything to do with it. It's time to move on and hopefully with God's blessing we will do so. If you want to know more in detail about this mess then just read the last 10 or so blogs. Rinse and repeat……..
The days trading left us with the following results: Our TSP allotment gave up some of yesterdays gains posting a drop of -1.05%. For comparison, the Dow fell -1.59%, the Nasdaq -0.54, and the S&P 500 -1.05%. I praise God that we have been able to keep our accounts in the green!
The days action left us with the following signals: C-Buy, S-Buy, I-Neutral, F-Neutral. We are currently invested at 100/C. Our allocation is now +7.82% not including the days results. Here are the latest posted results.
05/18/20
Prior Prices
Fund
G Fund
F Fund
C Fund
S Fund
I Fund
Price

16.4333

20.6017

43.5116

48.3032

27.0443

$ Change

0.0010

-0.0636

1.3371

2.2794

1.0785

% Change day

+0.01%

-0.31%

+3.17%

+4.95%

+4.15%

% Change week

+0.01%

-0.31%

+3.17%

+4.95%

+4.15%

% Change month

+0.04%

-0.43%

+1.57%

+3.14%

+0.49%

% Change year

+0.51%

+4.48%

-7.93%

-14.17%

-17.34%

 

L INC
L 2020
L 2030
L 2040
L 2050
Price

20.8019

28.6035

32.5183

35.2762

20.3362

$ Change

0.1657

0.2434

0.7153

0.9253

0.6083

% Change day

+0.80%

+0.86%

+2.25%

+2.69%

+3.08%

% Change week

+0.80%

+0.86%

+2.25%

+2.69%

+3.08%

% Change month

+0.35%

+0.37%

+0.90%

+1.06%

+1.21%

% Change year

-1.81%

-2.40%

-6.70%

-8.20%

-9.55%
 Now lets take a look at the charts. All signals are annotated with 

green circles

. If you click on the charts they will become larger.
C Fund: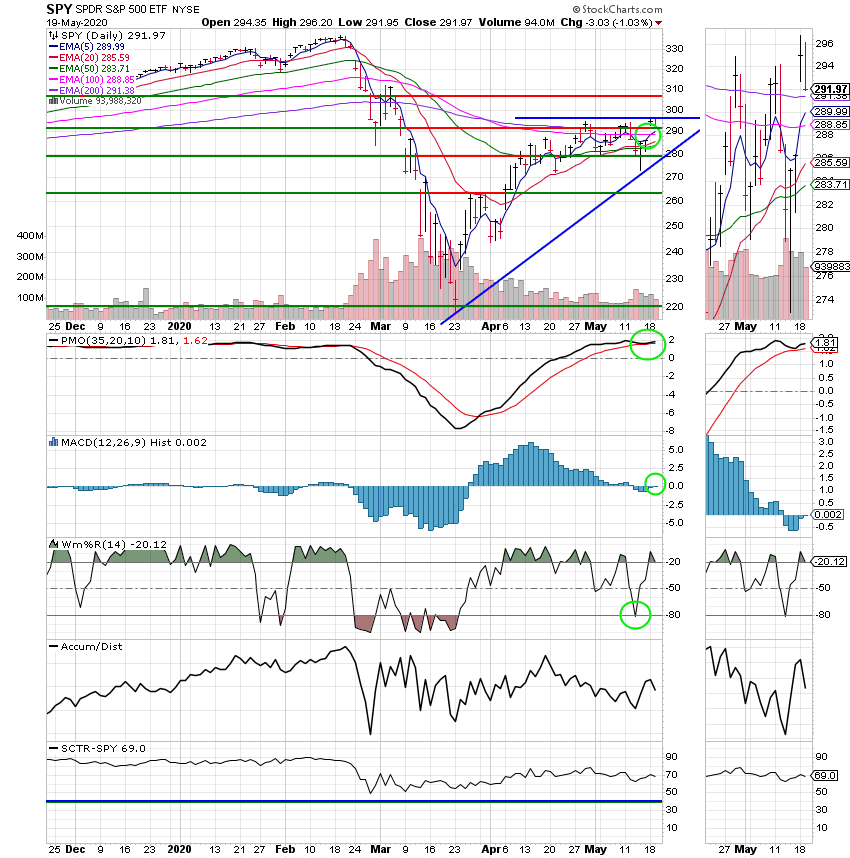 S Fund: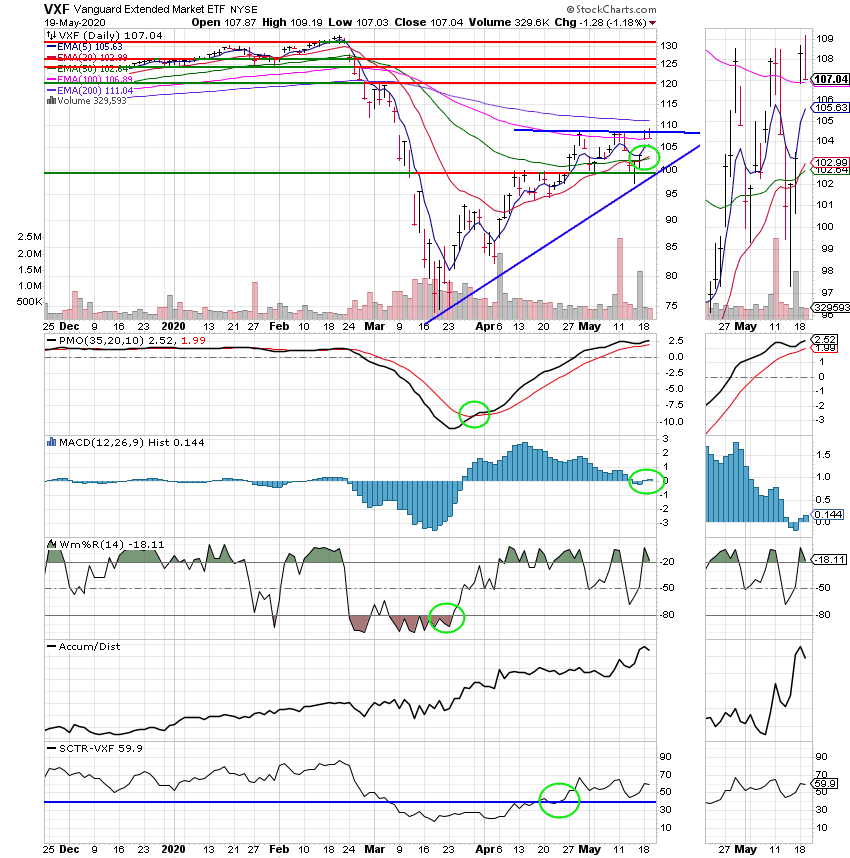 I Fund: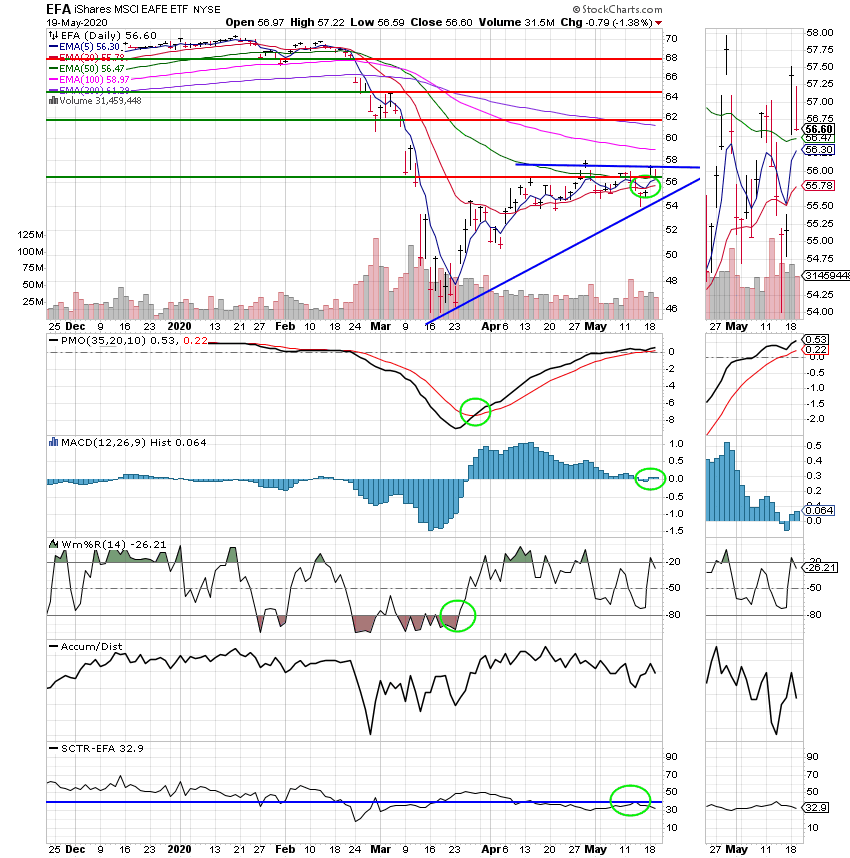 F Fund: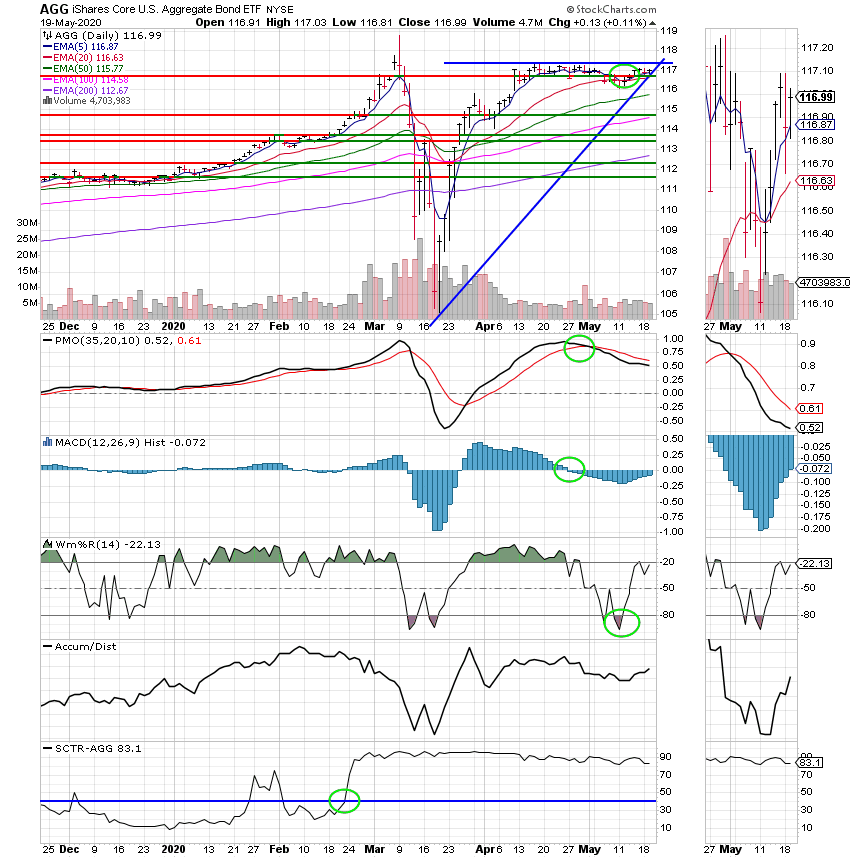 God's word and our charts are about the only things in this world that make any sense right now. We would do well to concentrate on both. That's all for tonight! Have a nice evening and may God continue to bless your trades!
God bless, Scott 
***Just a reminder that you can review the perform

ance of our allocation at the Web Site TSPTALK.com in the autotracker section under the screen name KyFan1.
I produce and publish this blog as both a ministry and for the benefit of any Federal Government Employee. This is done to offer you some guidance as to how to approach your retirement more financially successful. When it is time for you to retire, I recommend you utilize the services of a Professional Money Manager, who works with a reputable investment firm. He understands the guidance you have already received and he can manage your savings assets utilizing a more advanced investment program into the future. 
If you would like to receive more information about this introduction, please feel free to contact me at  KyFan1@aol.com. 
Share