Good Evening, The overall dynamics of the market has not changed it's still swinging from recovery stocks to tech and back on a daily to weekly basis. What's good one day doesn't work the next and visa versa. It has been very hard to make any substantial headway. The market feels more like it's moving sideways  than it does like it's in the midst of a bull run. It's true that the major indices are setting new records but the average investor hasn't made much money since the beginning of February. Of course there is always a little drama to add into the mix. Todays news that the FDA was recommending that distribution of the Johnson & Johnson Covid 19 vaccine be halted is another example of that. Reopening trades came under pressure this morning after the U.S. Food and Drug Administration said it's recommending a pause in the Johnson & Johnson Covid-19 vaccine after reported cases of blood clotting. There have been six reported cases of a rare and severe type of blood clot after receiving the J&J vaccine, the FDA said. The administration is calling for a pause in the vaccine until Centers for Disease Control and Prevention concludes its investigation into these cases. "Until that process is complete, we are recommending this pause," the FDA said. "This is important to ensure that the health care provider community is aware of the potential for these adverse events and can plan due to the unique treatment required with this type of blood clot." Acting FDA Commissioner Janet Woodcock said later Tuesday that she expects the pause to last "a matter of days." More than 6.8 million doses of the single-dose vaccine have been administered in the U.S. There you have it. That wasn't all either. Inflation picked up just a tick to pressure on stocks as well. The consumer price index, one of Wall Street's most-popular inflation gauges, rose 0.6% in March and increased 2.6% from the same period a year ago. Economists polled by Dow Jones were projecting the headline index to rise by 0.5% month over month and 2.5% year over year. Core CPI, which excludes volatile food and energy costs, increased 0.3% monthly and 1.6% year over year. Also looking back a few days we had a report  that surprised analysts showing more people drawing unemployment than had been expected. No wonder the market is a bit confused. As I mentioned last week that dynamic was even effecting TSP with the C Fund doing well one day and the S Fund doing well on the other. Up until recently the S Fund was  leading the way as it is made up of smaller companies that benefit more from the economic recovery, but now it's the S Fund one day and the C Fund the next making it hard for TSP investors to position their investments.  A popular allotment recently has been 50% C and 50% S. However, we have remained committed to S Fund at 100/S because it's chart is just a little better than that of the C Fund. As long as that remains the case we will not split our allocation. On the street I am invested with half tech and half recovery stocks and have been able to make some consistent albeit muted gains…. The moral of that story is that sometimes you have to take what the market gives you. It's a lot like a basketball. I'm sure many of you watched the NCAA tournament last month. The teams that tried to force the action instead of waiting for the game to come to them took an early exit. You must be disciplined and patient. You will always lose if you try to force a trade!  You can't make more than the market is giving…….
The days trading left us with the following results: Our TSP allotment posted a gain of +0.54%. For comparison, the Dow dropped -0.20%, the Nasdaq added +0.20%, and the S&P 500 was up +0.33%. Praise God for another good day!
The days action left us with the following signals: C-Buy, S-Buy, I-Buy, F-Hold. We are currently invested at 100/S. Our allocation is now +11.20% for the year. Here are the latest posted results.
04/13/21
Prior Prices
Fund
G Fund
F Fund
C Fund
S Fund
I Fund
Price

16.562

20.6339

61.9095

82.5086

37.5586

$ Change

0.0007

0.0502

0.2033

0.4168

0.1056

% Change day

+0.00%

+0.24%

+0.33%

+0.51%

+0.28%

% Change week

+0.02%

+0.23%

+0.31%

+0.46%

-0.02%

% Change month

+0.06%

+0.72%

+4.29%

+3.16%

+2.52%

% Change year

+0.33%

-2.65%

+10.73%

+11.20%

+6.13%

Fund
L INC
L 2025
L 2030
L 2035
L 2040
Price

22.7529

11.6396

40.8817

12.2546

46.2889

$ Change

0.0213

0.0202

0.0900

0.0296

0.1210

% Change day

+0.09%

+0.17%

+0.22%

+0.24%

+0.26%

% Change week

+0.07%

+0.12%

+0.15%

+0.17%

+0.18%

% Change month

+0.88%

+1.70%

+2.18%

+2.38%

+2.58%

% Change year

+2.13%

+4.30%

+5.43%

+5.93%

+6.44%

Fund
L 2045
L 2050
L 2055
L 2060
L 2065
Price

12.6622

27.699

13.5442

13.5441

13.5439

$ Change

0.0355

0.0822

0.0456

0.0456

0.0456

% Change day

+0.28%

+0.30%

+0.34%

+0.34%

+0.34%

% Change week

+0.19%

+0.20%

+0.22%

+0.22%

+0.22%

% Change month

+2.75%

+2.92%

+3.47%

+3.47%

+3.47%

% Change year

+6.87%

+7.33%

+9.12%

+9.12%

+9.12%
 Now lets take a look at the charts. All signals are annotated with 

green circles

. If you click on the charts they will become larger. If you want to learn more about technical analysis check out the website StockCharts.com.
C Fund: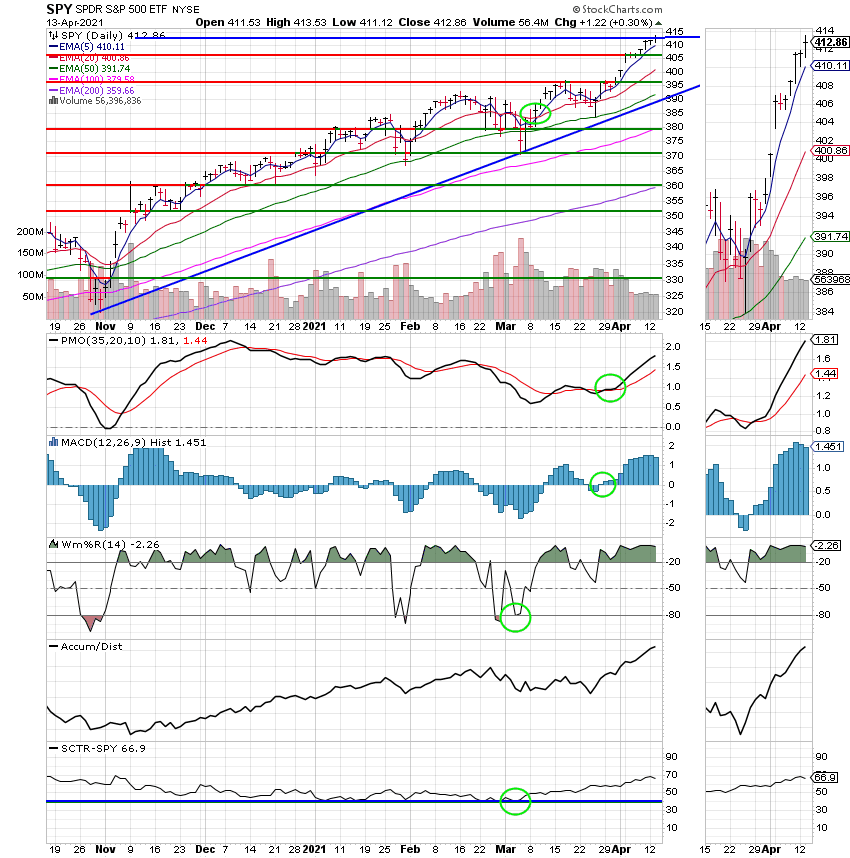 S Fund: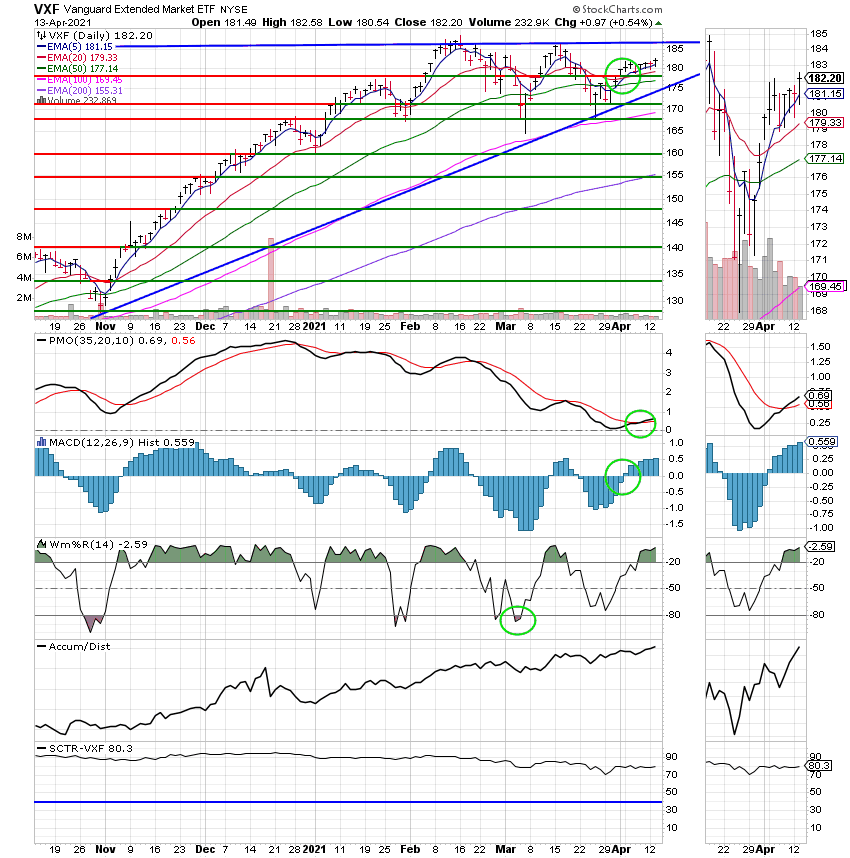 I Fund: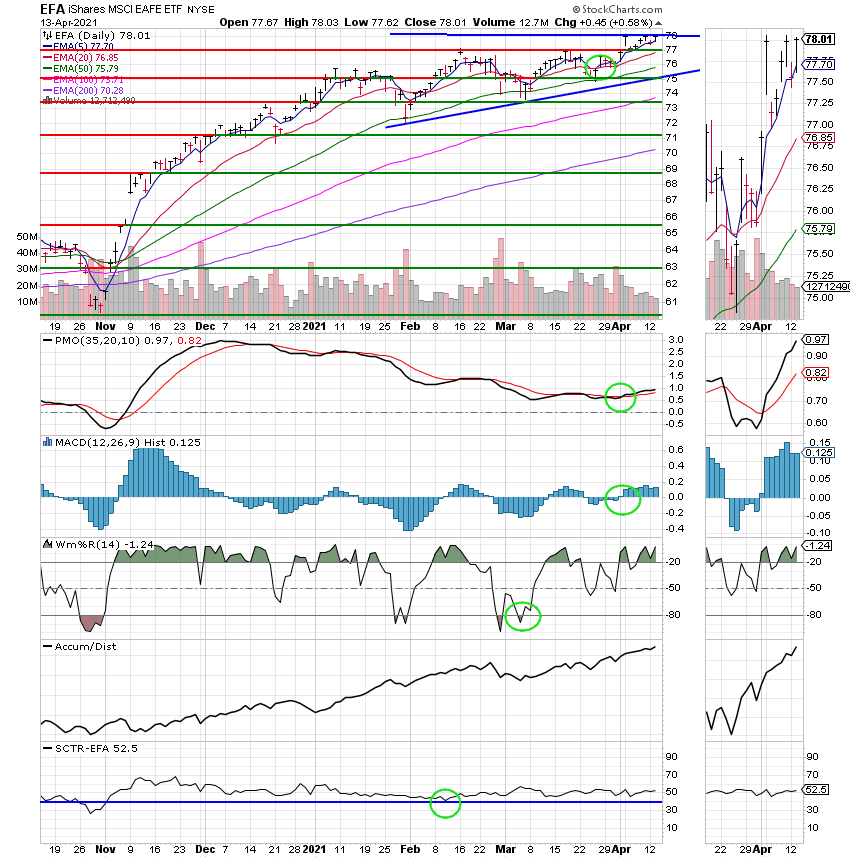 F Fund:
Nothing to add here. That's all for tonight. Have a nice evening and may God continue to bless your trades!
God bless, Scott 
***Just a reminder that you can review the perform

ance of our allocation at the Web Site TSPTALK.com in the autotracker section under the screen name KyFan1.
I produce and publish this blog as both a ministry and for the benefit of any Federal Government Employee. This is done to offer you some guidance as to how to approach your retirement more financially successful. When it is time for you to retire, I recommend you utilize the services of a Professional Money Manager, who works with a reputable investment firm. He understands the guidance you have already received and he can manage your savings assets utilizing a more advanced investment program into the future. 
If you would like to receive more information about this introduction, please feel free to contact me at  KyFan1@aol.com. 
Share