Good Evening, The market so far this year will try your patience. The major indices seem OK, but the action underneath is choppy. Most savvy investors move their money around to the stocks and funds in the hot sectors and are able to outperform the market as a whole by using this tactic. So far in 2021 that has not been the case. The sector rotation has been volatile moving from tech to value to safe havens such as real estate insurance trusts and utilities. This rotation could even be seen in thrift which is not usually the case. We talked about this rotation in the past few blogs about how it was evident in the relationship between the C and the S Funds. I have to give the nod to the C fund over the past few weeks but that could change quickly as this sector rotation continues. Also, as I  mentioned previously it makes it very difficult to move with this action. Just as fast as you move to one fund or sector it loses favor. Up to now the charts have favored the S Fund but the C Fund is closing the gap. Will it overtake the S Fund and have the best chart in TSP? We will just have to monitor our charts to get the answer. For now we're staying in the S Fund, but we're giving it a short leash……. Don't forget you can stay up to date with the latest market news on our Facebook page.
The days trading left us with the following results: Our TSP allocation gave up -1.69%. For comparison, the Dow closed -0.75% lower, the Nasdaq -0.92%, and the S&P 500 -0.68%. It was another day of red ink but I'm still praising God for what He does for our group!
The days action left us with the following signals C-Buy, S-Buy, I-Buy, F-Hold. We are currently invested at 100/S. Our allocation is now +9.09% for the year. Here are the latest posted results:
04/20/21
Prior Prices
Fund
G Fund
F Fund
C Fund
S Fund
I Fund
Price

16.5671

20.673

61.8208

80.9492

37.7731

$ Change

0.0007

0.0308

-0.4213

-1.2900

-0.5754

% Change day

+0.00%

+0.15%

-0.68%

-1.57%

-1.50%

% Change week

+0.02%

+0.06%

-1.20%

-2.80%

-1.10%

% Change month

+0.09%

+0.91%

+4.14%

+1.21%

+3.10%

% Change year

+0.36%

-2.47%

+10.57%

+9.09%

+6.74%

Fund
L INC
L 2025
L 2030
L 2035
L 2040
Price

22.7551

11.6363

40.8602

12.2467

46.2527

$ Change

-0.0532

-0.0576

-0.2639

-0.0870

-0.3595

% Change day

-0.23%

-0.49%

-0.64%

-0.71%

-0.77%

% Change week

-0.29%

-0.63%

-0.82%

-0.91%

-0.99%

% Change month

+0.89%

+1.68%

+2.12%

+2.31%

+2.50%

% Change year

+2.14%

+4.27%

+5.37%

+5.86%

+6.36%

Fund
L 2045
L 2050
L 2055
L 2060
L 2065
Price

12.6504

27.6692

13.5231

13.523

13.5229

$ Change

-0.1057

-0.2475

-0.1490

-0.1490

-0.1489

% Change day

-0.83%

-0.89%

-1.09%

-1.09%

-1.09%

% Change week

-1.07%

-1.14%

-1.39%

-1.39%

-1.39%

% Change month

+2.66%

+2.81%

+3.31%

+3.31%

+3.31%

% Change year

+6.77%

+7.21%

+8.95%

+8.95%

+8.95%
 Now lets take a look at the charts. All signals are annotated with 

green circles

. If you click on the charts they will become larger. If you want to learn more about technical analysis check out the website StockCharts.com.
C Fund: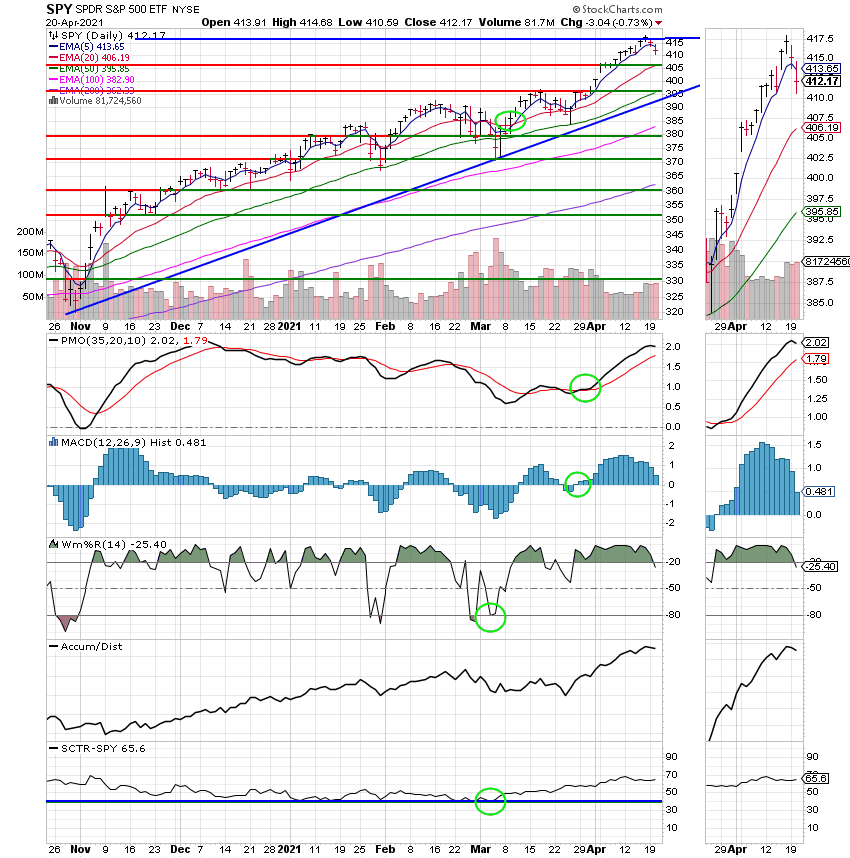 S Fund: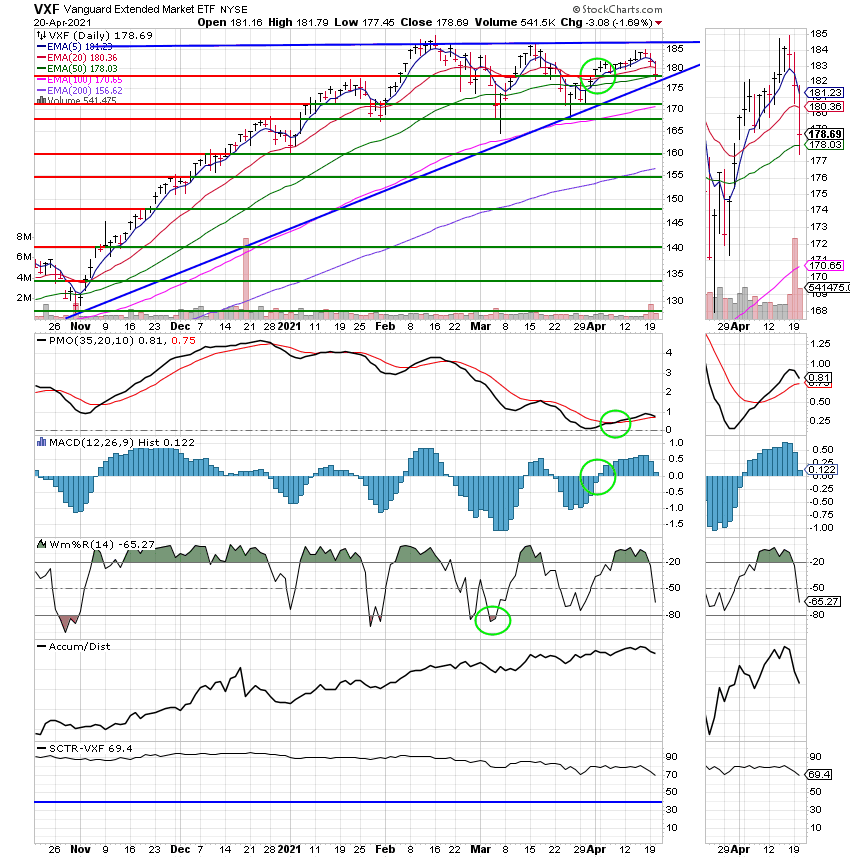 I Fund: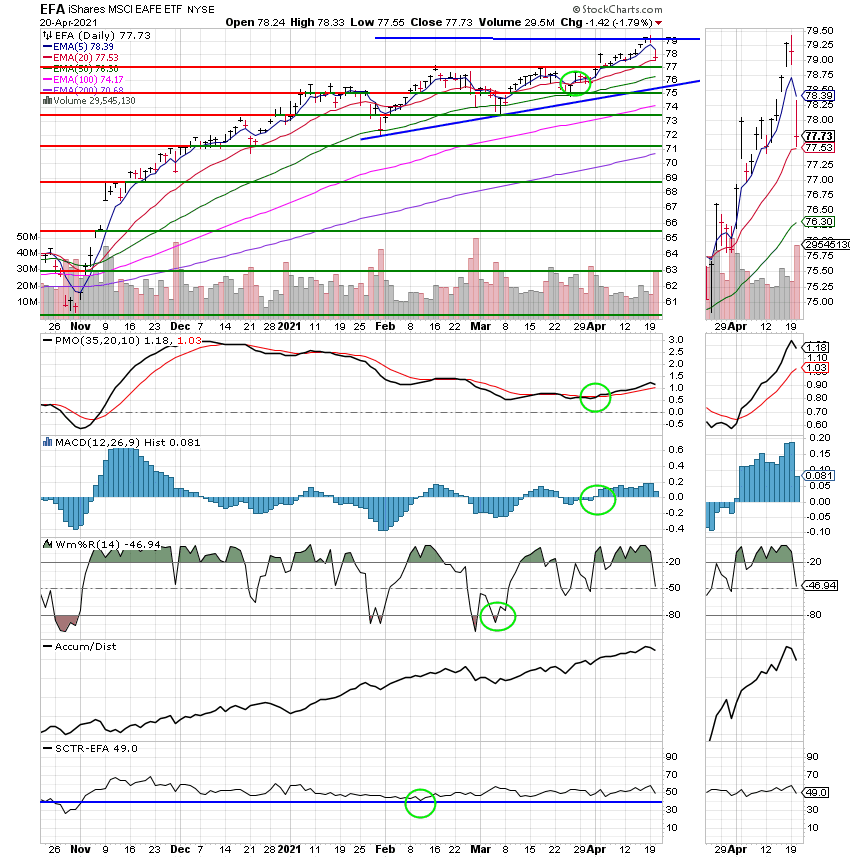 F Fund: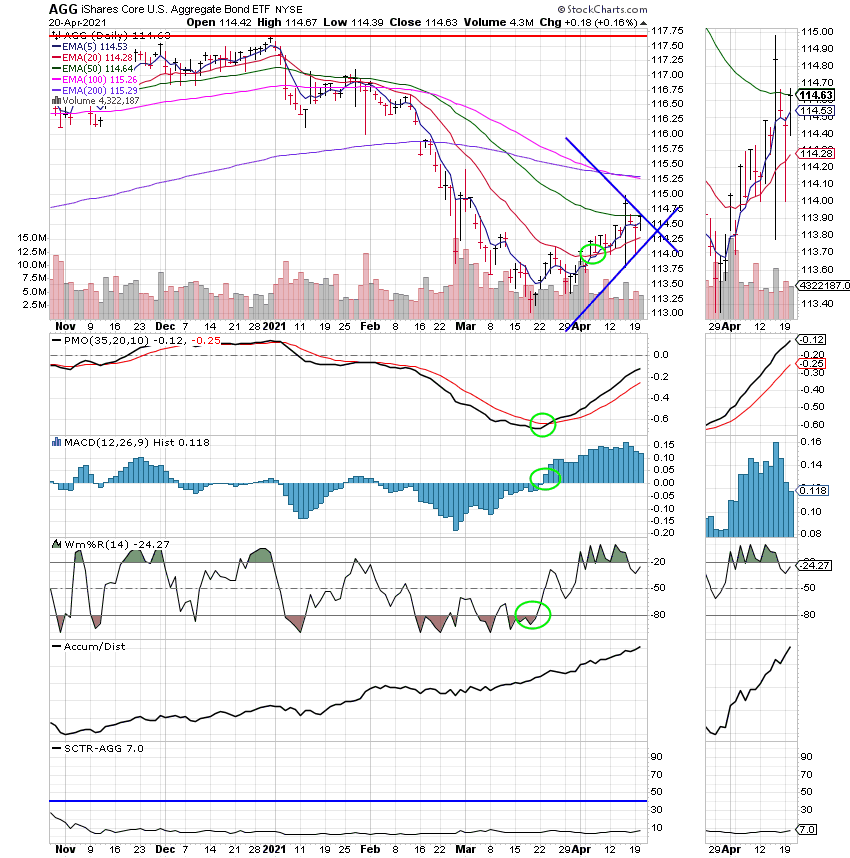 I know this is a frustrating market. It is for me as well. I know we're in yet another sell off and in some ways it seems a little bearish. What is the old saying? If it walks like a bear and growls like a bear then……. I'm just not there yet. My indicators do not show anything other than a another selloff. With God's guidance our group has never missed avoiding a bear market since we have been doing this and I don't think this will be the first time. He is still with us! Give Him some praise!! That's all for tonight. Have a nice evening and may God continue to bless your trades.
God bless, Scott 
***Just a reminder that you can review the perform

ance of our allocation at the Web Site TSPTALK.com in the autotracker section under the screen name KyFan1.
I produce and publish this blog as both a ministry and for the benefit of any Federal Government Employee. This is done to offer you some guidance as to how to approach your retirement more financially successful. When it is time for you to retire, I recommend you utilize the services of a Professional Money Manager, who works with a reputable investment firm. He understands the guidance you have already received and he can manage your savings assets utilizing a more advanced investment program into the future. 
If you would like to receive more information about this introduction, please feel free to contact me at  KyFan1@aol.com. 
Share