Good Evening, Stocks rose again today on optimism from several states starting to open up their economies. The market was also buoyed by another day of rising oil prices on positive sentiments by investors that drivers in several states that are reopening their economies will take to the roads in a big way. I must add that I share that sentiment!  This week started off on  positive note after some selling late last week which leaves us in an established trading range between 2780 and 2910 in the S&P 500. As I mentioned several times already our next resistance should we move down is around 2638. I really look for 2780 to hold with stocks consolidating for a while in the aforementioned range. However, in a worst case scenario given some really bad news we could break through 2630 and retest the March lows at around 2200. We have several variables influencing market direction in the coming weeks and they are all COVID 19 related. Will the cases of Corona Virus peek or will they worsen as the economy reopens? Will there be a second outbreak of COVID 19 that will cause Governors to walk back some measures taken to open up their states? Will the economy effectively reopen with all the corona virus related restrictions? Will the trade war with China worsen as a result of the Wuhan allegations? Will an effective treatment for the virus be established? Will progress be made on a vaccination?  How many jobs that existed prior to the outbreak will be there when the pandemic is over? Those are but a few of the questions that will be answered in coming weeks and months and it is not a hard stretch to say that there will be periods of selling and buying until this situation stabilizes. It is our position that you need to be in the market and ready for the recovery now, that if you are not you will probably get left in the dust once things improve which we believe they will. Like I said before. I'm betting on the United States of America. As one nation under God, we will overcome!
The days trading left us with the following results: Our TSP allotment posted a gain of +0.90%. For comparison, the Dow was up +0.56%, the Nasdaq +1.13%, and the S&P 500 +0.90%. Praise God for two great days in a row!
The days action left us with the following signals: C-Buy, S-Buy, I-Neutral, F-Neutral. We are currently invested at 100/C. Our allocation is now +3.63 for the year not including the days results. Here are the latest posted results:
05/04/20
Prior Prices
Fund
G Fund
F Fund
C Fund
S Fund
I Fund
Price

16.4288

20.6573

41.8178

45.4603

25.9939

$ Change

0.0010

-0.0113

0.1757

0.2897

-0.3132

% Change day

+0.01%

-0.05%

+0.42%

+0.64%

-1.19%

% Change week

+0.01%

-0.05%

+0.42%

+0.64%

-1.19%

% Change month

+0.01%

-0.16%

-2.38%

-2.93%

-3.41%

% Change year

+0.48%

+4.77%

-11.52%

-19.22%

-20.55%

 

L INC
L 2020
L 2030
L 2040
L 2050
Price

20.6032

28.3122

31.6802

34.1958

19.6278

$ Change

-0.0049

-0.0073

-0.0221

-0.0285

-0.0184

% Change day

-0.02%

-0.03%

-0.07%

-0.08%

-0.09%

% Change week

-0.02%

-0.03%

-0.07%

-0.08%

-0.09%

% Change month

-0.61%

-0.65%

-1.70%

-2.03%

-2.32%

% Change year

-2.75%

-3.40%

-9.10%

-11.02%

-12.70%
 Now lets take a look at the charts. All signals are annotated with 

green circles

. If you click on the charts they will become larger.
C Fund: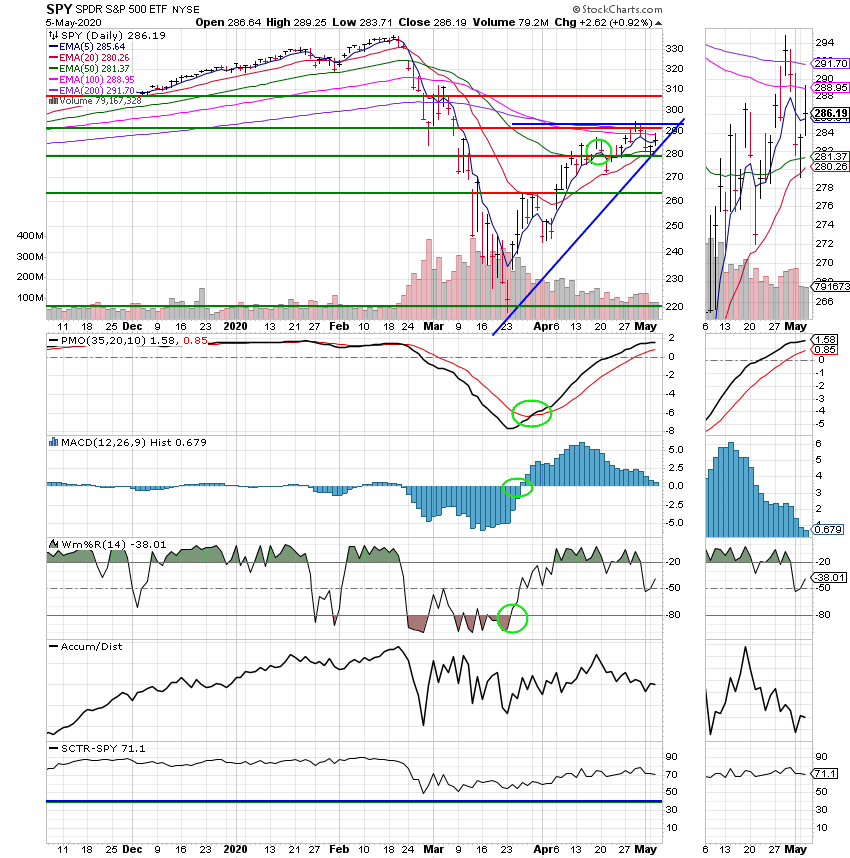 S Fund: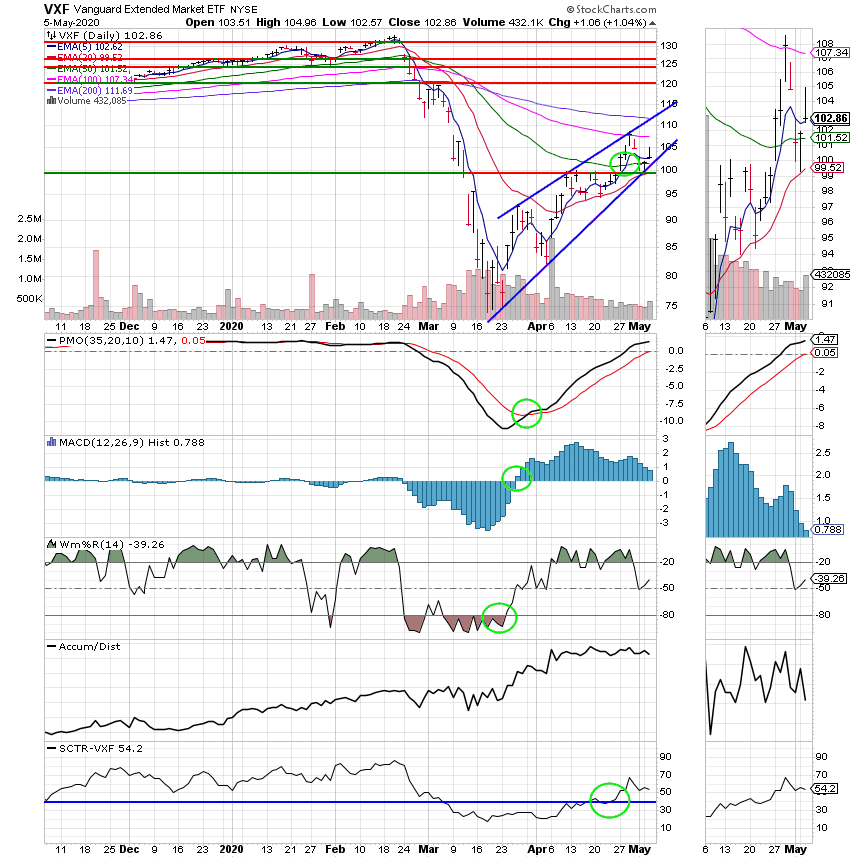 I Fund: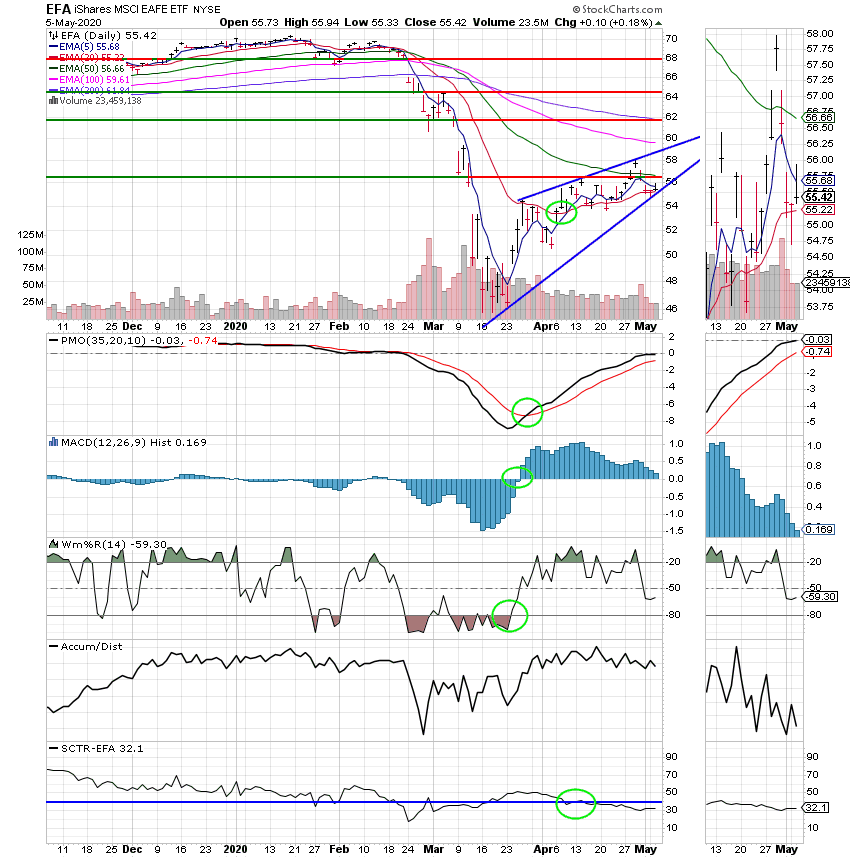 F Fund: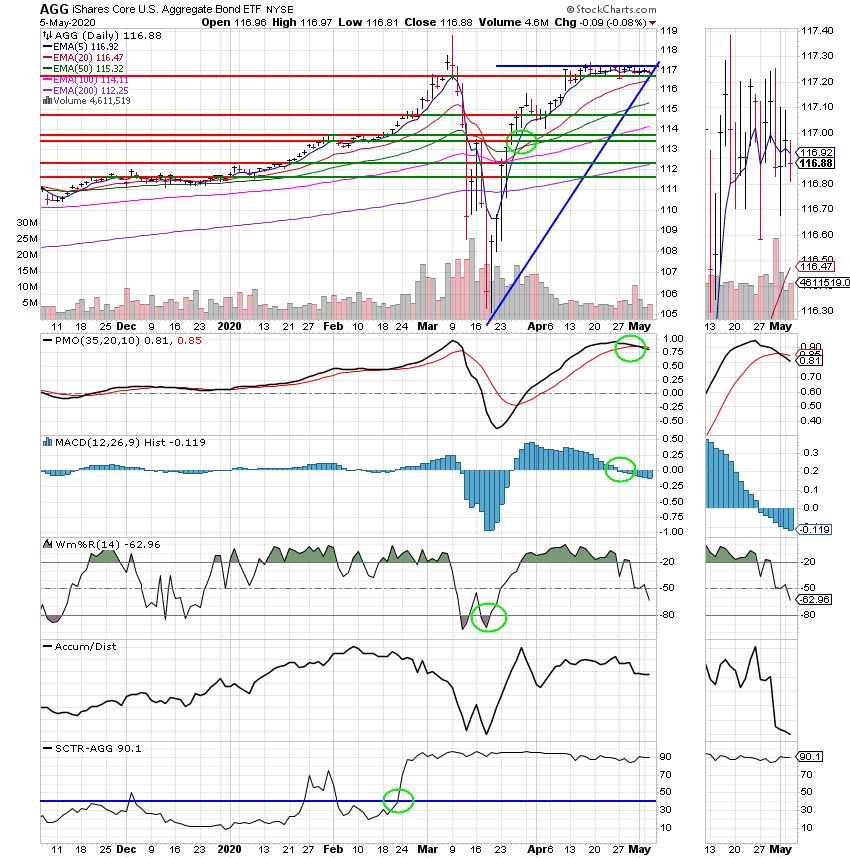 Expect more of the same until we break out of this trading range. That's all for tonight. Have a great evening and may God continue to bless your trades. Stay safe!!!
God bless, Scott 
***Just a reminder that you can review the perform

ance of our allocation at the Web Site TSPTALK.com in the autotracker section under the screen name KyFan1.
I produce and publish this blog as both a ministry and for the benefit of any Federal Government Employee. This is done to offer you some guidance as to how to approach your retirement more financially successful. When it is time for you to retire, I recommend you utilize the services of a Professional Money Manager, who works with a reputable investment firm. He understands the guidance you have already received and he can manage your savings assets utilizing a more advanced investment program into the future. 
If you would like to receive more information about this introduction, please feel free to contact me at  KyFan1@aol.com. 
Share