Good Evening, I'll keep this as brief as possible as I have an 8 year old Grandson waiting for me finish! The overall narrative remains the same. Albeit with a greater focus on the debt ceiling. The market continues to be influenced by interest  rates, inflation, and the debt ceiling. Each piece of economic news that comes through continues to be judged as to how it will effect the FOMC and whether or not it increases or decreases the chance of a recession. Most recently on Friday the University of Michigan Consumer sentiment report came in weak. A preliminary reading on the University of Michigan's consumer sentiment index fell to a six-month low of 57.7. Economists polled by the Dow Jones expected a May reading of 63.0. The survey also showed the outlook for inflation over the next 5 years climbed to 3.2%, tying the highest clip since June 2008. That ended the third negative week in a row for the major indices. At the moment the market is completely focused on the debt ceiling negotiations. Secretary of Treasury Janet Yellen announced a little over a week ago that the federal government could default on it's debt as early as June 1st if congress fails to raise the debt limit. Of course there continues to be discord between republicans and democrats as the republicans insist on budget cuts before they will vote to increase the debt ceiling. This is the same decades old argument that they have each time a new budget is passed. This is nothing new and neither is the drama and political showmanship that goes along with it. If these debates follow script the drama will increase until a budget is finally passed minutes before the clock expires. Of course there's always a first time for everything. So totally discounting a default would be irresponsible given the considerable downside that would result if indeed there were a default. It says here that there will be an agreement, but in the same breadth, you won't see me rushing back into the market until there is one. We remain invested at 100/G for now and will continue to watch our charts for any changes. The market continues to trade sideways in a somewhat tight range for now……..
Todays trading left us with the  following results: Our TSP allotment remained steady in the G Fund. For comparison, the Dow added +0.18%, the Nasdaq +57%, and the S&P 500 +0.28%.
The days action left us with the following signals: C-Hold, S-Hold, I-Hold, F-Hold. We are currently invested at 100/G. Our allocation is now -2.28% for the year. Here are the latest posted results:
05/12/23
Prior Prices
Fund
G Fund
F Fund
C Fund
S Fund
I Fund
Price

17.476

18.839

63.6485

63.0152

37.6821

$ Change

0.0017

-0.0877

-0.0868

-0.2188

-0.0460

% Change day

+0.01%

-0.46%

-0.14%

-0.35%

-0.12%

% Change week

+0.07%

-0.23%

-0.24%

-0.53%

-0.89%

% Change month

+0.12%

-0.28%

-1.02%

-1.09%

-0.65%

% Change year

+1.40%

+3.47%

+8.05%

+2.41%

+11.02%
 Now lets take a look at the charts. All signals are annotated with 

green circles

. If you click on the charts they will become larger. If you want to learn more about technical analysis check out the website StockCharts.com.   
C Fund:
S Fund: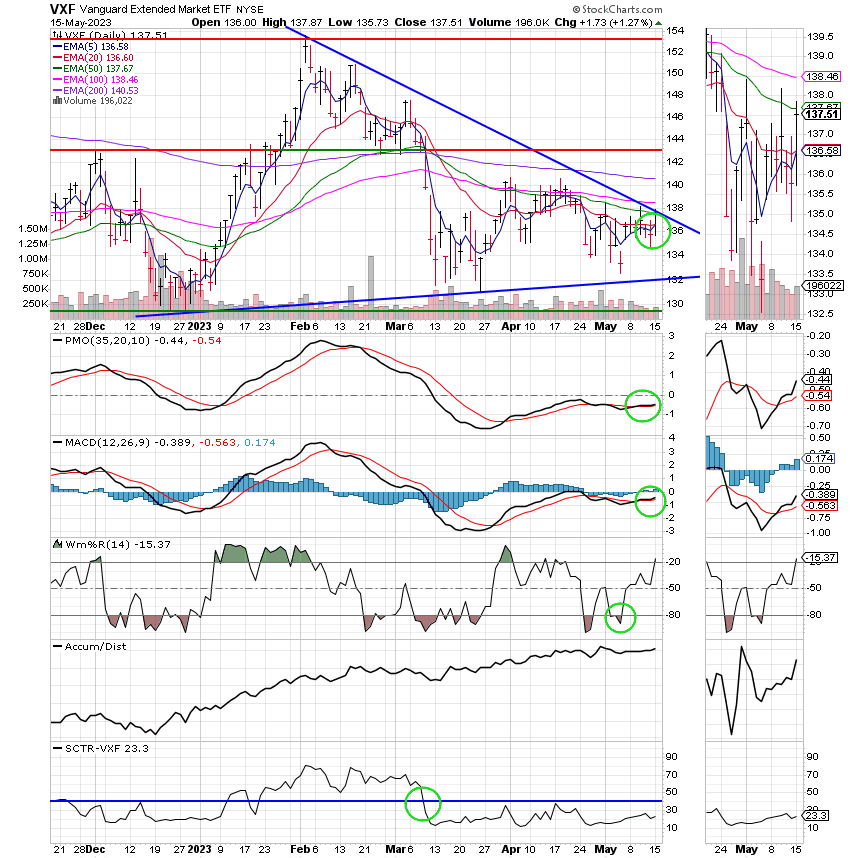 I Fund: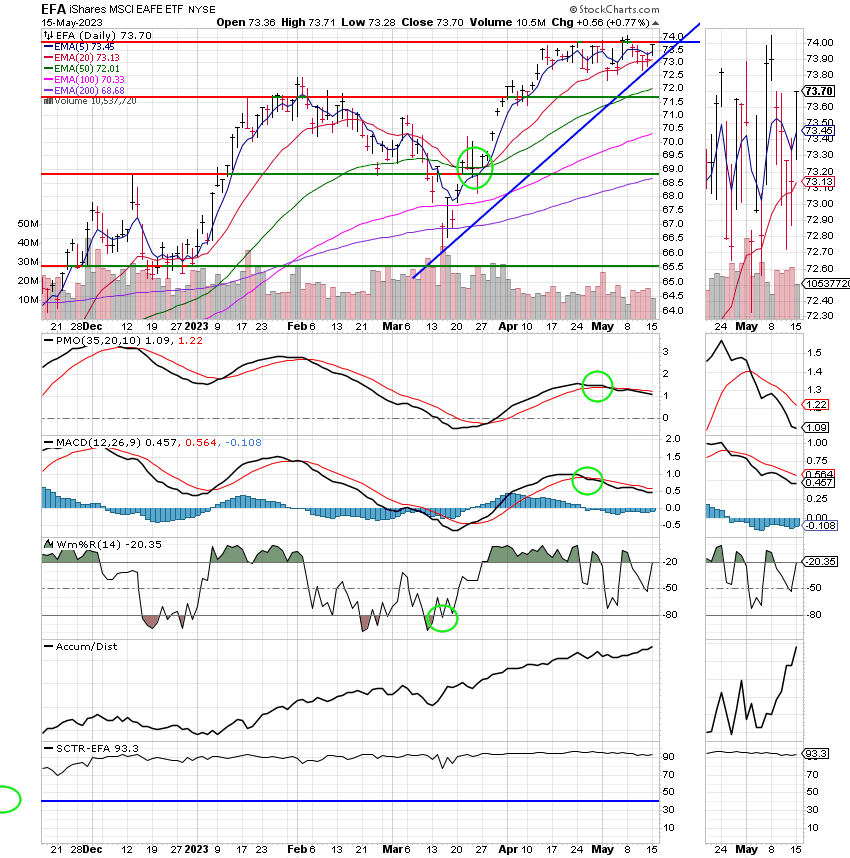 F Fund: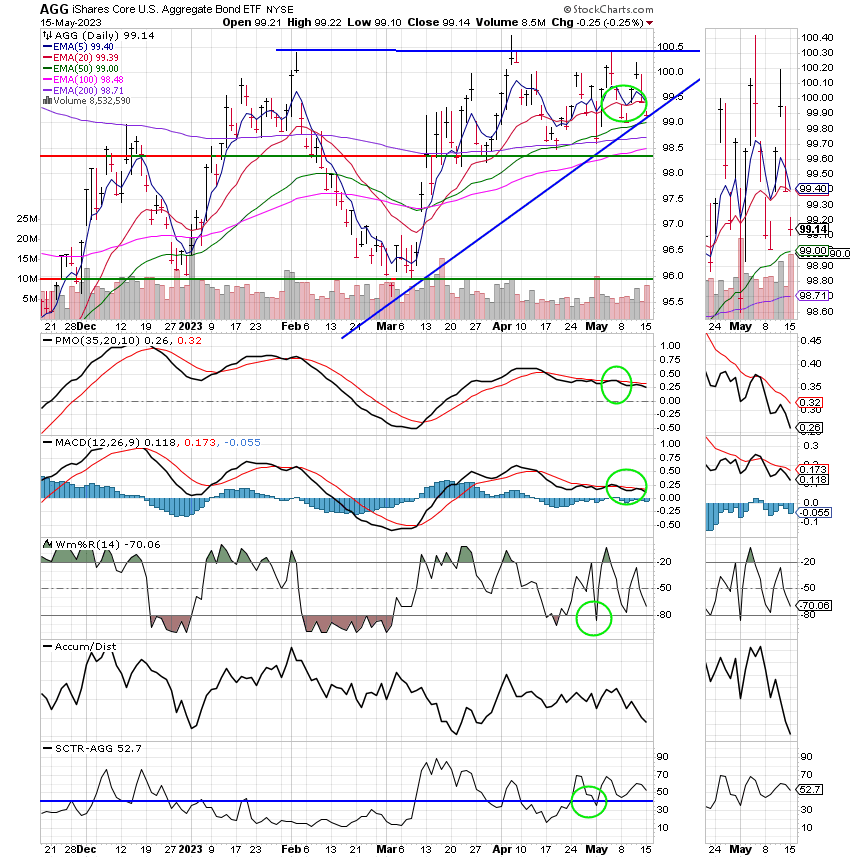 We must remain patient. That's all for tonight. Have a nice evening and may God continue to bless your trades!
God bless, Scott 
***Just a reminder that you can review the performance of our allocation at the Web Site TSPTALK.com in the autotracker section under the screen name KyFan1.
I produce and publish this blog as both a ministry and for the benefit of any Federal Government Employee. This is done to offer you some guidance as to how to approach your retirement more financially successful. When it is time for you to retire, I recommend you utilize the services of a Professional Money Manager, who works with a reputable investment firm. He understands the guidance you have already received and he can manage your savings assets utilizing a more advanced investment program into the future.
If you would like to receive more information about this introduction, please feel free to contact me at  KyFan1@aol.com.