Good Evening, Well they updated the word processing program for this website. It is an updated version of something called WordPress. Do you all know what this is?? Ok, that's what I know about it. The Name. That's it. When I worked for the government I was first trained to utilize Corel WordPerfect and then trained (with much stress) to use Microsoft Word. I have not been trained in…what do they call this again? Ahh yes WordPress. Where's the number for the Computer Services Manager?? Oh yeah, almost forgot. I don't have an IT guy here. All I have other than myself is Devine guidance. Guess I better start praying and see if I can find the help tab. Found it…..OK Holy Spirit….Lets figure this out!!!!
Alright, I'm not even going to tell you how long it took me to figure out how to do this…….Oh well no pain no gain. I must surely be gaining a lot!!
Here goes. Hopefully you can read this…. This market has been a roller coaster, but I can't say that I mind as after the dips the coaster keeps moving higher. As with last week the market moving issues remain the same. It's earnings vs everything else. Of course the main issues continue to be inflation and interest rates. The real dynamic here was the November monthly Fed meeting that concluded today with it's routine 2:00 PM press conference. We already knew that they would likely announce some tapering of their monthly bond buying program as inflation is getting a little hot. What we didn't know for sure was how the market would react to it. We had a pretty good idea that the reaction would be favorable after Jerome Powell's comments on tapering were well received at Jackson Hole Wyoming back in August, but you just never know for sure. Well the Fed did indeed announce a tapering or slowing to their monthly bond purchases and it was as anticipated well received. Jerome Powell once again masterfully worded the announcement. The Fed Statement indicated that the bond purchases would begin later this month and that they would be in no hurry to increase interest rates once that tapering was complete sometime next year. They also indicated that the amount of the tapering could be adjusted if required. Here is what they said "The Committee judges that similar reductions in the pace of net asset purchases will likely be appropriate each month, but it is prepared to adjust the pace of purchases if warranted by changes in the economic outlook," the committee said. That was good and the market loved it but what was really the most important issue that the market was concerned about was what they had to say about interest rates. It was vitally important that increasing rates was not tied to tapering. Remember, as I said last week, if the phrase increase rates is even thought of the market will sell off. You can quote me on that if you'd like! Once again, the tie between interest rates and tapering is a vital one, and the statement stressed that investors should not view the reduction in purchases as a signal that rate hikes are imminent. There was one more really important ingredient in todays Fed statement. The market was looking for it and the Fed delivered. The word transitory was not removed from the statement this month. In other words the Fed is still insisting that the hot inflation is transitory which is to say temporary. Here is what they had to say. "Inflation is elevated, largely reflecting factors that are expected to be transitory," the statement said. "Supply and demand imbalances related to the pandemic and the reopening of the economy have contributed to sizable price increases in some sectors." That's right the details are important and the Fed obviously scrutinized every one of them. They delivered the perfect statement and likely a Merry Christmas to investors at the same time. My charts continue to indicate a run into the end of the year and this only makes them more believable. Barring a landmine such as congress failing to pass a budget or something like that, it looks like we'll have smooth sailing into the new year. Merry Christmas to you too FOMC. I really do believe Jerome Powell is Santa Clause………
Fed to start tapering bond purchases later this month as it starts pulling back on pandemic aid
The days trading left us with the following results: Our TSP allotment posted a nice gain of +0.65%. For comparison, the Dow added +0.29%, the Nasdaq +1.04%, and the S&P 500 +0.65%. Thank you Lord for guiding our group once again!
Stocks add to records after Fed says economy is strong enough for it to slow pandemic bond buying
The days trading left us with the following signals: C-Buy, S-Buy, I-Buy, F-Hold. We are currently invested at 100/C. Our TSP allotment is now +19.49% on the year not including the days results. Here are the latest posted results.
11/02/21
Prior Prices
Fund
G Fund
F Fund
C Fund
S Fund
I Fund
Price
16.695
20.9082
69.7222
88.845
39.7454
$ Change
0.0008
0.0353
0.2555
-0.0773
-0.0634
% Change day
+0.00%
+0.17%
+0.37%
-0.09%
-0.16%
% Change week
+0.01%
+0.08%
+0.55%
+1.71%
+0.97%
% Change month
+0.01%
+0.08%
+0.55%
+1.71%
+0.97%
% Change year
+1.13%
-1.36%
+24.70%
+19.74%
+12.31%
 Now lets take a look at the charts. All signals are annotated with green circles. If you click on the charts they will become larger. If you want to learn more about technical analysis check out the website StockCharts.com.
C Fund: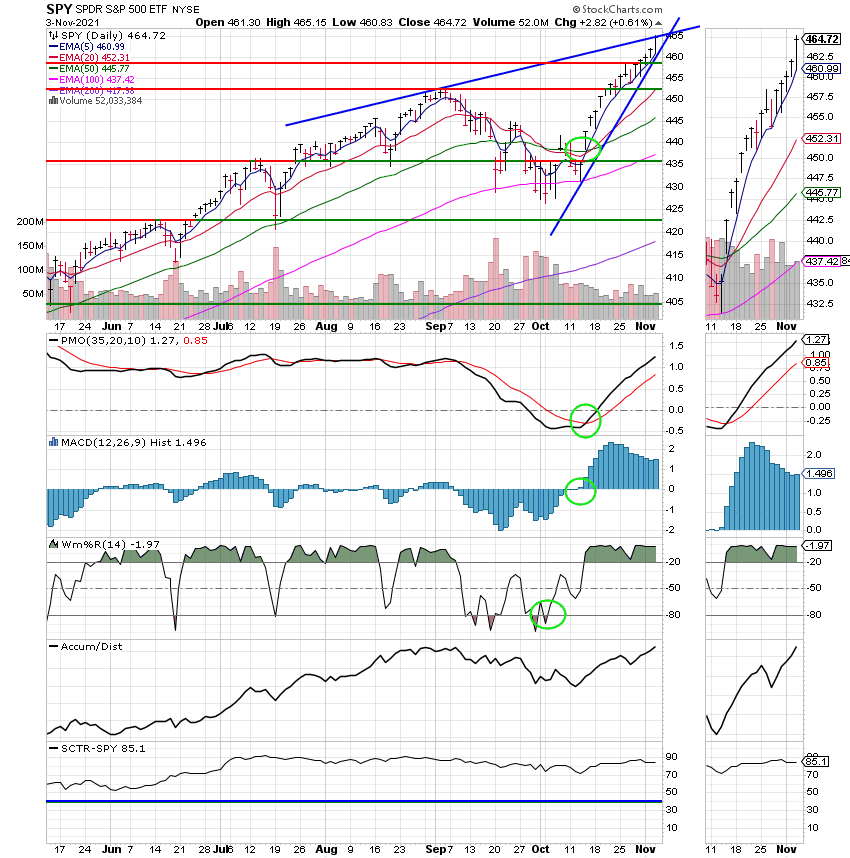 S Fund: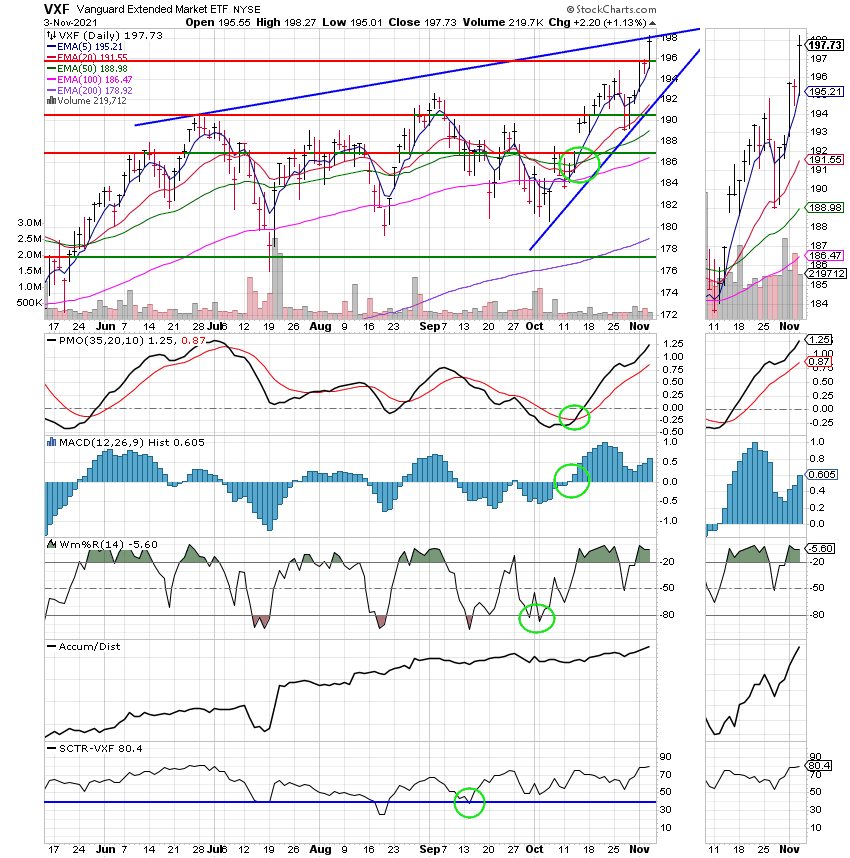 I Fund: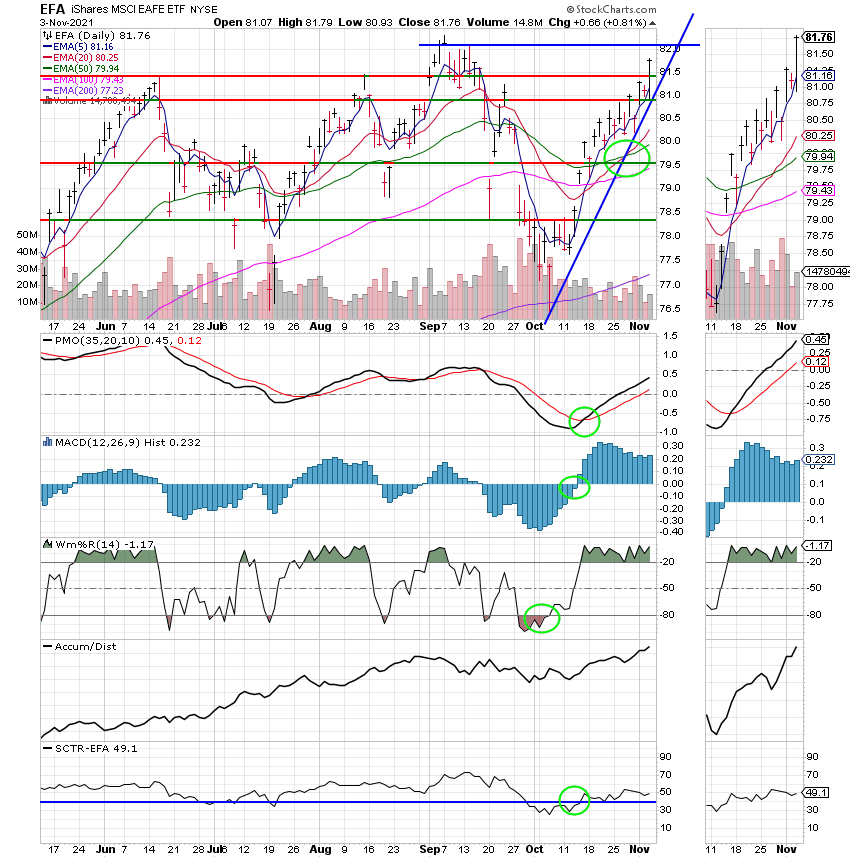 F Fund: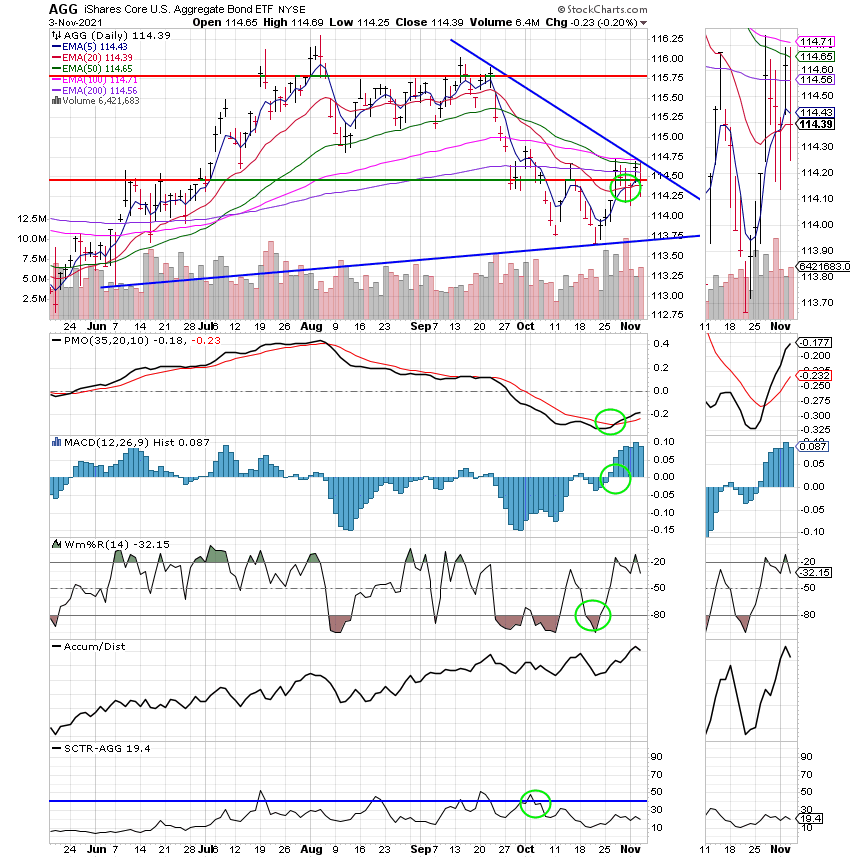 It looks like it's going to be smooth sailing, but just because it does it doesn't me we quit watching our charts. Regardless of what we think we will make our decisions based on what we see, not on what we think. For instance, what if the chart for the S Fund becomes better than the C? We always watch our charts. We never become complacent! That's all for tonight. Have a great evening and may God continue to bless your trades.
God bless, Scott 
***Just a reminder that you can review the performance of our allocation at the Web Site TSPTALK.com in the autotracker section under the screen name KyFan1.
I produce and publish this blog as both a ministry and for the benefit of any Federal Government Employee. This is done to offer you some guidance as to how to approach your retirement more financially successful. When it is time for you to retire, I recommend you utilize the services of a Professional Money Manager, who works with a reputable investment firm. He understands the guidance you have already received and he can manage your savings assets utilizing a more advanced investment program into the future.
If you would like to receive more information about this introduction, please feel free to contact me at KyFan1@aol.com.
Share