Good Evening, In recent weeks we've discussed that fact that earnings move the market. We also talked about the the current market being shaped by the battle between earnings and inflation. We theorized that good earnings moving into the New Year would continue to propel the market to new highs. So far we have been correct as was the case again today more good earnings being reported by retail giants Walmart and Home Depot both exceeding guidance and analysts estimates. That comes on the tail of blow out reports from Lowes and Target. Folks you don't get a better better barometer for the economy than that. Goldman Sachs said earnings beats can and should continue through at least 2022. It issued a bullish outlook on the market Tuesday, with chief U.S. equity strategist David Kostin saying he expects continued earnings growth to drive the S&P 500 to 5,100 at the end of 2022, a return of roughly 9% from here. The consumer is alive and well and so far he/she has been able to tip the table in favor of the market. With the robust retail sales read and solid start to retail earnings, it's crystal clear that inflation isn't standing in the way of consumers," said E-Trade's Mike Loewengart. "Despite some hiccups on the labor market and inflation fronts, this could serve as the vote of confidence investors needed signaling that the economy is still chugging along nicely. As we narrow in on the holiday shopping season, the question remains if better than expected numbers from retailers from Q3 can continue to close out 2021." "Profit growth has accounted for the entire S&P 500 return in 2021 and will continue to drive gains in 2022," he said. "S&P 500 EPS will grow by 8% to $226 in 2022 and by 4% to $236 in 2023. Our EPS estimate is 2% above 2022 bottom-up consensus. Companies have consistently expanded profit margins despite input cost pressures and supply chain challenges." Of course, the one red herring is that increased spending will definitely put upward pressure on inflation. You know, the old supply and demand thing. Econ 101….. Anyway, high consumer demand/confidence and blowout earnings are winning the battle against inflation. At least for the time being. If the Fed is to be believed, the higher inflation is transitory and will fade as pandemic related supply chain issues fade. More supply and demand……. They are just viewing the glass as half full instead of half empty. That is the reason they have repeatedly said they have no plans to increase interest rates in the near future (the thing they do to control inflation). However, we all know that can change and that is the one thing that is holding this market back just a little. For the record, I agree with the Fed and hope and pray that they are right! Now we will see if the market players have the patience to wait the current high inflation out.
The days trading left us with the following results: Our TSP allotment posted a gain of +0.61%. For comparison, the Dow was up+0.15%, the Nasdaq +0.76%, and the S&P 500 +0.39%. Praise God for another day in the green!
S&P 500 rises after strong retail data, Home Depot leads Dow higher
The days action left us with the following signals: C-Buy, S-Buy, I-Buy, F-Sell. We are currently invested at 100/S. Our allotment is now +21.36% not including the days results. Here are the latest posted results:
11/15/21
Prior Prices
Fund
G Fund
F Fund
C Fund
S Fund
I Fund
Price
16.7046
20.8016
70.555
89.9948
39.9954
$ Change
0.0023
-0.0677
0.0030
-0.1689
0.1237
% Change day
+0.01%
-0.32%
+0.00%
-0.19%
+0.31%
% Change week
+0.01%
-0.32%
+0.00%
-0.19%
+0.31%
% Change month
+0.07%
-0.43%
+1.75%
+3.02%
+1.61%
% Change year
+1.19%
-1.86%
+26.19%
+21.29%
+13.02%
 Now lets take a look at the charts. All signals are annotated with green circles. If you click on the charts they will become larger. If you want to learn more about technical analysis check out the website StockCharts.com.
C Fund: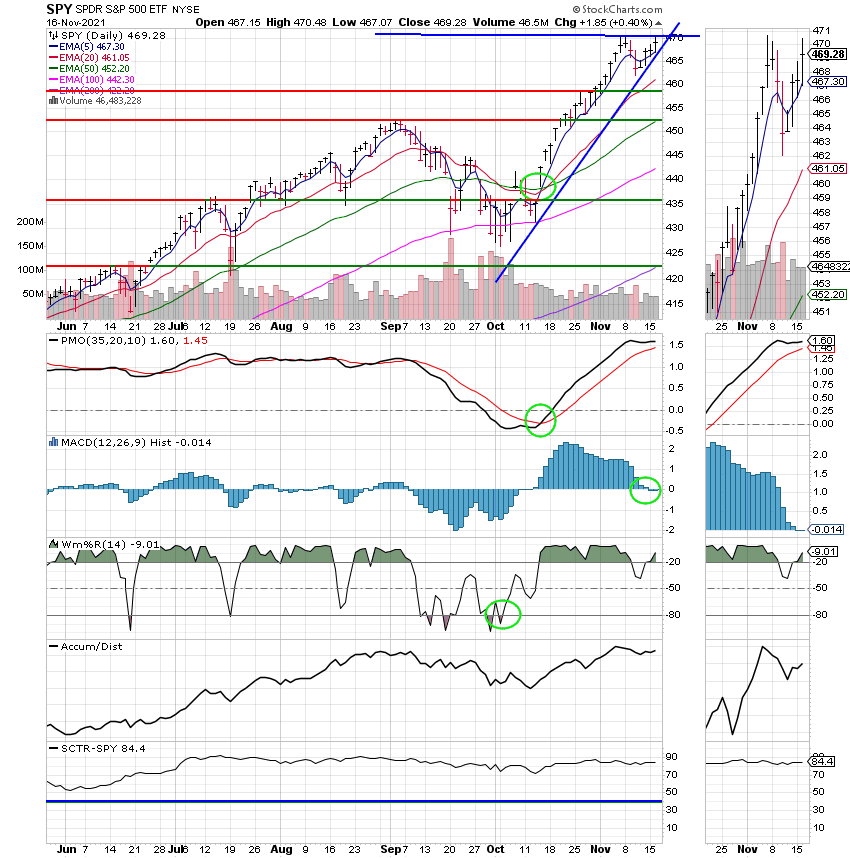 S Fund: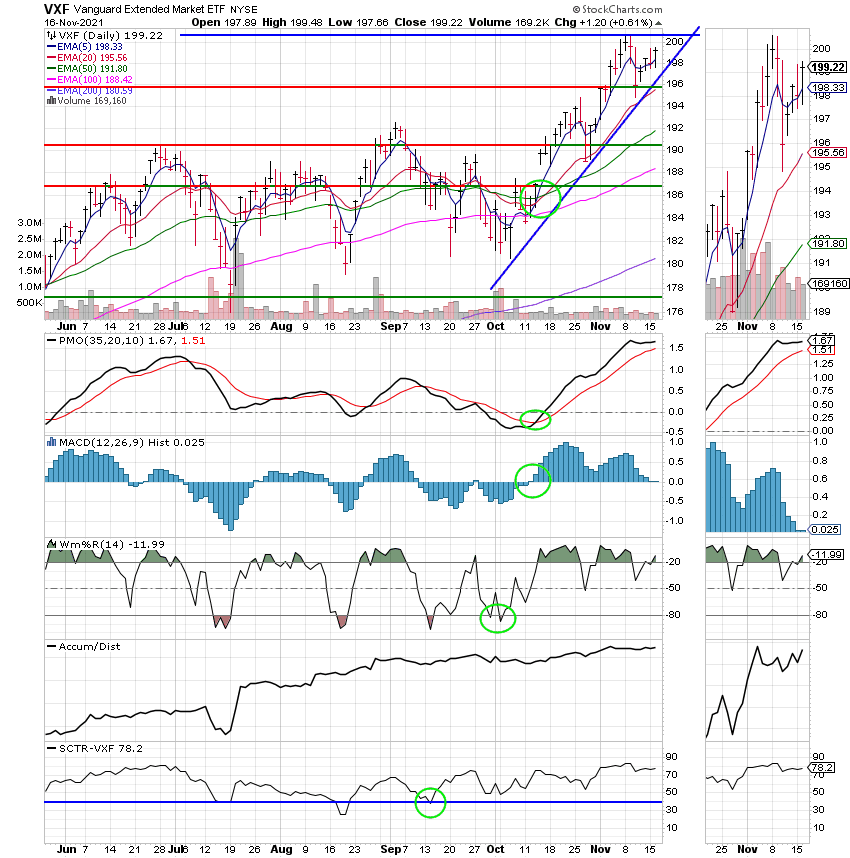 I Fund: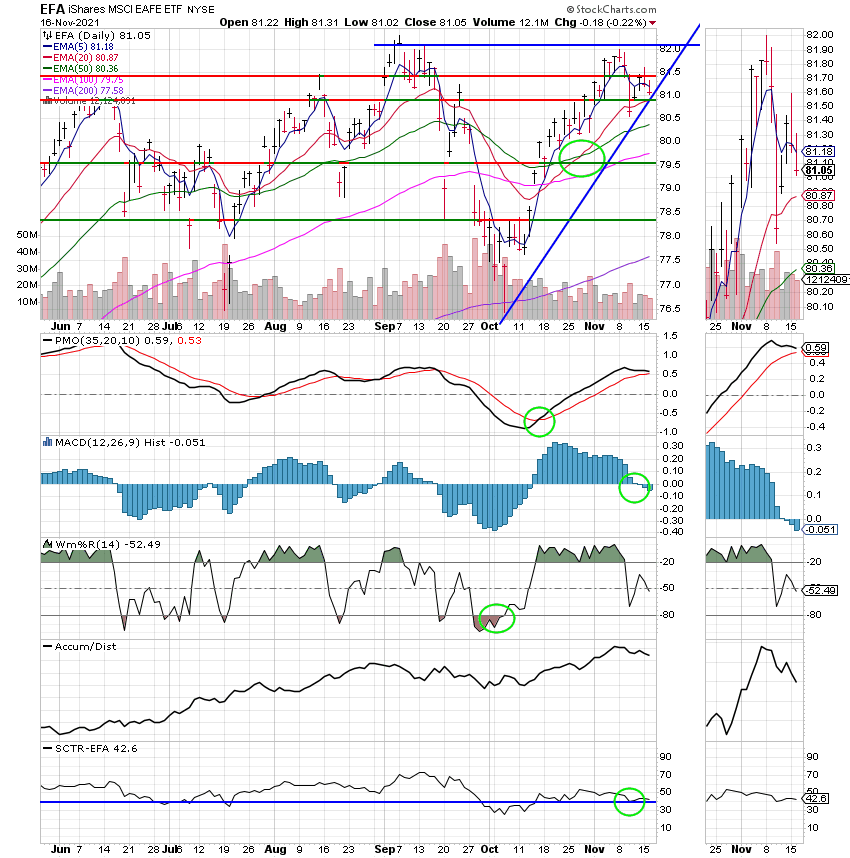 F Fund: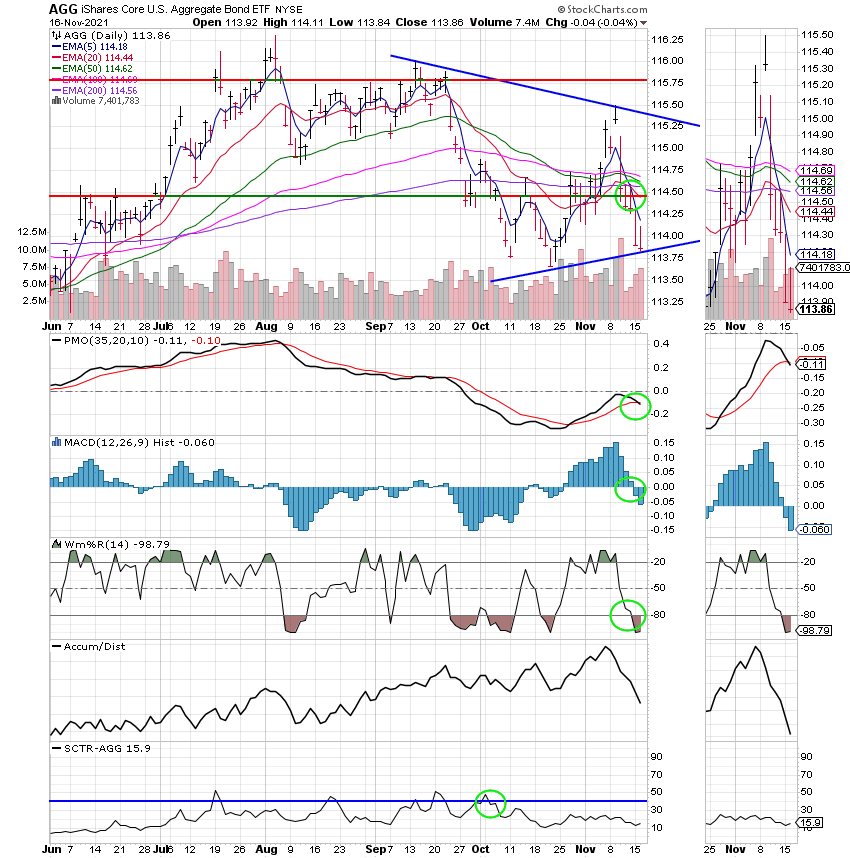 So far so good. Now if we can only get small caps to do what we want them to do. Keep praying!!! That's all for tonight. Have a nice evening and may God continue to bless your trades!
God bless, Scott
***Just a reminder that you can review the performance of our allocation at the Web Site TSPTALK.com in the autotracker section under the screen name KyFan1.
I produce and publish this blog as both a ministry and for the benefit of any Federal Government Employee. This is done to offer you some guidance as to how to approach your retirement more financially successful. When it is time for you to retire, I recommend you utilize the services of a Professional Money Manager, who works with a reputable investment firm. He understands the guidance you have already received and he can manage your savings assets utilizing a more advanced investment program into the future.
If you would like to receive more information about this introduction, please feel free to contact me at KyFan1@aol.com.
Share